You create a video and upload it to YouTube, but only want serval people to watch it. On the one hand, you want to protect your privacy. On the other hand, you'd like to share this video with your friends and family. This post will illustrate to you how to share a YouTube private video.
Usually, by default, videos you upload to YouTube are public. But sometimes, you may face the following situations:
When you find there is no enough storage space to save your YouTube videos (To make best movies, try the excellent video editing tool – MiniTool Movie Maker released by MiniTool), you upload them to YouTube but don't want a large of group people to watch these videos.
You find some videos you upload are so boring, but you are reluctant to delete them.
You upload a video to YouTube and only want to share it with your friends and family.
To solve this, you can unlisted YouTube videos. So what is an unlisted video on YouTube?
What Is an Unlisted Video on YouTube
An unlisted YouTube video means the video you upload will not show up in YouTube search results, related videos and recommendations which can only be seen by people you invite. That is to say, people who know the link you give can watch the unlisted video without Google account.
How to Create Unlisted YouTube Videos
To upload all your videos on phone to YouTube for freeing up storage space and share them with the specific people, take the steps below to create unlisted YouTube videos.
Step 1: Log in to YouTube account and access the homepage.
Step 2: Click on create a video icon in the top-right corner to start uploading a YouTube video.
Step 3: Tap on Public and select Unlisted option from the drop-down list.
Step 4: Then click on Publish. Thus your video will not come up in search results and your subscribers will not see this video you upload.
If you already posted a video on YouTube months ago, and want to change privacy settings, follow the steps below.
Step 1: After signing up your YouTube account, click on your account avatar and choose YouTube Studio (beta) from the drop-down menu.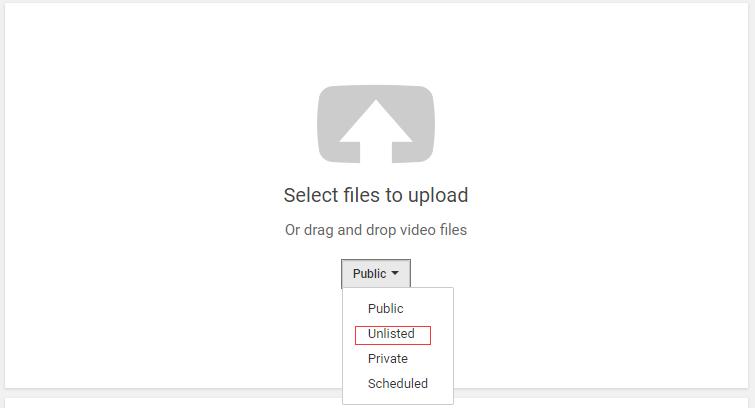 Step 2: Choose Videos in the left panel, you will see all your published videos are listed here.
Step 3: Select the video you want to make Unlisted, and click on Public and check Unlisted from the drop-down list. Then choose SAVE to apply this change.

How to Share Unlisted YouTube Videos
To share unlisted YouTube videos, you need to enter the page of Videos in YouTube Studio (beta) at first. If you don't know how to access it, please follow the above-mentioned steps in part two.
Step 1: After getting into the Videos page, hover your mouse over the desired video and you will see three dots behind the video. Tap on it and select Get shareable link option from the drop-down list.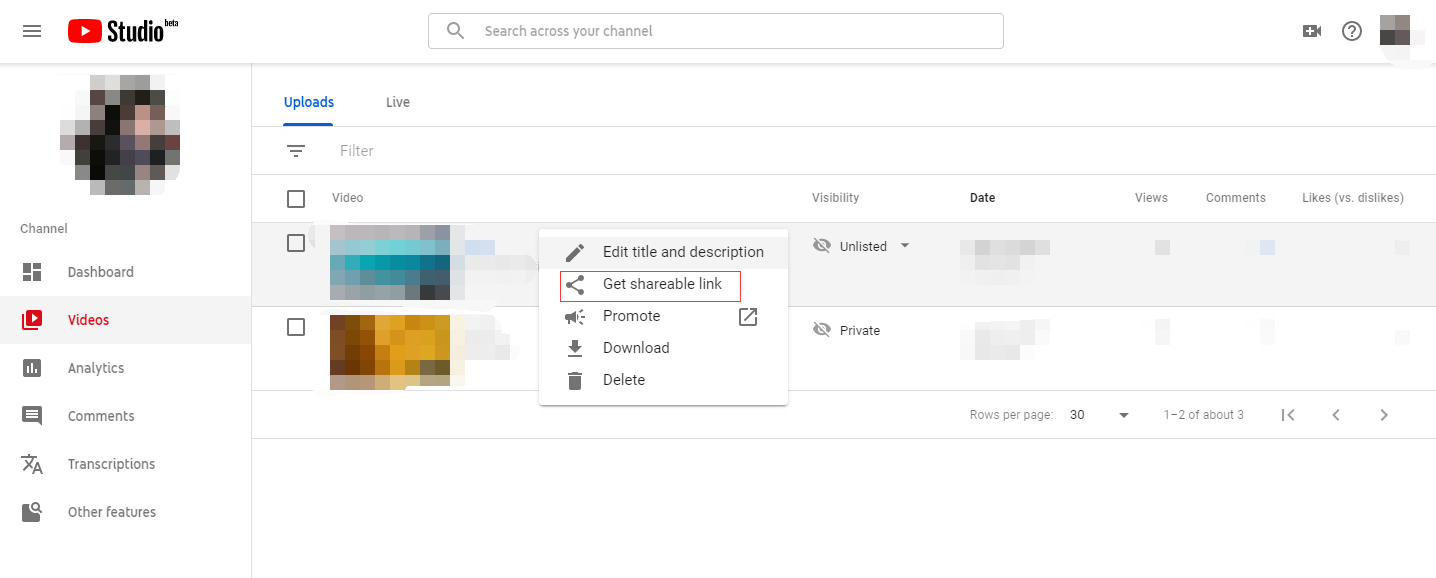 Step 2: Then you can send the link to people who you want to invite.
Conclusion
Creating unlisted YouTube videos can help you a lot. It can not only free up your storage space, but also protect your privacy. Moreover, when you are not willing to delete older YouTube videos or want the video to be seen only by your friends and family. Choose unlisted YouTube videos!
If you have any question about how to share a private YouTube video, please feel free to email us [email protected] or leave a comment below.