Maybe you want to erase all traces from YouTube and start over again. Or maybe you just no longer use YouTube. Luckily, you can delete YouTube account to solve these problems. This post will illustrate how to delete YouTube account in two ways.
For some reason, you may want to delete YouTube account. Deleting a YouTube account is easy. But there is one thing you need to know that once you delete YouTube account, all of your videos, subscriptions, comments, likes, playlists, channel name and URL will be removed from YouTube.
If you want to keep your favorite YouTube videos, you can download them by using MiniTool software – MiniTool uTube Downloader.
If you regret to delete YouTube account, there is an alternative for you – hide your account temporarily. You can hide everything on your YouTube account and choose to activate it later.
Delete YouTube account and start a new channel, this post might help you: How to Start a YouTube Channel – 4 Useful Tips.
How to Delete YouTube Account on Computer
Here's to delete YouTube account on computer.
Step 1. Open the web browser, go to YouTube and sign in to your YouTube account.
Step 2. Click on the profile picture at the top right corner of the screen and select the option Settings from the drop-down menu.
Step 3. On this page, choose the blue button View advanced settings.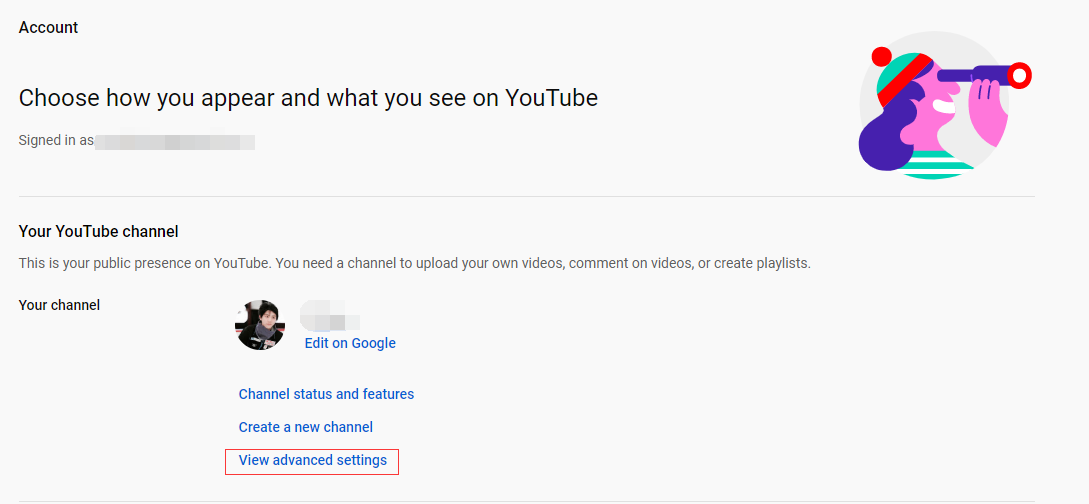 Tip: If you want to start a new channel instead of deleting the current one, you can click on Create a new channel.
Step 4. Hover your mouse on the last section Delete channel and tap on it. Remember, delete YouTube channel won't close your Google account.
Step 5. Then you need to verify yourself by entering the password of Google account and click the Next button to continue.
Step 6. There are two options for you: hide YouTube channel and delete YouTube account permanently. Choose the second option to get more details.
Step 7. All details of your YouTube account will be listed in this part including videos, subscriptions and comments. After confirming that you want to permanently delete your content, check the boxes and tap on DELETE MY CONTENT to apply the change.
Step 8. Your YouTube content won't be removed immediately, please wait a few minutes. Then all your content will disappear.
Related article: How to Delete YouTube Video (Step-by-step Guide).
How to Delete YouTube Account on Phone
To delete YouTube account on phone, follow the steps below.
Step 1. Open the YouTube app and log in to your YouTube account.
Step 2. Tap on the profile picture in the top right of the screen.
Step 3. Find the option Help & feedback and click it to go to its page.
Step 4. Enter "delete or hide your YouTube channel" in the search box and choose the first one.
Step 5. Scroll down the page and choose to delete your channel permanently.
Step 6. Then click on the blue button advanced account settings. Choose a browser to open the URL and it will automatically bring you to the advanced account settings page.
Step 7. Scroll download the page and find the option DELETE CHANNEL and repeat the steps of the first part.
Conclusion
This post tells you 2 tips on how to delete YouTube account. Have you learned them? Now, it's your turn.
If you have any question about how to delete YouTube account, please comment on this post and let us know.