If you ran into the "YouTube TV VPN/Proxy Detected" error when trying to watch YouTube TV with a VPN, you came to the right place. This post from MiniTool uTube Downloader talks about the issue and provides solutions to it.
YouTube TV VPN/Proxy Detected
YouTube TV is a streaming platform that contains lots of channels, like NFL Network, FOX, and so on. But it is only available in the U.S, which means that you can easily sign up and access YouTube TV on any streaming device if you are in this country.
What to do if you live outside this country and want to watch YouTube TV? There is a way: install a YouTube TV VPN on the streaming device, connect to it, and try to access YouTube TV. This works because the connection to the VPN provides complete online anonymity, which allows YouTube TV servers to regard you as a user located in this country.
However, this way may fail and an error message appears as follows: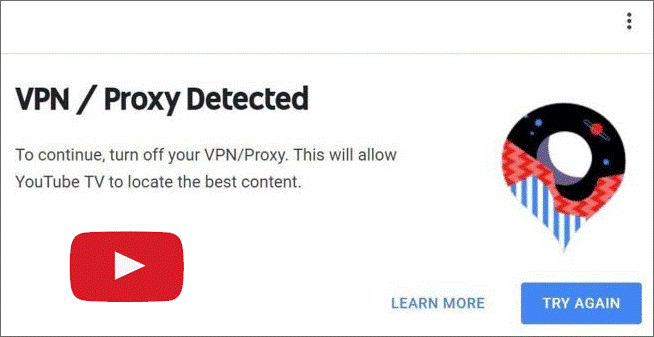 The VPN/Proxy Detected error appears when YouTube TV servers detect VPN usage on your address and block your access to the streaming service.
How to bypass the "YouTube TV VPN/Proxy Detected" error? Useful solutions are listed below.
# 1: Make Sure You're Using a Premium VPN
Are you using a free or premium VPN?
The free VPN is easily detected due to its weak security protocol. In other words, it cannot bypass strict geo-restrictions. What's worse, it can even sell your private information to data mining companies.
The premium VPN is safer and more reliable. And the VPN that has been optimized for streaming allows you to stream 4K content from any platform in any country.
So, if you are using a free VPN, please replace it with a premium VPN and then check if the "YouTube TV VPN/Proxy detected"; if you are using premium VPN, other factors should be responsible for the error, and you can move to the next solution to figure them out.
# 2: Check If Your VPN Is Working Fine
A faulty VPN will leak your DNS and provide you complete online anonymity. So, in this case, YouTube TV servers can detect your actual location as well as tag you as a VPN user, and you lose access to YouTube TV and won't be able to stream anything further.
How to check if your VPN is working fine? You can go for a VPN checker (usually named what is my IP) that can track your location based on your IP address and follow its instructions to check your VPN. If the VPN checker shows the location that you chose while connecting to the VPN, it means that your VPN is working fine. But if the VPN checker shows your actual location, it means your VPN is not working the way it is supposed to.
# 3: Connect to Different Available Servers
If your VPN service offers multiple servers in the U.S., you can try connecting to a different available USB server and see if the "YouTube TV VPN/Proxy Detected" error persists.
Final Words
Do you bypass the "YouTube TV VPN/Proxy Detected" issue through the above solutions? If yes, that's great and you can continue to enjoy YouTube TV on your device.
If you have any other useful solutions, please share them with other people who ran into the issue. Thanks in advance.