Does YouTube TV have NFL Network? If this question besets you, you can read the post. It answers the question. By the way, if you want to download videos from the NFL channel on YouTube for personal viewing, you can try MiniTool uTube Downloader.
YouTube TV NFL Network
Does YouTube TV have NFL Network? Yes, YouTube TV does have NFL Network, and, more surprisingly, NFL RedZone is also available on YouTube TV.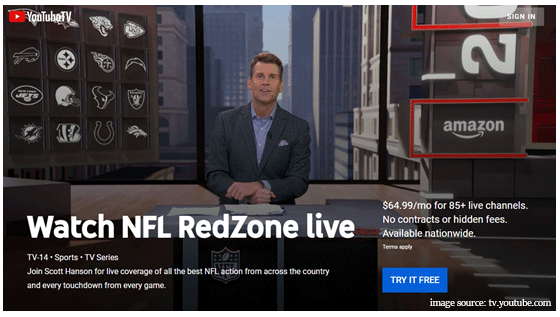 On Sep 3, 2020, NFL Media and YouTube TV announced a new carriage agreement to bring NFL Network and NFL RedZone to YouTube TV subscribers.
We are excited to bring NFL Network and NFL RedZone to YouTube TV subscribers, just in time for Kickoff of the NFL's 2020 season.
The opportunity to give NFL Network and NFL RedZone the broadest distribution as possible to our fans remains a top priority for us, so we're pleased to bring our lineup of exclusive live games, informative shows and award-winning content to the YouTube TV channel lineup.Hans Schroeder, EVP and Chief Operating Officer of NFL Media
Sports fans have been some of our most passionate members since we launched YouTube TV, so we're thrilled to introduce NFL Network to our line-up of more than 85 channels, plus NFL RedZone as part of our new Sports Plus add-on package.
This partnership further demonstrates our commitment to offer a premium portfolio of content to our members.Lori Conkling, Global Head of Partnerships at YouTube TV
Since then, NFL Network is available on YouTube TV as part of the base membership and includes live exclusive games, live studio shows such as Good Morning Football, NFL GameDay Morning, NFL Now and BFL Total Access, and original content series; NFL RedZone is available as part of YouTube TV's new add-on package, called Sport Plus.
YouTube TV subscribers can view these contents through NFL.com and the NFL app on smartphones, tablets, PCs, and connected TV devices.
Another good news is that YouTube TV recently announced three new features, namely 4K Plus, download, and unlimited streams at home.
Each feature seems to be a great boon to NFL fans —the 4K Plus feature greatly betters the viewing experience of NFL games on YouTube; the download feature allows downloading NFL games for offline watching; the unlimited streams at home feature breaks the original YouTube TV devices limit and allows streaming on as many devices as possible by using home Wi-Fi.
Is NFL Network on YouTube TV?
All in all, NFL Network is available on YouTube TV, but is it available on other streaming services? Yes, apart from YouTube TV, NFL Network can be accessed on other streaming services, including Fubo TV, DAZN Canada, Sling TV, and Vidgo.
You might be interested in YouTube TV vs Hulu Live: Which Streaming Service Is Better.
That's all about "does YouTube TV have NFL Network". If you have any doubts about the aforementioned content, please inform us of them in the comment zone, and we will reply to you as soon as possible.