YouTube TV Announced Three New Features
Four years ago, YouTube TV came to public attention, and now, it has evolved into one of the most popular streaming services. Recently, YouTube TV announced three new features to cater for users' demands, and they are 4K Plus, downloads for offline consumption, and unlimited streams at home.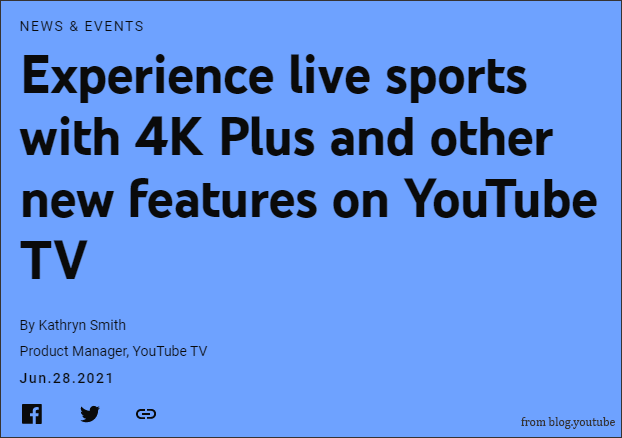 Feature One: 4K Plus
Plenty of people asked the question "is YouTube TV 4K". To improve viewing experience across all live content, as of June 28th, YouTube TV now offers the 4K Plus plan.
YouTube TV claims that users can access to watch major sports events this summer in 4K, plus live content from networks like NBC and ESPN, sports like college football and basketball later this year, and on-demand content from FX, Discovery Networks, Tastemade, and more. So, you can watch these shows in 4K on a 4K streaming device.
But the 4K Plus plan is not a free feature. YouTube TV is offering a free month trial of the 4K Plus upgrade, and YouTube TV will charge you $9.99 per month for a year thereafter. Note that the charge will automatically increase to $19.9 per month when the 12-month discount expires.
Feature Two: Downloads
The second new feature is "downloads". YouTube TV allows you to download content from your unlimited cloud DVR library to your devices (such as a smartphone or tablet) via the YouTube TV app.
So, from now on, you can watch hours of content from YouTube TV on your device without needing access to a network. This is so kind for those who need to spend long and boring hours on a flight or in some areas that don't have internet access.
Feature Three: Unlimited Streams at Home
Apart from the above two marvelous features, YouTube TV also added another feature: unlimited streams at home. What does the feature mean?
As we know, YouTube TV just allows users to stream on three devices at the same time (go here to see more about YouTube TV device limit). However, the new feature, to some extent, breaks this limit.
With 4K Plus, you get unlimited streams in your home Wi-Fi. As YouTube TV claims, everyone in the family can catch up on their latest TV episodes, watch a movie on demand, watch their home team, and more – all at the same time.
Bottom Line
Is worth paying for 4K Plus of YouTube TV? The suggestion is to try the free trial of the 4K Plus plan to see how good the viewing experience is and then decide whether to take the 4K Plus plan.
That's all about "YouTube TV announced three new features". What are your opinions of them? You can share them with us in the comment zone.