Google has made some improvements and fixed some bugs on the YouTube desktop site. The new improvements make it easier to visit YouTube on a touchscreen device. This MiniTool post will show you how it is more touchscreen-friendly now.
YouTube Desktop Site Improvements and Fixes
YouTube is a very welcomed video website in the world. Millions of YouTubers are watching YouTube videos on YouTube every day. If you prefer to use a tablet or a touchscreen laptop to visit YouTube, you may have noted the YouTube touchscreen desktop site has been updated.
Yes, this is the truth. Google had issued this update officially: YouTube Desktop Release Notes – March 2020.
In this support post, YouTube lists the improvements and fixes that are in the newly released YouTube desktop site.
Improvements
The YouTube desktop site is more touchscreen-friendly
If you use a web browser on your touch screen device to access YouTube, you can discover that there is a three-dot menu under each video thumbnail.
This is the new add on the YouTube desktop site. Previously, there is no such a menu. You need to use a computer mouse or trackpad to hover a cursor over the video title to make this three-dot menu show. To make everything easier, Google corrects this feature. You can just tap this menu for further operations.
There are also some other new features:
It adds some new gestures. For example, you can swipe up on the mini player to open the watch page and swipe down on the mini player to close the page.
The screen scrolling experience is much better. For example, you can access the left-hand guide, account information menu, as well as notification menu. You can also visit this post to get more useful information: Find your way around YouTube.
The sizes of the icons are larger. This allows you to tap and navigate across the YouTube site easily and quickly.
The watch histories are organized by date
When you go to see the watch histories on YouTube, you can discover that the videos are listed by date. So, it is clear to see which videos are watched on a given date.
Playlists can be moved to top or bottom
Previously, you can only use the move to top or move to bottom options to organize the videos in the YouTube playlists. But, now these features are also available in the new YouTube desktop site.
Fixes
Google also fixes some bugs in the YouTube desktop. Here are some fixes you may be interested in:
At times, the video thumbnails disappear by accident and are not showing up in playlists. Now, this issue is fixed. You can see the YouTube thumbnail successfully.
When you browse YouTube, you may note that the mini player covers some important elements in the background. We have corrected this problem. You can easily interact with the background page without closing the player.
There are improvements and fixes in this new YouTube desktop site. You can discover that the touchscreen-friendly feature is the main new feature. It makes it easier to visit the YouTube desktop site.
Bonus: If You Want to Download YouTube Videos
You are not allowed to download YouTube videos from YouTube directly. But, you can use a special YouTube video downloader to do the job. You can try MiniTool uTube Downloader.
This software is specially designed to download YouTube videos to different forms like MP3, MP4, WAV, and WebM. (YouTube to MP3, YouTube to MP4, YouTube to WEBM, and YouTube to WAV).
However, it can only run on a Windows operating system. If your touchscreen device is using Windows OS, you can try this software.
This software is totally free. You can click the following button to get this software.
MiniTool Youtube DownloaderClick to Download100%Free & Clean
It is very easy to use this software to download your desired YouTube videos. You can just open it and then use it to search for the videos you want to download. Then, you need to click the download button and select a suitable format to download the YouTube video.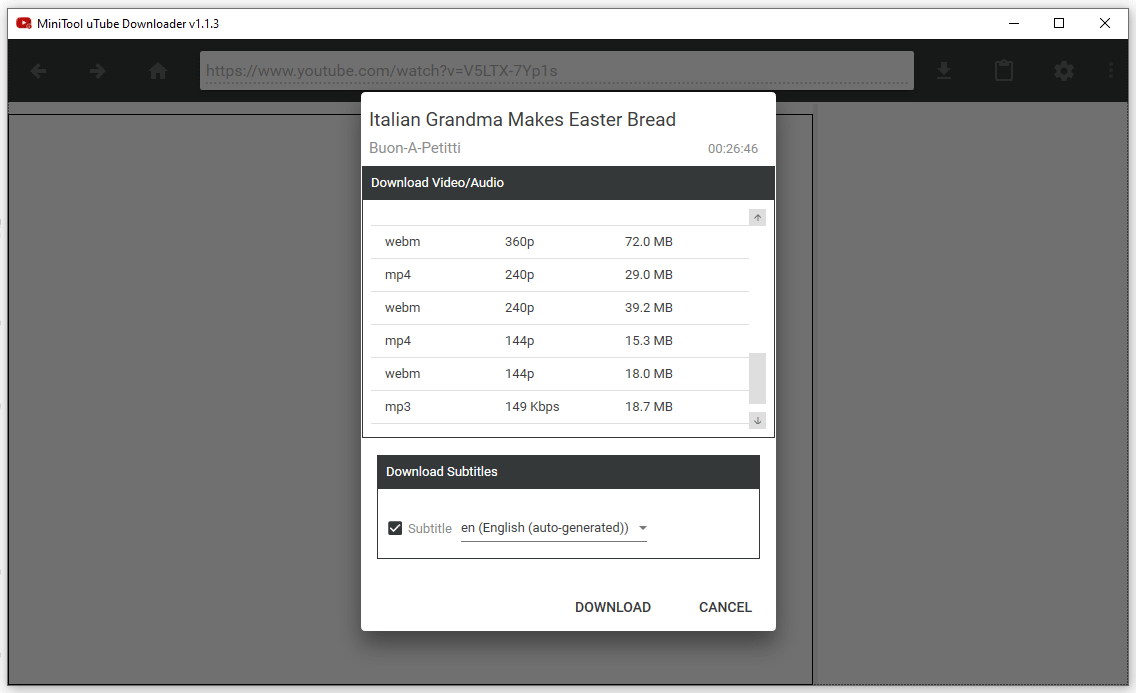 You can also learn how to operate this software from this post:
How to Use MiniTool uTube Downloader to Download YouTube Video
Bottom Line
Now, you know the new features in the YouTube desktop site. And you also get a free YouTube video downloader to download your needed YouTube videos. Should you have any related questions, you can let us know in the comment.