YouTube is one of the most powerful platforms to make money online. Are you looking for the best YouTube niches to start a profitable YouTube channel? This post complied some YouTube niches ideas for you. Just keep on reading to find the one that suits you the most!
As we know, YouTube has become a trending platform for showcasing creativity and sharing information about almost everything. For many people, YouTube has become their primary income source.
However, getting to that point requires plenty of dedication and hard work. One of the hardest parts is choosing the right niche. If you want to start a YouTube channel but have the slightest clue about what niche to pick and which YouTube channel ideas would be suitable and profitable, this post is right for you.
What Is a YouTube Niche?
Choosing a YouTube niche is a big decision for every content creator. Let's firstly cover the base. What is a YouTube niche? The YouTube niche is the main topic, the main category that a video creator focuses on when creating YouTube content.
A good YouTube niche is where viewers can find you between competitors, brands are willing to spend money for exposure as well, which will eventually help you grow faster and monetize your YouTube account. Moreover, the right niche will provide you with an engaged audience that will subscribe to your channel and will be likely to use the services and products you recommend.
Well, what are the best YouTube niches? How to find the right YouTube niches anyway? We will answer these questions in the following parts.
How to Choose the Right YouTube Niche?
Before moving on to know the best YouTube niches that would work, let us understand how to should decide or select the right niches for your channel. Note that, once you choose a particular type, you need to stick with it throughout your journey. If you don't have a specific topic in mind yet, here are some tips you can follow when deciding on the niche:
1. Identify Your Interest and Passion
This is obvious. Your selected niche should be something that drives you to keep creating more and more content and upload videos regularly on your channel. Think about something that you would be comfortable talking about for the following years.
So, take your time and reflect on it. What interest or passion can you turn into a personal niche? Pick one to three related main topics and focus only on creating that kind of YouTube video.
2. Consider Your Knowledge or Experience
The next important point while selecting the right niche is considering your knowledge or experience on the topic. Exploring a niche with which you are not familiar is like aiming at a target with your blindfolds on.
So, choose your niche in which you have some real knowledge, and by sharing it, the audience will gain some benefit from your content too.
3. Research Your Competition
Knowing the competition is also important. You'll find the answer by looking at how many YouTubers are active in the niche. If the topic is oversaturated, it will be challenging for you to get your voice heard in that niche.
You can research other YouTubers in the niche: What kind of content do they offer? Why do people watch them? How do they keep the audience interested? Read the comments and see if the viewers are suggesting improvements and require more insight, then ask yourself: What can I add to the topic? How can I present a topic from a different perspective?
So, try to bring something valuable and qualitative to the audience. Come up with new approaches to the topic. You need to be unique and authentic to stand out from the crowd.
What Are the Best YouTube Niches?
Taking into consideration the aspects above, you may ask what are the niches on YouTube?  This part covers some of the best niches for YouTube this year:
Gaming
If there is a YouTube niche growing fast, it would be the gaming niche. It is also a competitive niche. While with so many new and interesting games, many Youtubers still creating channels sharing their gaming experience, streaming and offering tips.
It is a great idea to niche down from gaming and remove thousands of competitors on the way by being dedicated to a specific game. You can share your gaming experience with others (through voice or video recording).
Here are some of the most popular gaming YouTubers: Top 5 Popular Gaming YouTubers: Here are Their YouTube Channels.
Healthy food
Food is one of the most profitable YouTube niches. In particular, healthy food is very demanded on the YouTube search engine. By choosing more specific topics you can not only remove some competition but also will help you establish your channel faster.
For instance, you can narrow down the topic by focusing on more specific topics like:
healthy snacks for kids
healthy snacks for weight loss
healthy snacks for work
healthy snacks ideas
healthy snacks during pregnancy
Travel vlog
This is also a great YouTube niche in which interest over time never stops growing. Due to its popularity, you may need to create epic content if you want to stand a chance. For example, you can find less competitive YouTube niches by creating travel vlogs specific to where you live.
If you want to know how to make travel vlogs, you can check out How to Start a Travel Vlog and Make Money? [Best Ideas & Tips].
Beauty and style vlog
This is also a trend growing in popularity. If you feel you have the zest to produce authentic content in this direction, there is enough room left to niche down in the beauty area. For example, instead of taking a broad approach to the topic, you could select a trending subject and grow from there. Insert your unique personality and traits to give your beauty style vlogs an original touch.
Product reviews
This is also among the highest paying YouTube niches. There are all kinds of product reviews: cleaning products, technology, and makeup comparisons. All you have to do is find a product that appeals to your target market. You can start with trusted voices and opinions on toys, technology, and more. Take a simple example: you can review the video editing tool by editing your videos.
Fail compilations
The fail compilation videos may bring a smile to viewers' faces and lighten their moods. This is also among the top faceless YouTube niches. It's an easy job as you only need to compile amusing fail videos from social media and mix in some unique music.
Read How to Make a Compilation Video Easily and Quickly by Yourself to know more.
How-to tutorials
This niche is also among the top faceless YouTube niches. This is one big advantage because you can create videos on YouTube without showing your face or even using your voice. So, if you are insightful but introverted, this niche is for you. You can make how-to videos that are functional and provide easy support, especially for a visual learner.
As we can see, YouTube can be a very profitable platform for content creators provided that they select the right niche. You can also choose from these YouTube trending niches based on your preference.
Best Tools to Create Content for YouTube Niche Channel
Once you decided on the YouTube channel niches, you need to create content and upload it to this channel. Many of the video footage needs to be edited. You may need a camera to record and edit the recorded footage clips with video editing software. Here we recommend an amazing video editor to you, that is MiniTool MovieMaker.
There are strong reasons why we recommend it: it is a handy tool with no ads, no watermark, and no plug-ins video maker for Windows operating systems. It can help you create videos in a few minutes.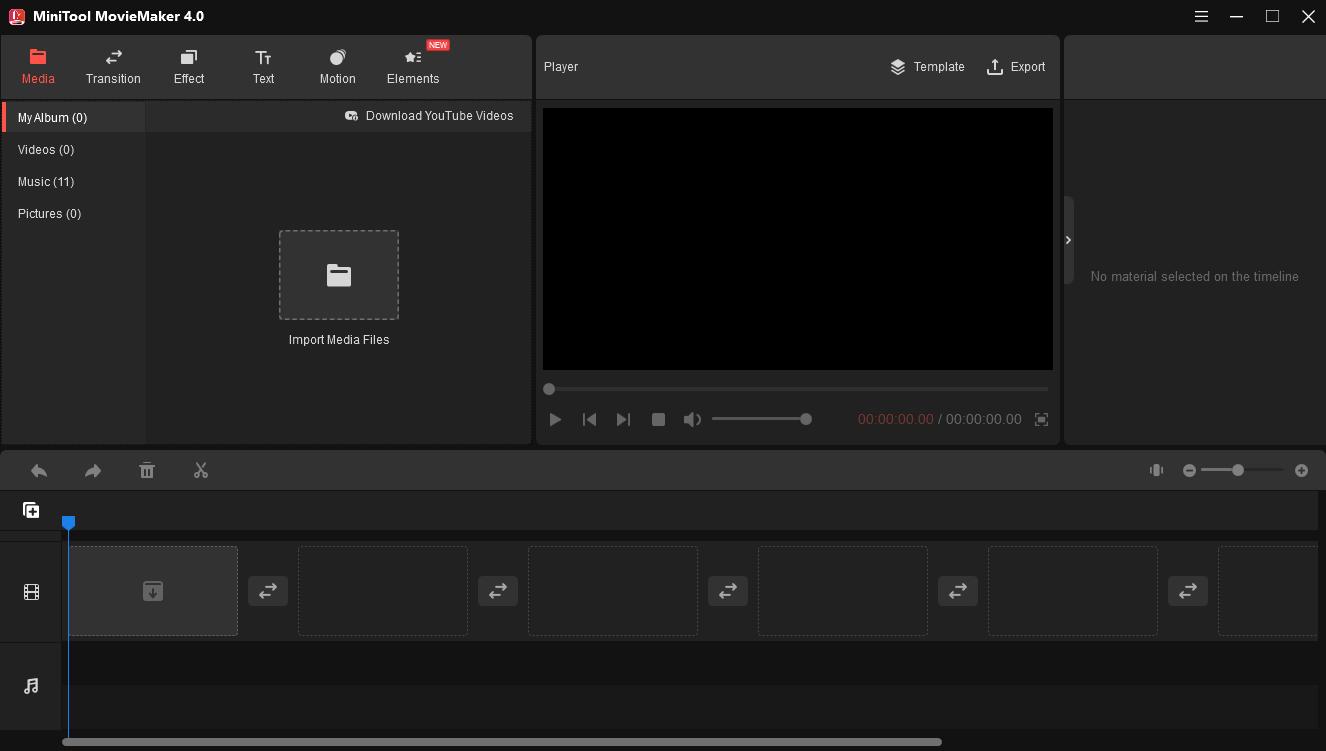 As an ideal choice for beginners, it supports importing videos, audio files, and images and offers you a set of tools for video editing. You can do some simple edits like cutting, trimming, combining, and making advanced edits including reversing, color correction, zooming, etc.
It also comes with many pretty animated stickers, filters, motion effects, transitions, animated texts, and free background music that you can use in the video.
Features:
Easy to use
Support various video, audio, and image formats
Come with a suite of video editing tools
Extract audio from video
Speed up or slow down videos
Make GIFs from videos
Support drag and drop
Fast export speed
You may also need to record some videos for offline watching. Like the gameplay or tutorial videos, there is also a need to record the computer screen. Here we recommend you a screen recording and video downloading tool – MiniTool uTube Downloader.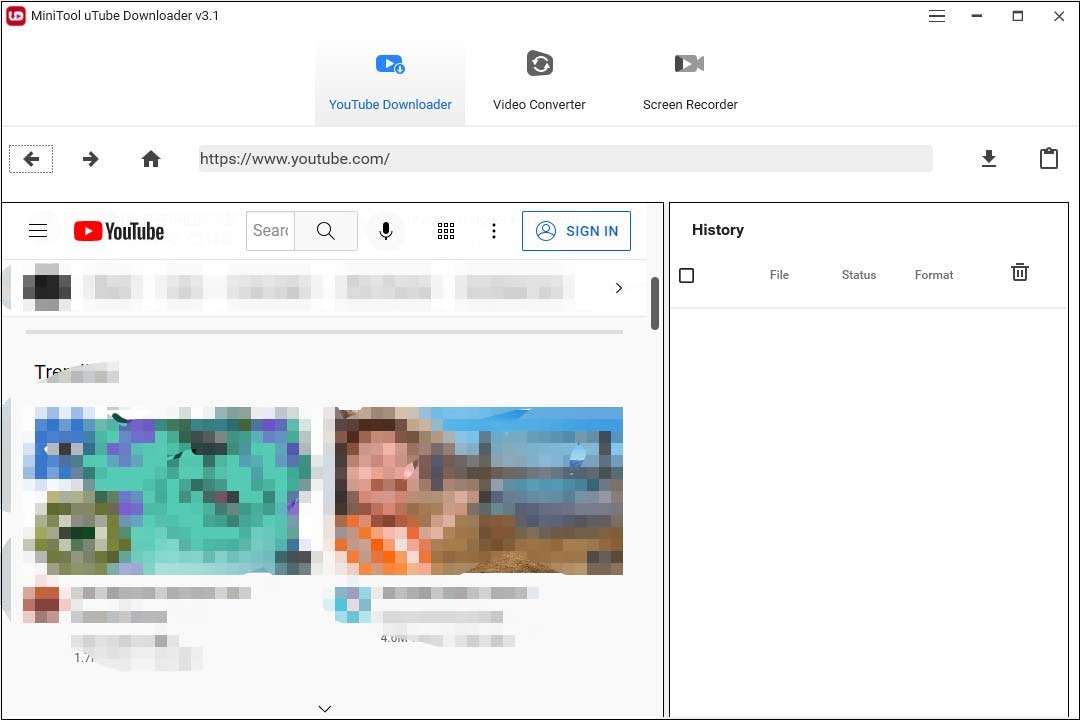 It is a free, simple, and ad-free YouTube ripper, which can help you record the screen and download YouTube videos. With this tool, you can download countless videos and audio from YouTube for free. It is also capable of downloading the entire YouTube video and music playlist. It will also download subtitles automatically while downloading.
The following will introduce the excellent features of this tool.
Features:
Simple to use
Completely free of charge
Support screen recording
Support 8K, 5K, 4K videos downloads
Full speed download
Supports multiple resolutions
Download YouTube video files in original quality
Here is how to download YouTube videos with MiniTool uTube Downloader:
Step 1. Click the button below to get this free software. After downloading and installing, open MiniTool uTube Downloader.
MiniTool uTube DownloaderClick to Download100%Clean & Safe
Step 2. On its main interface, type the name of the video you want to download in the search box next to the YouTube icon and press Enter.
Step 3. Select the YouTube video you want to download and then click the download button to continue.
Tips:
There will be a pop-out window where you can select the video or audio format you want to download. You can also get the available subtitle there.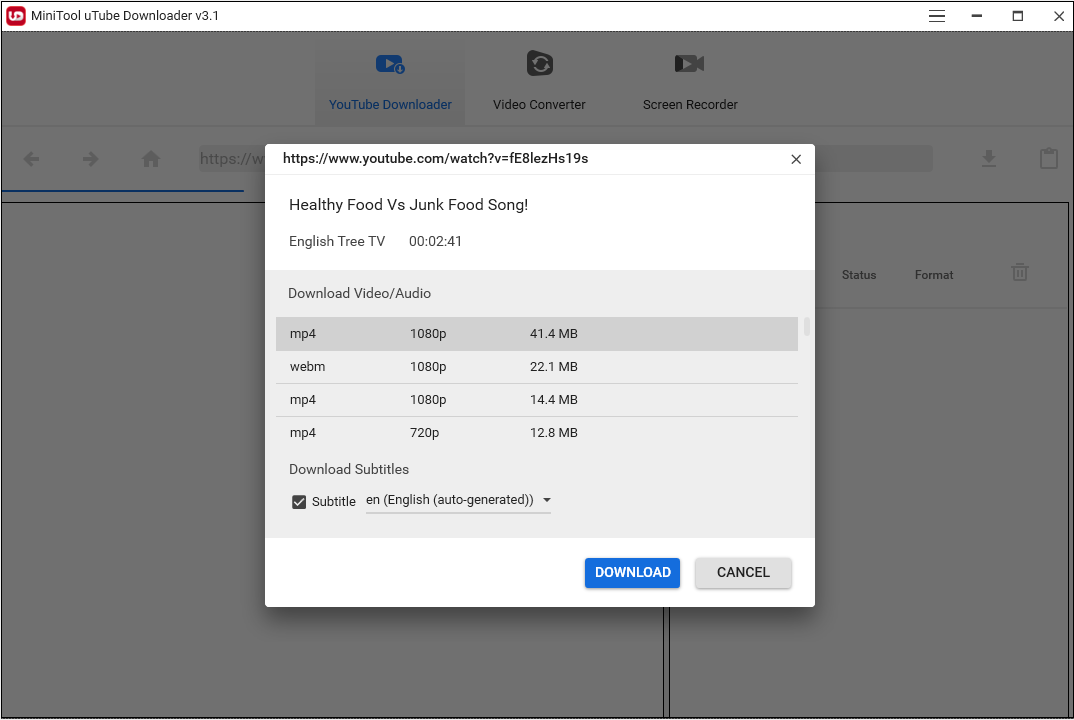 Step 4. Tap on DOWNLOAD to start the download process.
This tool will begin to download the YouTube video. You can wait until the whole download process ends. Then, you can access the video storage folder to directly watch it.
If you want to record the screen activities, you can achieve that right on this free software. You can use MiniTool Screen Recorder which is included in MiniTool uTube Downloader.
How to record screen on MiniTool uTube Downloader:
Step 1. Open MiniTool uTube Downloader and click the Screen Recorder module on the main interface.
Step 2. Tap on Click to record screen to open the screen recording window.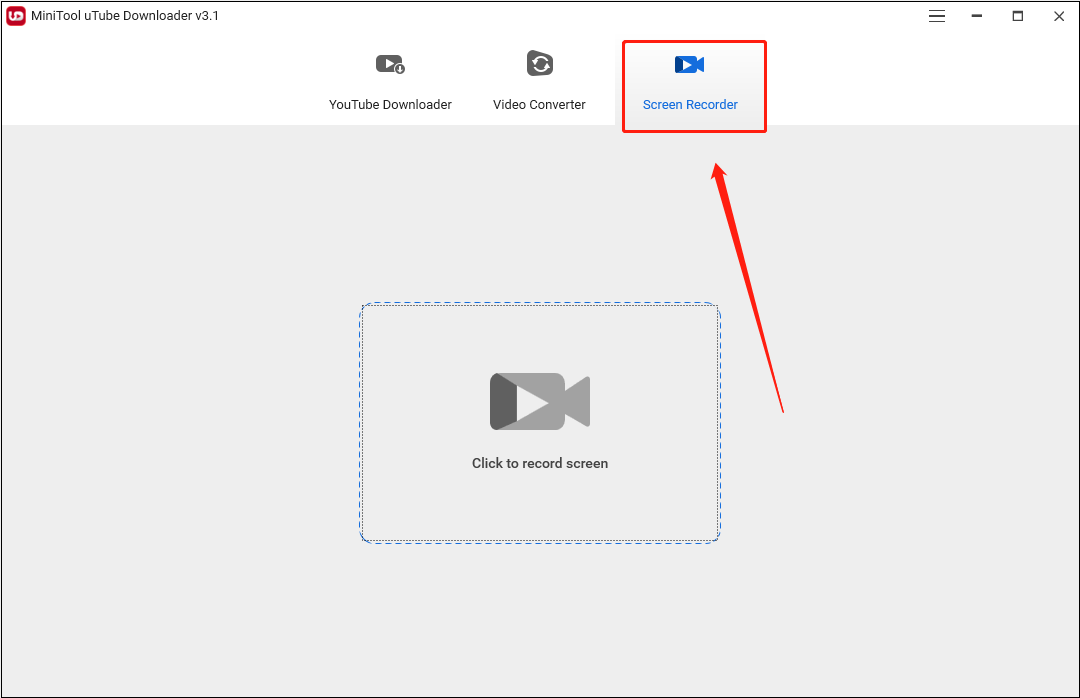 Step 3. Click the Record button to start recording the full screen. This program selects Full screen by default. You can also click the down-arrow icon to choose Select region and drag your mouse to select the recording area. After that, click the Record button.

Step 4. Press the F6 key to stop the recording and double-click the file to preview the recorded video.
MiniTool uTube Downloader is a useful tool! It helps me to get the video to watch offline for free.Click to Tweet
Conclusion
To sum up, this post shared a YouTube niches list, tips on how to choose the right YouTube niches, and the best tools to create content for the YouTube niche channel. I do hope this post is helpful to you.
If you have any questions about this post or encounter any problems while using MiniTool software, please contact us via [email protected] and leave a comment below.