YouTube adds new corrections feature now. With this update, there is no need to delete your videos that contain mistakes. You can add updated notes to your YouTube clips. Want to get more detailed information about the YouTube corrections feature? Keep on reading.
This post will offer more details about the YouTube new corrections feature. If you need a tool to help you watch YouTube videos offline, MiniTool uTube Downloader is the top recommendation.
MiniTool Youtube DownloaderClick to Download100%Free & Clean
YouTube Adds New Corrections Feature
Popular content sharing platform YouTube has released a new feature for creators called Corrections.
As the name suggests, the feature allows YouTube creates to add information cards to tack on clarifications or to amend false information after a video has been published. It could be an update to what was said in the video or any other piece of information that the creator might feel to rectify or update in their videos.
As explained by YouTube:
"Up until now, if a creator wanted to correct an error in an existing upload or provide an update to information that was no longer accurate, short of editing and re-uploading the video, resulting in loss of engagement metrics and comments, the options were limited to adding a note in the description, responding to comments calling out the error, pinning a comment or doing nothing. With the launch of Corrections, creators will be able to call attention to corrections and clarifications in the descriptions of their already published videos."
You may be interested in YouTube Most Replayed Feature Highlights the Most Replayed Parts.
How Does YouTube's New Corrections Feature Work?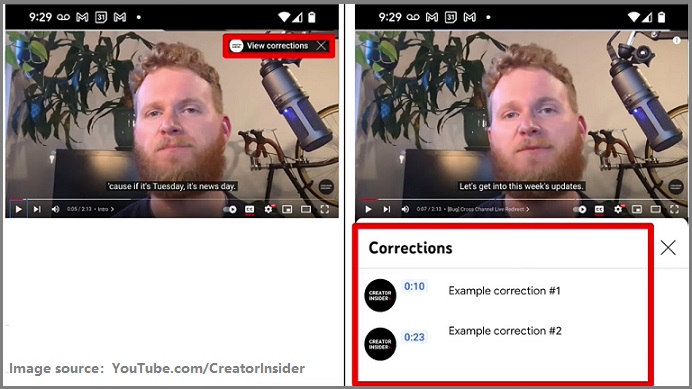 As you can see in the screenshot above, the new Corrections info card will show up at the top right of the playback window, at the timestamp of the first Correction in the clip. Clicking on the info card will expand the video description, where the creator will be able to provide a written correction or clarification based on the change.
You can't wholescale change your videos with this functionality, it's more of supplemental notes feature to explain smaller errors and mistakes in your video clips. It could be a particularly big help in adding important context to timely and evolving news-related videos shared in the app.
Creators could also use the option to direct viewers to newer clips on the same subject. Therefore, if you've posted a popular tutorial video on, for instance, a certain app or device, you could add a note that it's since been updated via the Corrections marker, where you could also point users to your newer video on the topic.
This feature is not available to those who have active strikes on their channel or if the video in question might be inappropriate for some viewers.
Creators can access corrections through the video details page in YouTube Studio. Corrections can be issued through the description with an "Add Correction" button. You will then need to add a timestamp for the correction and write an update.
For example, you can write "Correction:" or "Corrections:" within the video description, followed by the timestamp (00:00), and an explanation of your update.
Viewers watching the chosen video after a correction has been updated will see a small tab pop up during the designated timestamp with information from the creator. The correction will not be visible throughout the entire video and will only appear for an allotted amount of time. Creators will be able to include several corrections within one video.
It's a relatively small but potentially valuable addition, which could facilitate varying functionality in your YouTube process.
Also read: Add Links to YouTube Videos with Ease! [Step-by-Step Guide]
Conclusion
That is all about the update that YouTube adds new corrections feature. We hope this implementation works and is liked by the viewers as well.