There are two American over-the-top internet television services. One is Sling TV, owned by DISH Network. Another is YouTube TV, owned by YouTube. (Try MiniTool software to create cool YouTube videos.) This post compares the key features of Sling TV and YouTube TV to help you find the best streaming service.
Sling TV vs YouTube TV, which one is right for you? Let's start with the charges for each service.
Sling TV vs YouTube TV – Cost
Sling offers three different tiers of plans: Sling Blue (usually $25), Sling Orange ($25) and Sling Orange & Blue ($40). Registering a basic Sling TV is cheap, but once you start adding channels or features, the cost will increase. In contrast, YouTube TV is priced at $50 and does not offer any additional channel packages. This one-price solution saves users a lot of time and effort.
Sling TV vs YouTube TV – Channels
In addition to the disparity in total number of channels, there's a big gap in the availability of local channels (ABC, CBS, Fox and NBC). YouTube TV has all four in nearly every market in the US. Sling TV doesn't offer any with its Orange package. Its Blue and Orange & Blue packages have NBC and Fox, but only in a handful of major markets.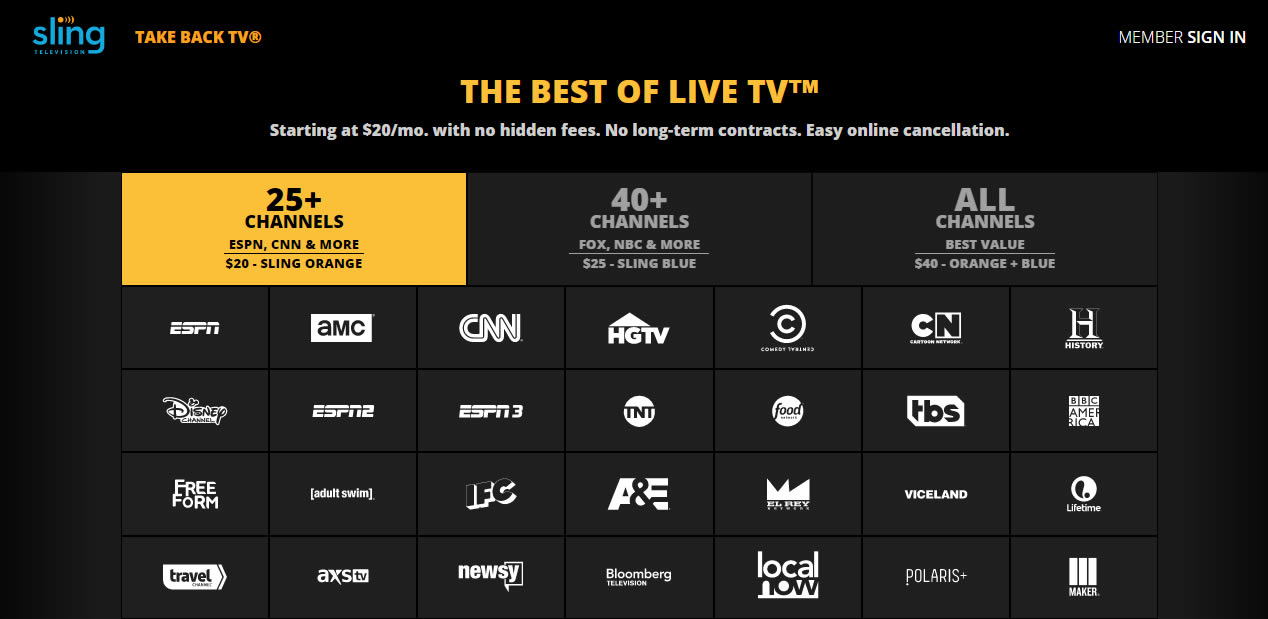 Here's a quick summary of the main missing channels on Sling TV and YouTube TV:
Sling Orange: ABC, CBS, Fox, NBC, Bravo, Animal Planet, Fox News, FS1, FX, MLB Network, MSNBC, Nickelodeon, USA Network.
Sling Blue: ABC, CBS, Animal Planet, Disney Channel, ESPN, Fox News, MLB Network, Nickelodeon.
YouTube TV: A&E, Comedy Central, History, Lifetime, Nickelodeon.
Recommended article: 7 Useful Tips about How to Manage YouTube Channels
Sling TV vs YouTube TV – Cloud DVR
Sling TV's streaming bundles don't include cloud DVR, but you can pay an extra $5 per month for 50 hours of storage. On the other hand, YouTube TV's cloud DVR is the best in the streaming industry. There are no storage limits, you can stream your library anywhere in the U.S., and you can record simultaneously and keep those recordings for up to nine months.
Sling TV vs YouTube TV – Supported Devices
They are very similar in device compatibility. However, YouTube TV can work on the Xbox One, while Sling TV doesn't connect with any gaming consoles. Sling TV is compatible with Amazon Fire, while YouTube TV is not. Both livestreaming services have good mobile apps, so you can watch anywhere your mobile device has data.
Recommended article: How to Watch YouTube TV on Roku Player – A Useful Way
Sling TV vs YouTube TV – Usability
In general, if you're using the desktop or app versions, the YouTube TV interface offers a more structured, easier-to-use interface that's also nicer on the eye. While you need to press several buttons to watch a live show in Sling TV. The difference in simultaneous streams is also worth noting. YouTube TV lets you stream to three different devices at the same time. So does Sling TV Blue. But with Sling TV Orange, you can only watch one stream at a time.
Recommended article: How Can I Cancel My YouTube TV Subscription Successfully?
Which One Is Better for You
The cost of both services is acceptable compared to many cable TV packages. If you want to save the most money, Sling TV would be your first choice. If you want to get a cable-like experience with a DVR and more channels, then YouTube TV is worth an extra $25 per month. I prefer YouTube TV because its one-price approach makes things easier.
Bottom Line
Are you still hesitating to use which one? Why not test them both? After all, both of them provide a free trial. If you have any questions or suggestions about it, please let us know via [email protected] or share them in the comments section below.