For a variety of reasons, some users want to cancel YouTube TV. (Try MiniTool Movie Maker released by MiniTool and share it on YouTube.) However, they have no idea about how to cancel it. This article will show you how to cancel YouTube TV using a mobile phone or computer.
What Is YouTube TV?
Launched by the video hosting platform in 2017, YouTube TV is a live TV and on-demand streaming service aimed at cord cutters – people moving away from the traditional cable package towards streaming.
YouTube TV can be used on smart televisions, fluid media boxes, computers and mobile devices. Besides, it offers more than 70 YouTube TV channels, including ABC, CBS, FOX, NBC, ESPN, HGTV, TNT and so on. Now YouTube TV has covered nearly 98% of U.S. households.
The Reasons for Cancellation
YouTube TV is too expensive ($50 per month).
No desired channels.
Too many ads in YouTube TV.
YouTube TV is not compatible with some devices.
How to Cancel YouTube TV?
Some people have tried to cancel their YouTube TV but failed. In order to help them out, this post introduces the specific steps to cancel YouTube TV using 2 different devices. Please read carefully.

Note: Cancelling YouTube TV does not immediately remove your access to the service. If you'd like to cancel and remove access to YouTube TV right away, please contact YouTube TV Support team.
Cancel YouTube TV on Mobile Phones
Mobile phone is most frequently used in daily life, so this article first introduces how to cancel YouTube TV on mobile phones.
1. Open the YouTube TV app on your mobile phone or visit tv.youtube.com.
2. Login your account associated with the YouTube TV subscription that you want to cancel and click your avatar in the upper right corner.
3. Choose Settings and enter its interface, you will see a handful of items. Please click Membership located at the top of the list.
4. Then the YouTube TV logo appears. Click Deactivate membership under it to move forward.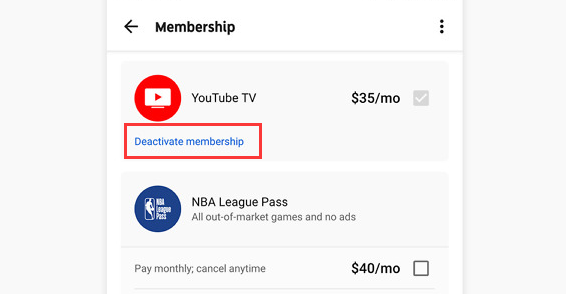 5. Choose Pause membership button if you are not ready to cancel YouTube TV, which can pause the service for 4 weeks to 6 months. If you want to continue with your cancelation, click Cancel membership option at the bottom of the menu.
6. Finally, click Done in the upper right corner to confirm your operations.
Cancel YouTube TV on Computers
Cancelling YouTube TV from a desktop or laptop computer is more recommended, as YouTube TV app sometimes offers a limited view of your subscription settings.
Enter the YouTube TV website (tv.youtube.com) and sign into your account associated with the YouTube TV subscription that you want to cancel.
Click your image in the top right hand corner, and then select Settings.
In the main interface of Settings, click the Membership.
Under the YouTube TV logo, there is a Deactivate membership Please click it.
Then you'll see Pause membership and Cancel membership in the bottom right corner. Not ready to cancel this service, select Pause membership, which will give you 4 weeks to 6 months to reconsider it. If you still want to end your YouTube TV, click Cancel membership.
Select a reason for your cancellation and click CONTINUE CANCELLING to complete all operations.
Bottom Line
It would be easy to cancel your YouTube TV after reading this post. Share it with your friends. If you have any question or good suggestion about cancelling YouTube TV, please let us know via [email protected] or share it in the comments section below.