There are many reasons for you to choose to reduce the length of the YouTube link. No matter for what reason, shorten YouTube URL is not absolutely a bad thing. In this post, you will learn two solutions to shorten YouTube URL.
When you browse YouTube video content and find a very funny video, you want to share the video with your friends and family immediately. Or you create a video with MiniTool Movie Maker released by MiniTool and upload the video to YouTube. To attract more viewers, you need to post the video link on all your social platforms.
Related article: How to Upload a Video to YouTube from Computer and Phone.
So what is a URL and where is it located? URL is the abbreviation of Uniform Resource Locator, colloquially known as web address. It's the address of a resource on the web composed of a string of characters. A URL can locate where a resource is and allows people to access it.
Actually, finding a URL is easy. Just open a YouTube video and you will find it in the address bar. Although it's the easiest way to find the URL, it's not a good choice to share the video link with your friends. Especially when you open a video in your YouTube playlist, you'll find the video link is too long.
For example:
https://www.youtube.com/watch?v=3DbEKxAWBjk&list=RD3DbEKxAWBjk&start_radio=1
Therefore, how to shorten URL? This post offers you two ways.
Shorten YouTube URL by Its Built-in Link Shortener
To shorten YouTube URL of a video, you don't have to search for some URL shorters, because YouTube has a built-in link shorter. Follow the steps below to make the URL shorter.
Step 1: Open the web browser, go to YouTube official site and log in to your YouTube account.
Step 2: Click on your favorite playlist in the left panel and find the video you want to share.
Step 3: Tap on SHARE below the video to get a shorter URL.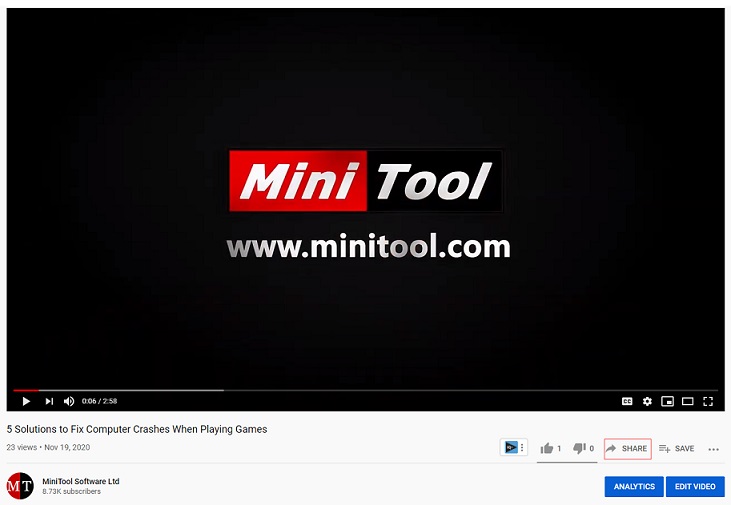 Step 4: Then a window will pop up, you'll find the video link is much shorter than the URL in the address bar. Click the blue button COPY in the box and share it with your friends. Or you can directly share the video on your social networks, such as Twitter, Facebook, Reddit, Blogger, Tumblr, Pinterest and so on.
If you wish to make your YouTube URL easy to remember, you can customize YouTube URL.
See this post: 2 Things You May Not Know about YouTube URL.
Shorten YouTube Channel URL by TinyURL
You can shorten the YouTube video URL by clicking the SHARE button, what if you want to shorten YouTube channel link? In this case, you can use URL shorter – TinyURL.
Take the steps to shorten YouTube channel link by a TinyURL.
Step 1: Sign in to your account after going to YouTube.
Step 2: Tap on your profile picture and go to your channel by selecting Your Channel from the drop-down menu.
Step 3: Copy the YouTube channel URL in the address bar and go to the TinyURL website.
Step 4: Paste the URL in the box of TinyURL and click on Make TinyURL!.
Step 5: Then choose Copy to clipboard below the shorter URL and share your channel URL with other people.
Conclusion
This post tells you 2 solutions to shorten YouTube video link and YouTube channel URL. Now, it's your turn.
If you have any question about how to shorten YouTube URL, please let us know by commenting on this post.
Tips:
Need to record your screen or convert videos for a project? MiniTool Video Converter is the reliable software you need!