YouTube URL directs your subscribers to your channel homepage immediately. Every channel has a different YouTube URL assigned by YouTube randomly. If you want to make an easy-to-remember YouTube URL promote your channel, custom YouTube URL now!
A YouTube URL is a string of letters and number by default, which is hard to remember for most people. However, you may not know that YouTube allows you to custom a YouTube URL limitedly.
A YouTube custom URL can not only build your YouTube brand and promote your business, but also give your subscribers a catchy web address to make them easy to remember (To create high-quality video to increase traffic, you need to use MiniTool Movie Maker released by MiniTool).
So how to get a YouTube custom URL? How to custom YouTube URL?
Get a YouTube Custom URL
To create a custom URL, you need to the following eligibility requirements.
You have 100 or more YouTube subscribers.
Your YouTube channel is at least 30 days old.
You have an uploaded photo as a channel icon.
You have uploaded channel art (To add YouTube channel art, read this post: How to Start a YouTube Channel – 4 Useful Tips).
If you meet all the above-mentioned requirements, then you're able to change your YouTube URL.
You can share your YouTube custom URL with your friends by changing its capitalization and accent, and the link still directs them to your YouTube channel.
If you're not eligible for a custom URL, please refer to eligibility requirements above.
Read the next part to learn how to custom YouTube URL.
How to Custom YouTube URL
To custom YouTube URL, take the following steps.
Step 1: Sign in to your YouTube account.
Step 2: Go to Settings by clicking your avatar in the top-right corner of the screen and select Settings option from the drop-down menu.
Step 3: Tap on Advanced settings in the left panel, you will see You're eligible for a custom URL and click the link next to it. You will only see the link if your YouTube channel is eligible.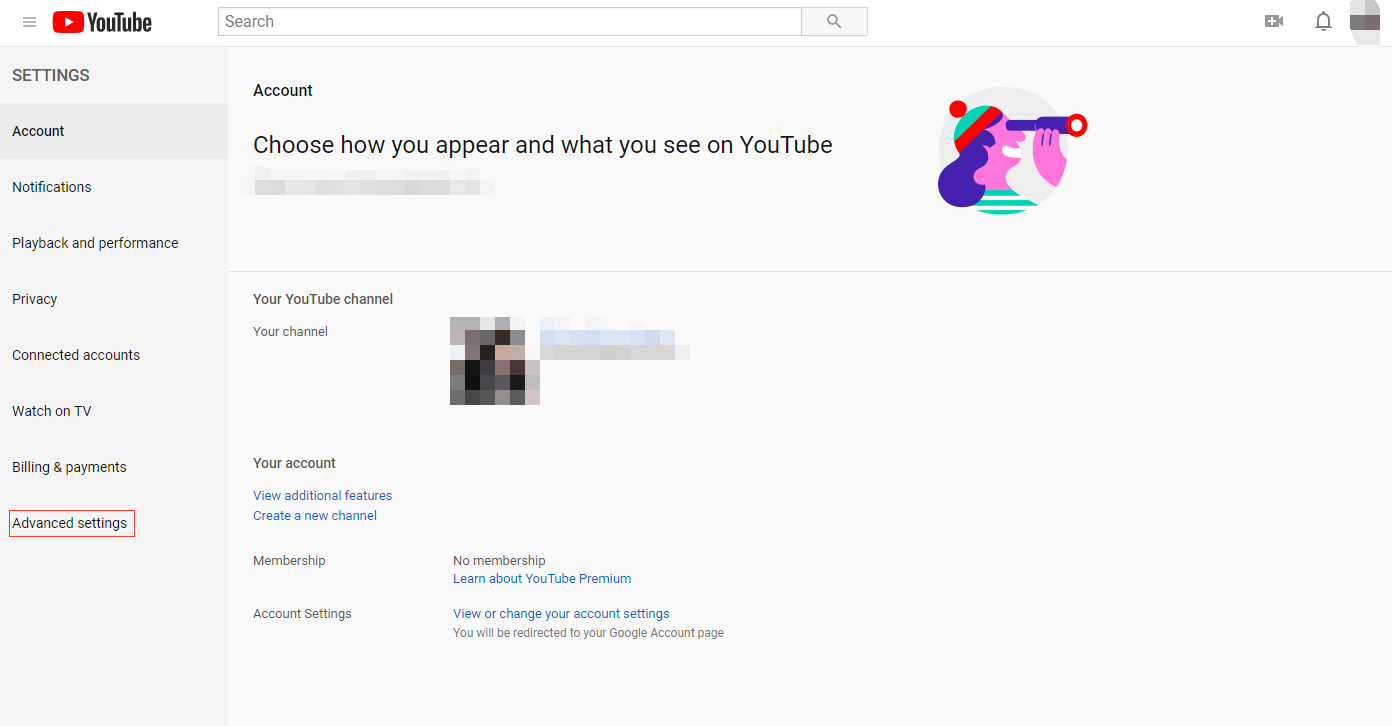 Step 4: In the "Get a custom URL" box, you'll see the custom URL you've been approved for.
The custom URL is often based on your YouTube username or any current vanity URLs that you have. You can't change the part in the gray box, but you can make your YouTube URL unique by adding a few letters or numbers to the end of URL.
Step 5: After reading "Custom URL Term of Use" carefully, check the box to agree to them and click on Change URL.
Step 6: Then in the pop-up window, click the Confirm Choice button to apply this change. Remember, once you confirm this customized URL, you can't change it again.
Tip:
1. You can't edit the custom URL which is approved. But you can remove your custom URL and claim a new one.
2. A YouTube channel only has one custom URL. You can't transfer the custom URL to someone else.
Conclusion
Customizing a YouTube URL is one of the simplest ways to promote your YouTube channel. It only takes a few minutes to get a custom URL as long as your YouTube channel is eligible. Have a try to get your custom URL.
If you have any question about YouTube URL, please contact us [email protected] or comment on this post.