Today's topis is PBJRELoad=10. PBJRELoad=10 is a YouTube error and it is caused by two main factors. Now read the post to learn more about this topic. By the way, if you are seeking a free and reliable YouTube downloader, MiniTool uTube Downloader is recommended here.
What Is PBJRELoad=10?
PBJRELoad=10 is a YouTube error. According to online reports, the Youtube error PBJRELoad=10 appeared after people downloaded Google+ to their devices.

The YouTube error PBJRELoad=10 might be caused by service failure and glitches.
The service failure was triggered by the fact that YouTube decided to take Google+ out of its mainframe because certain aspects of the application were damaged. The glitches of the application might trigger the YouTube error.
Well, how to fix PBJRELoad=10? Keep reading.
How to Fix PBJRELoad=10?
Here are three solutions to fix the YouTube error PBJRELoad=10:
Check the network connection
Check JavaScript support
Add a category
Check the Network Connection
First, check if your network connection is stable and strong. For example, you can try downloading a video. If you get the download quickly and successfully, it seems that the network you are using is not the culprit. If you are unable to get the download, please connect your device to another network and check if the YouTube error PBJRELoad=10 will appear.
Check JavaScript Support
JavaScript is a scripting programming language. It works with browsers to make sure that the website works with some features. If the Active scripting feature is disabled in a browser, the YouTube error PBJRELoad=10 might appear.
So, check if the Active scripting feature is enabled:
Note:
The following steps are applied with Internet Explorer.
Step 1: Open Internet Explorer and see if there is a tab called Tools. If it is not available, please right-click the blank space at the top of the browser window and then choose the Menu bar option.
Step 2: Click the Tools tab and then choose the Internet options option.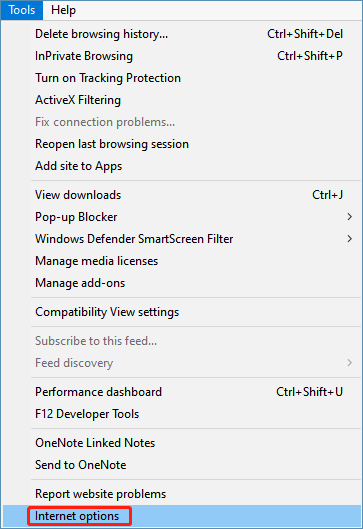 Step 3: Switch to the Security tab on the new window and then click the Custom Level button when the Internet icon is selected.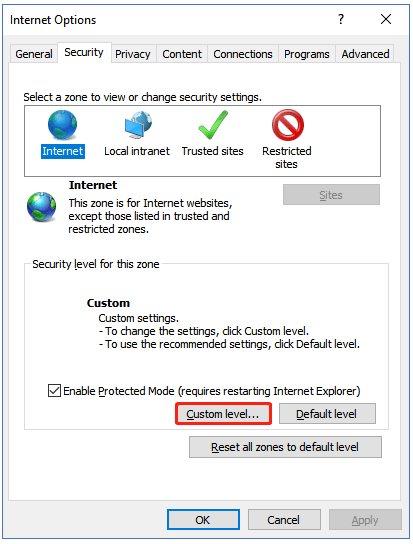 Step 4: Scroll down the list on the new window until you see the Scripting item. Then, see if the Enable option is selected. If not, select the Enable option and click the OK button to save the change.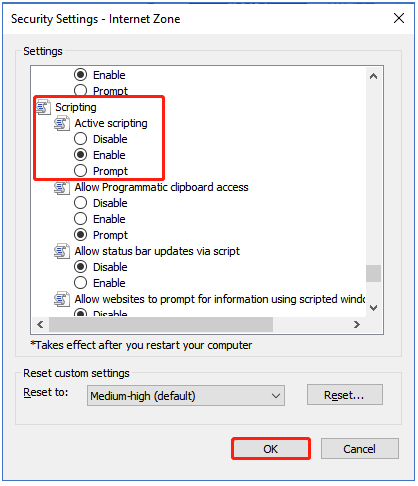 Add a Category
Many users found that adding a category to the end of the link fixed the PBJRELoad=10 error.
Here are the detailed steps:
Launch a browser and open a new tab.
Copy and paste the link of the video, channel, or playlist you want to navigate to.
Add in /Video, /Channel, or /Playlist at the end of the link.
Press the Enter

Does the PBJRELoad=10 appear in the URL bar? If not, congratulate!