YouTube is full of great marketing content. This post by MiniTool uTube Downloader will introduce you to some of the best marketing YouTube channels on this platform.
YouTube is a fantastic platform for beginners and experienced marketers to learn new ideas and strategies to gain traction for their businesses.
New marketers can learn about all aspects of marketing, such as SEO, analytics, digital marketing, content marketing, and so on.
Likewise, seasoned marketers can stay abreast of the latest trends in an ever-changing marketing environment and discover better, smarter strategies to build and maintain business growth.
If you want to follow some YouTube channels for business, please refer to this post: Top 8 Business YouTube Channels to Improve Your Business Skills.
Now, let's explore the 5 best YouTube marketing channels on our list.
1. Ahrefs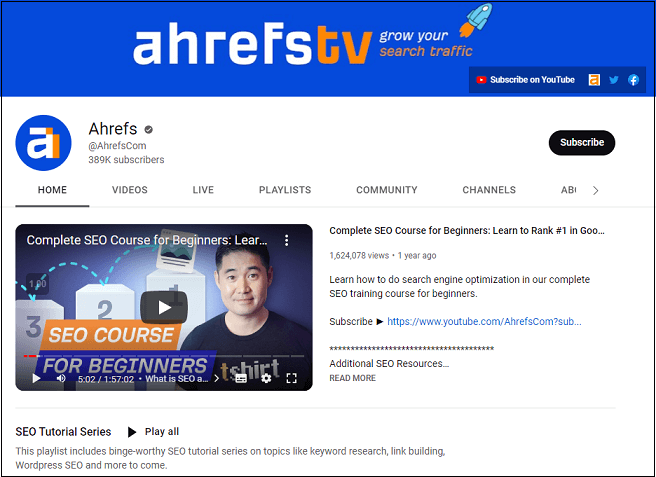 Ahrefs provides a lot of helpful content for SEO and online marketers. It's also one of the best SEO tools in its domain.
This YouTube channel has a constant stream of useful tutorials on SEO topics such as technical SEO, keyword research, link building, and all the trends in today's SEO world.
Ahrefs offers not only SEO tutorials but also some case studies from research and marketing experiments. If you're looking to learn how to grow your organic traffic, Ahrefs' marketing YouTube channel should definitely be your focus.
Recently posted videos from this channel include "Digital Marketers: Stop Ignoring These Things", "Product-led Content: How we Do Content Marketing at Ahrefs", "Successful Affiliate Marketing Websites to Learn From", etc. As of writing, Ahrefs has over 388K subscribers on YouTube.
2. Brian Dean
Brian Dean, who founded Backlinko, is one of the most respected figures in the SEO community. If you're new to SEO, Brian Dean's in-depth tutorial on SEO topics can help you become familiar with various SEO concepts that will help your site rank higher.
As one of the best marketing YouTube channels, this YouTuber offers actionable SEO, link-building, and content marketing strategies to help grow your business. The channel also features real-life examples and SEO case studies to demonstrate his exact techniques for increasing organic traffic to his website.
The most popular videos posted on his channel are "How to Get More Views on YouTube (NEW Strategy)", "Advanced Step-By-Step SEO Tutorial", "SEO Checklist — How to Get More Organic Traffic (Fast!)", etc. Brian Dean has a following of over 516K subscribers as of writing.
3. Vanessa Lau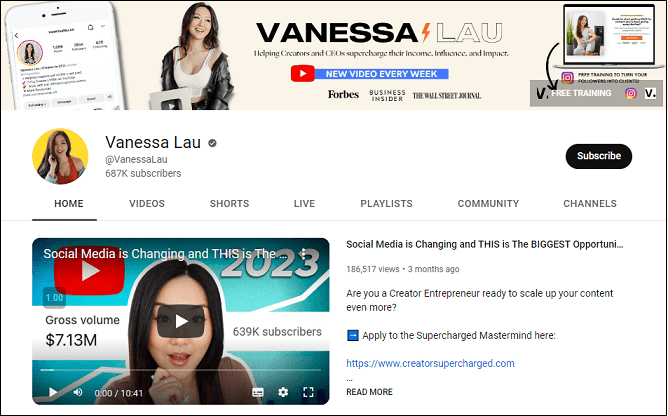 If you want to market and connect with your audience on Instagram, this YouTuber's channel is perfect for you. Vanessa Lau shows her subscribers how entrepreneurs and content producers can reach out to their audience and build a solid following through Instagram.
In fact, in one of her most popular videos, Lau offers five Instagram hacks to get followers organically on the platform. Additionally, Lau offers YouTube marketing tips and ways to stand out on other social media platforms such as TikTok and Snapchat.
The most recent videos posted on her channel cover "The 5 Biggest Social Media Trends in 2023", "Social Media is Changing and THIS is The BIGGEST Opportunity of 2023", "How To Start a YouTube Channel in 2023 (The ONLY Video You Need to Watch.)", etc. As of writing, Lau has over 687K subscribers on her YouTube channel.
Also read: How to Start a YouTube Channel – 4 Useful Tips
4. WPCrafter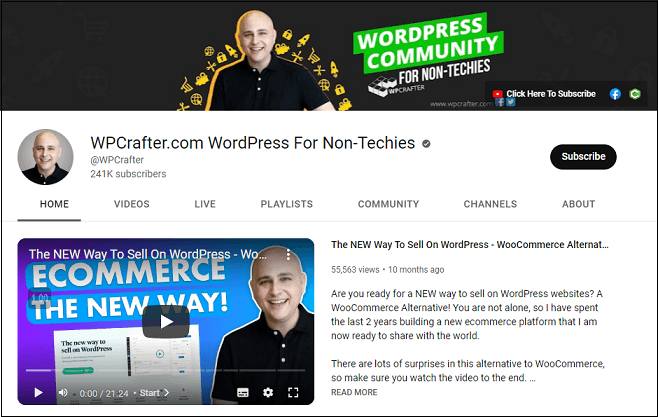 WPCrafter is also one of the best marketing YouTube channels on this list. If you're considering whether a particular WordPress plugin is right for your site, try WPCrafter.
This marketing YouTube channel aims to deconstruct WordPress. Adam Preiser's channel WPCrafter includes popular WordPress plugins, themes, page builders, and other tools that can help you improve your WordPress site.
Adam Preiser's Elementor tutorial, for instance, is ideal for anyone just starting with a complex page builder like Elementor. In his tutorials, you'll also occasionally see recent reviews of AppSumo's lifetime deals, as well as discussions of changes in the ever-evolving WordPress ecosystem. His involvement with an in-depth guide has helped him amass over 241K subscribers as of writing.
5. Semrush
Semrush is one of the best digital marketing YouTube channels in this space. Her YouTube channel has a lot of content to educate you on the basics of SEO and digital marketing.
Besides, this marketing channel includes tutorials on how to use it for keyword research, competitive analysis, and more to help you rank higher in SERPs.
There are relevant topics such as "How to Rank on YouTube", "How to Get Backlinks to Your Site", and "Track SEO Metrics and Rank Faster on Google". As of writing, Semrush has over 144K subscribers on YouTube.
For offline viewing of marketing YouTube videos, try MiniTool uTube Downloader.
MiniTool Youtube DownloaderClick to Download100%Free & Clean
Conclusion
That's all about the best marketing YouTube channels you can't afford to miss. We hope these YouTube marketing channels will help you learn some practical tips and tricks to optimize your content and website.