This post from MiniTool uTube Downloader will provide you with the top 8 business YouTube channels and why you should follow them.
Tips:
To learn business-related YouTube videos without the Internet, try MiniTool uTube Downloader.
MiniTool uTube DownloaderClick to Download100%Clean & Safe
#1. Google Small Business
Google Small Business is the first recommendation on our list of the best YouTube channels for business. This channel offers valuable tips, tools, and resources to help small business owners grow their online businesses.
This channel's videos offer information beyond the tools entrepreneurs can use to manage their small businesses. In addition, it offers significant contributions from real small businesses.
They combine compelling stories with great advice on how goal-aligned people can achieve success, even on a limited budget. Another benefit is that appearing on the channel can provide smaller brands with a lot of exposure.
With over 372K subscribers, Google Small Business actively posts business-related videos such as "Grow your business with the Google Ads tool on HubSpot" and "Grow Your Business with Google Listings & Ads by WooCommerce".
#2. TED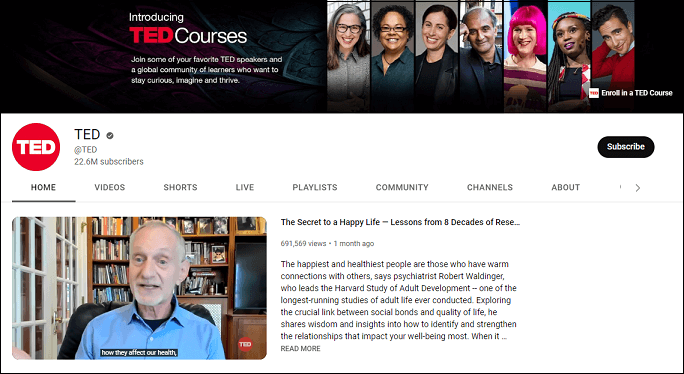 TED is one of the best business YouTube channels on this list. The channel is mostly focused on inspiration, not tips and tricks. Some of the biggest public figures give a series of speeches or presentations here.
The lectures are delivered by real people, some well-known, others not so well-known. Still, the stories they tell are inspiring and can make anyone think deeply and change their perspective. This will be a critical step in becoming the leader your business needs.
TED has more than 22.6 million subscribers and continues to publish videos of talks on business, science, technology, art, and more.
#3. Tony Robbins
Tony Robbins has multiple identities, including business strategist, entrepreneur, philanthropist, and best-selling author. His talk "Why We Do What We Do" at TED Talks is very influential and worth watching.
This business YouTube channel is the perfect combination of business advice, motivational talks, and life tips. There aren't many long videos on his channel, but the short ones he posts are pretty good too.
His channel has more than 1.6M subscribers and its popularity will continue to rise.
#4. GaryVee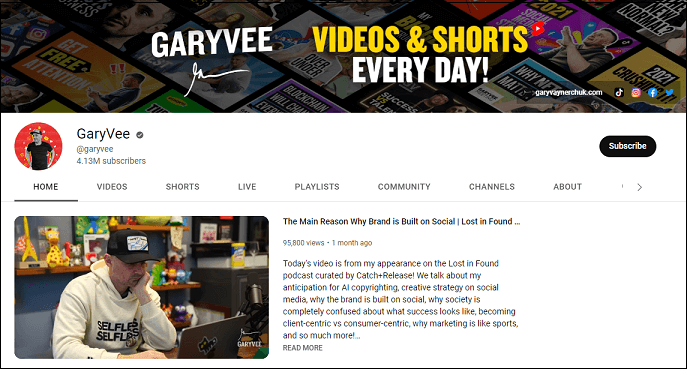 GaryVee is one of the best marketing experts in the world. He is also a best-selling author and has written "Jab, Jab, Jab, Right Hook". He runs the highly successful podcast "The GaryVee Audio Experience". In addition, he has a large following on Twitter, Instagram, and Snapchat.
Recommend post: How to See Who Someone Recently Followed on Instagram (2 Ways)
About his YouTube channel with over 2,000 videos, including snippets, interviews, video documentaries, and keynote speeches. Whether it's personal branding or social media marketing, the GaryVee channel offers a wide range of topics that can help you grow your brand and business.
With over 4.13M subscribers, Gary Vaynerchu is one of the leading business YouTube channels in this space.
#5. Noah Kagan
Noah Kagan founded AppSumo, a well-known marketplace for entrepreneurs. Sumo is a set of list-building tools for your website.
This channel includes tutorials, interviews, and motivational talks. Noah Kagan also adds fun and humor to all of his videos, so you'll be entertained while you learn.
His recent business-related video uploads include "9 A.I. Passive Income Business Ideas To Start In 2023" and "23 Profitable Business Ideas For The 2023 Recession". At present, his channel has amassed over 624K subscribers.
#6. HubSpot Marketing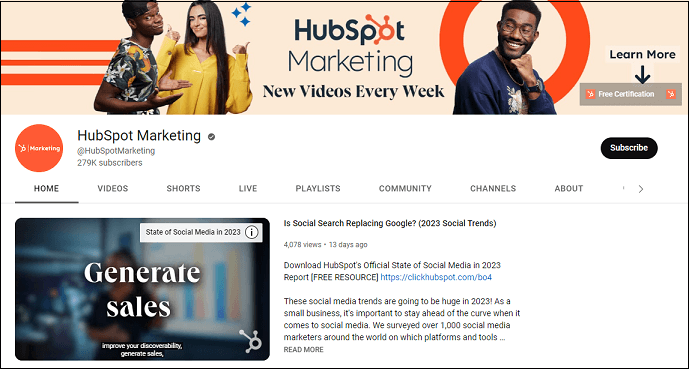 HubSpot Marketing is one of the great platforms for entrepreneurs on YouTube. This channel focuses on self-promotion. It features client success stories and presentations.
The channel has changed dramatically over the years, and today it's a hub for business owners, marketing professionals, and others.
You'll find a variety of videos on this channel, including social media tips and tricks, productivity hacks, and reviews of emerging technologies, just to name a few.
With more than 279K subscribers, HubSpot Marketing is the most popular channel for entrepreneurs, bloggers, and agency owners.
#7. Fast Company
Fast Company is a prominent brand in the global progressive business media. It also places particular emphasis on innovation in technology, leadership, and design.
Fast Company's YouTube channel has a wealth of business advice from entrepreneurs and innovators, as well as brand evolution videos from well-known companies such as Apple, McDonald's, and Coca-Cola.
Interviews with celebrities who have used social media to build their brands can also be found there.
With 118K subscribers and counting, Fast Company is one of the best YouTube channels for entrepreneurs.
#8. Moz
Moz creates SEO and content marketing tools, so most of its videos focus on these two topics. In fact, SEO and content marketing are both important aspects of entrepreneurship and play a pivotal role in the growth of a business, which is why Moz's YouTube channel is included in this list.
Moz's creator, Rand Fishkin, also regularly posts videos on the channel called "Whiteboard Friday", offering practical SEO and marketing advice.
Moz has over 86.7K subscribers and is one of the top entrepreneur YouTube channels on this list.
Conclusion
There are the most useful and popular business YouTube channels. You can choose the one you prefer to take your business skills to the next level.