This post from MiniTool introduces 4 methods for you to zoom in on a video on YouTube. You can zoom in on a video with and without premium. Read this article below.
When Will You Need to Zoom YouTube Videos
YouTube has become one of the most popular media platforms, where millions of users post their videos on it. Some videos are helpful and worthwhile for viewers, thus they need to observe these videos more closely. People always find it difficult to catch some important details in a certain area from it. 
For example, when you watch a makeup tutorial, you can't see the product's production clearly without zooming in on the video. When you view a music video on YouTube, you can see the lyrics of a song by zooming in.
In a word, it's essential for every single user to know how to zoom in on YouTube to get some detailed information in simple ways. This post has offered 4 effective methods to zoom in on a video.
4 Methods of How to Zoom in on a YouTube Video
In this part, we discuss 4 methods of how to zoom in on a video easily on YouTube. You can choose one of them to apply.
Method 1. Zoom in on a YouTube video with pinch to zoom
YouTube offers a function button called Full Screen mode when you play a video on YouTube. In Full Screen, zooming in on or out a video is accessible for a YouTube premium account, which makes you view moments in greater or smaller detail.
Note:
This method is only available on the YouTube app on mobile devices.
Step 1. Open YouTube and choose a video you'd like to watch.
Step 2. Click on Full Screen mode in the lower right corner.
Step 3. Touch the screen with two fingers, and scroll your fingers to zoom in or out of the video.
The following three methods are for YouTube users without premium.
Method 2. Zoom in on a YouTube video with the browser zoom feature
Your browser also offers the feature to zoom in on YouTube videos. In this way, you don't need any additional help and can realize it quickly. You have two options for using the browser zoom feature.
You should access the webpage of YouTube on your browser, enter it, and choose one video you like first.
Option 1. Tap on the three-dots icon in the upper right corner, select Zoom from the list, and adjust the percentage of zooming by taping + or –. It can zoom up to 500%.
Option 2. Press and hold the Ctrl key on your keyboard, and scroll the mouse wheel in your hand or tap + or – on the URL search bar of YouTube to zoom into the YouTube video.
Method 3. Zoom in on a YouTube video with a browser extension
To use a browser extension, you can also zoom in on a video on YouTube successfully. We will recommend Turn Off the Lights browser extension due to its open and free feature.
Step 1. Go to Chrome Web Store to add Turn Off the Lights to your browser extension.
Step 2. Find the lamp icon on the extension bar, tap on the three dots, and select Options.
Step 3. Click on Advanced Options on the left side of the screen.
Step 4. Choose both Show the toolbar below your screen to customize the current video player and Zoom in or out on video content using the zoom button under the video toolbar section.
Step 5. Play a video on YouTube. There will be a zoom panel on the right side of the video. Zoom in or out of the video by clicking + or –.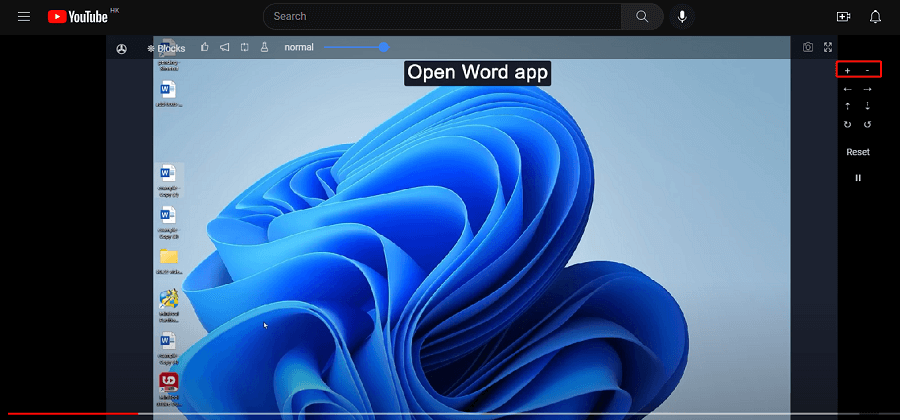 Method 4. Download the video and play it on your on-device photo albums
Nowadays, all most all mobile devices support zooming in on a video by double tapping or pinching your screen. You can download the video you'd like to observe to your device, and then play it locally.
Tips:
If you want to save your favorite videos from YouTube for offline watching, MiniTool Video Converter is a nice option.
MiniTool Video ConverterClick to Download100%Clean & Safe
How to Zoom in and out a Video with MiniTool MovieMaker
Do you wonder how to add zoom in and zoom out effects to a video? Try MiniTool MovieMaker.
MiniTool MovieMaker is an easy-to-use and powerful video editing software. It supplies movie templates to generate your video with one click. With the help of its various transitions, filter effects, and motion effects, your video will become more dynamic and attractive.
Zooming a video is quite easy with MiniTool MovieMaker. Check the following steps:
Step 1. Download and install MiniTool MovieMaker.
Step 2. Open MiniTool MovieMaker, close the pop-up window, and click on Import Media Files to import a video you want to zoom in and out.
Step 3. Click + on the bottom right corner of the video to add it to the timeline.
Step 4. Tap on Motion, and you can see all motion effects, including pan, zoom in, and zoom out. Click on zoom in or zoom out and select one to preview by putting the cursor on it.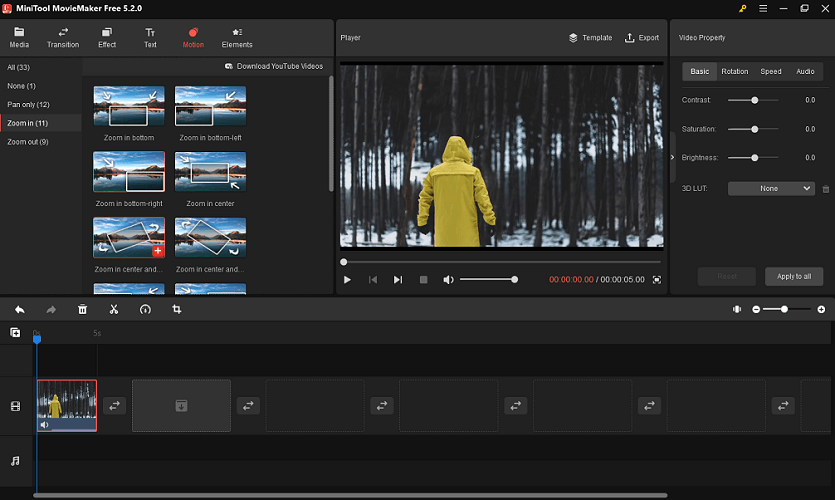 Step 5. After previewing, ensure a Zoom in or Zoom out effect you'd like to apply. Dragging it to the video or tapping + on the lower right corner of the effect to add it to your video.
step 6. Click Export on the toolbar, complete the output settings, and click Export.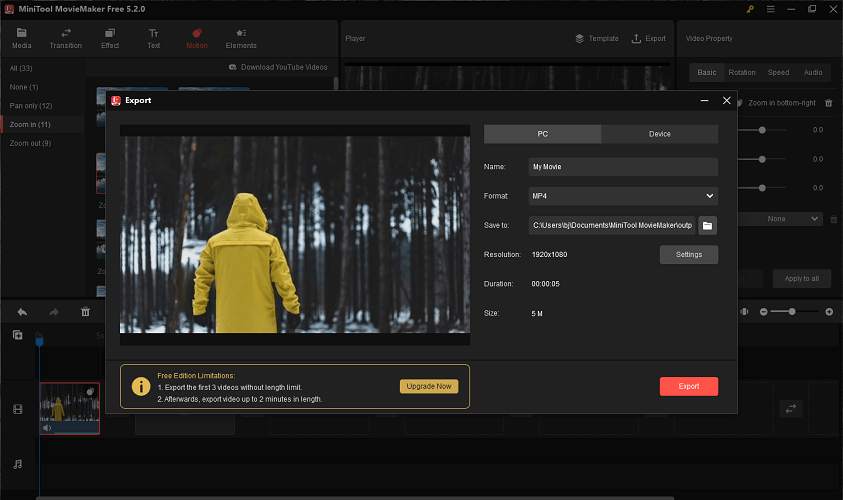 Also read: How to Zoom in on PC? (On a Web Browser or an APP in Windows) [MiniTool Tips]
Conclusion
Have you learned how to zoom in on a YouTube video now? Try any of the methods we mentioned above. In addition, you can attempt to zoom a video by yourself with MiniTool MovieMaker.