Making your YouTube channel searchable can be the key to increasing your subscriber count and online presence. This post on MiniTool will offer a full guide on how to make a YouTube channel searchable.
YouTube can be a useful way to promote your business in many ways. Millions of hours of video are uploaded to YouTube every day. However, only a small percentage of businesses have a YouTube channel, which presents a great opportunity for businesses that want to reach a larger audience.
One of the most important ways to promote your YouTube channel is to let viewers find your channel. However, some channels may struggle to achieve visibility in search results for a variety of reasons. As a result, the channels may lose some potential subscribers and significant content engagement.
Top recommendation: How to Find a YouTube Channel on a Computer?
Fortunately, you can figure out the possible reasons and effective solutions to fix this issue in the following content.
Why Is a YouTube Channel Not Searchable
Why doesn't my YouTube channel show up when I search for it? Many channel owners may have asked this question. Here're the common reasons why your YouTube channel isn't searchable:
1. You have a newly created channel.
2. You have a commonly used channel name.
3. Your channel name is often used in video titles.
4. Your channel name may not be suitable for all audiences.
If your YouTube channel isn't new and doesn't fit any of the other conditions, we will show you how can you improve the chance of it showing up in search results.
How to Make a YouTube Channel Searchable
If your YouTube channel isn't visible in search results on YouTube and Google Search, you need to optimize your YouTube channel and videos. Follow these ways to make a YouTube channel searchable.
1. Make sure your YouTube channel is public.
YouTube channel allows you to make it private for privacy protection. It's impossible to find your videos in a YouTube search with a private YouTube channel. After logging in to your YouTube account, go to settings to check if it's accidentally set to private.
2. Change your channel name.
Your channel name may be the most likely reason why you can't find it in search results. Commonly used channel names in video titles and descriptions may be hidden under more popular content. Besides, channel names that are not appropriate for all age groups may also not appear in search results.
How to make your YouTube channel name searchable? If you own a brand, you can consider using your brand name as your channel name. If not, you'd better use a categorical name including a targeted keyword or an explanatory name explaining what users can expect to find on your channel.
Related post: How to Change YouTube Channel Name and Description?
3. Add your channel name as the channel's first keyword.
Adding your channel name as the first keyword in your channel settings may increase the chance of your YouTube channel appearing in search results. Simply go to YouTube Studio and click on Settings, then tap Channel. Next, enter your channel name in the Keywords box under the Basic info tab.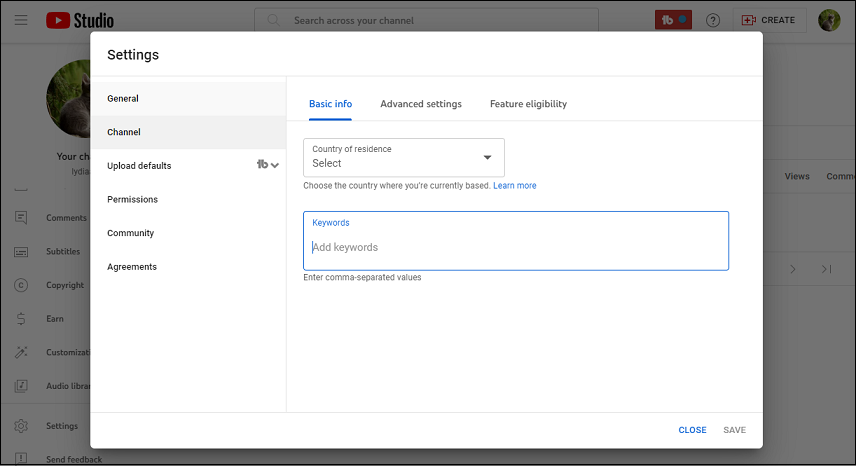 4. Use the right keywords.
Choose strong and targeted keywords. You can choose topics and words that are related naturally to your content, or seek help from online tools or websites that can find relevant keywords with less competition and improve your keyword research.
5. Use keywords in titles and descriptions.
Make sure keywords appear in the titles and descriptions of every YouTube video and playlist. You should also add a relevant keyword to your channel name if possible and ensure the additions are natural.
Tips:
To view YouTube channel videos without a network, use MiniTool uTube Downloader.
MiniTool uTube DownloaderClick to Download100%Clean & Safe
6. Add your channel name as a tag.
After optimizing your titles and descriptions with keywords, adding tags to your channel, playlist, and videos is also essential for making your channel searchable. It would be better if you use your channel name as a tag for all content.
Conclusion
For some reason, you may not be able to find your YouTube channel when you search for it. Refer to these ways in this article to make your YouTube channel searchable.