If you are not satisfied with the YouTube video thumbnail you have selected, you may want to edit it or re-load another one. In this post, we will show you how to change a YouTube thumbnail on your mobile phone and PC. Besides, if you want to download YouTube videos, you can use MiniTool uTube Downloader.
Tips:
MiniTool uTube Downloader is a free YouTube video download tool. You can use it to download a YouTube video to MP3, MP4, WebM, and WAV. It supports high-resolution output if it is supported.
MiniTool uTube DownloaderClick to Download100%Clean & Safe
How to Add a Thumbnail on YouTube?
During the process of uploading a video on YouTube, you can choose a thumbnail for that YouTube video.
Well then, how to add a thumbnail on YouTube? From the following picture, you can see three thumbnails that are automatically generated by YouTube. However, you can also create a thumbnail by yourself and upload the thumbnail to the video by clicking the Upload thumbnail section under Thumbnail.
(See the best YouTube thumbnail size.)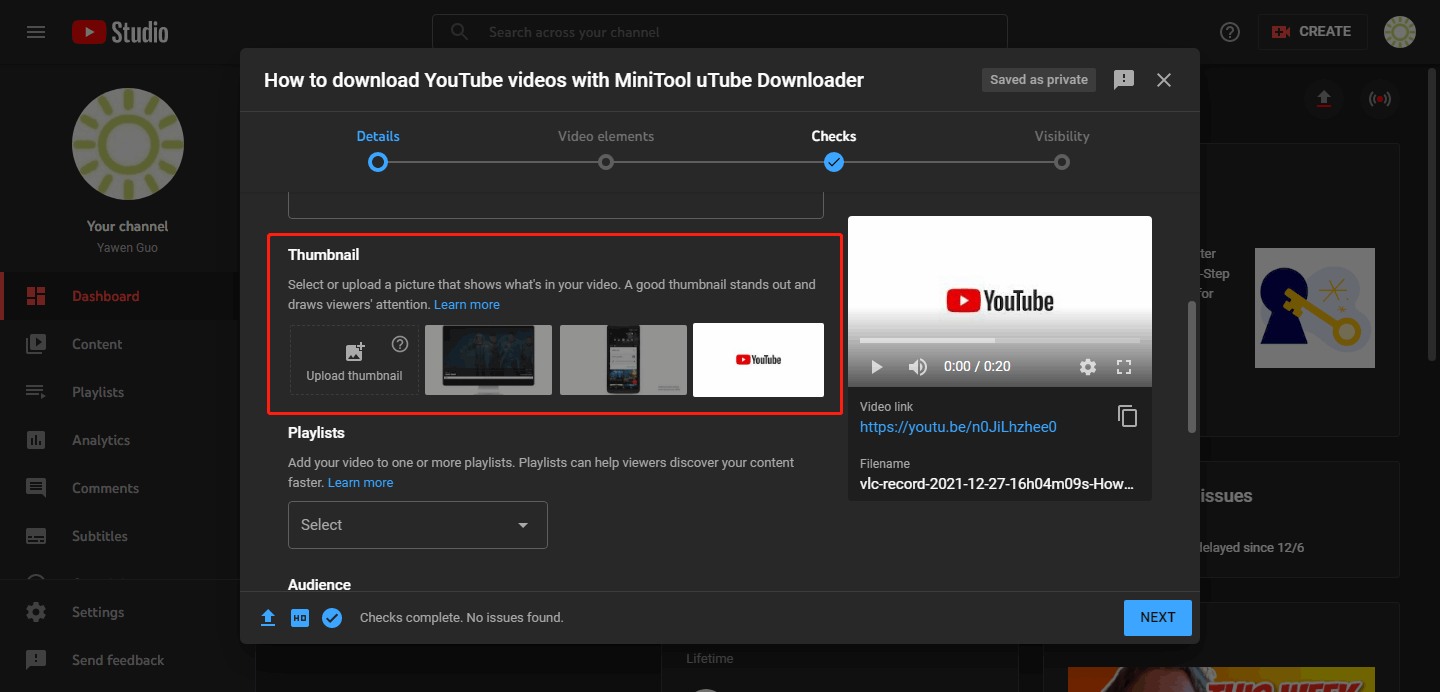 A good thumbnail stands out and draws viewers' attention. If you think the current thumbnail you use for your video on YouTube is not so good, you can change it. It is possible to change a YouTube thumbnail on both a mobile phone and a computer. Now, we will show you how to do this on your computer or mobile phone/tablet.
How to Change a YouTube Thumbnail on Your Computer?
This is the guide on how to edit a thumbnail on YouTube using your computer:
1. Go to the site of YouTube and sign in with your account and password if necessary.
2. Click your profile picture and select YouTube Studio.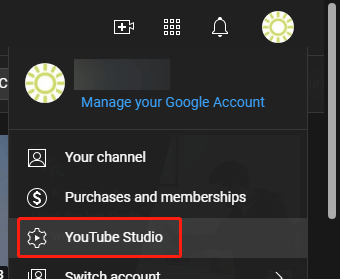 3. Select Content from the left menu.
4. Select the target video by clicking its thumbnail. Then, you will enter the Video details page.
5. Under the Thumbnail section, the currently-used thumbnail is highlighted. You can choose one of another two thumbnails. If you have created a YouTube thumbnail by yourself, you can click Update thumbnail and select that thumbnail from your PC for use.
6. Click the SAVE button on the top-right corner to save this change.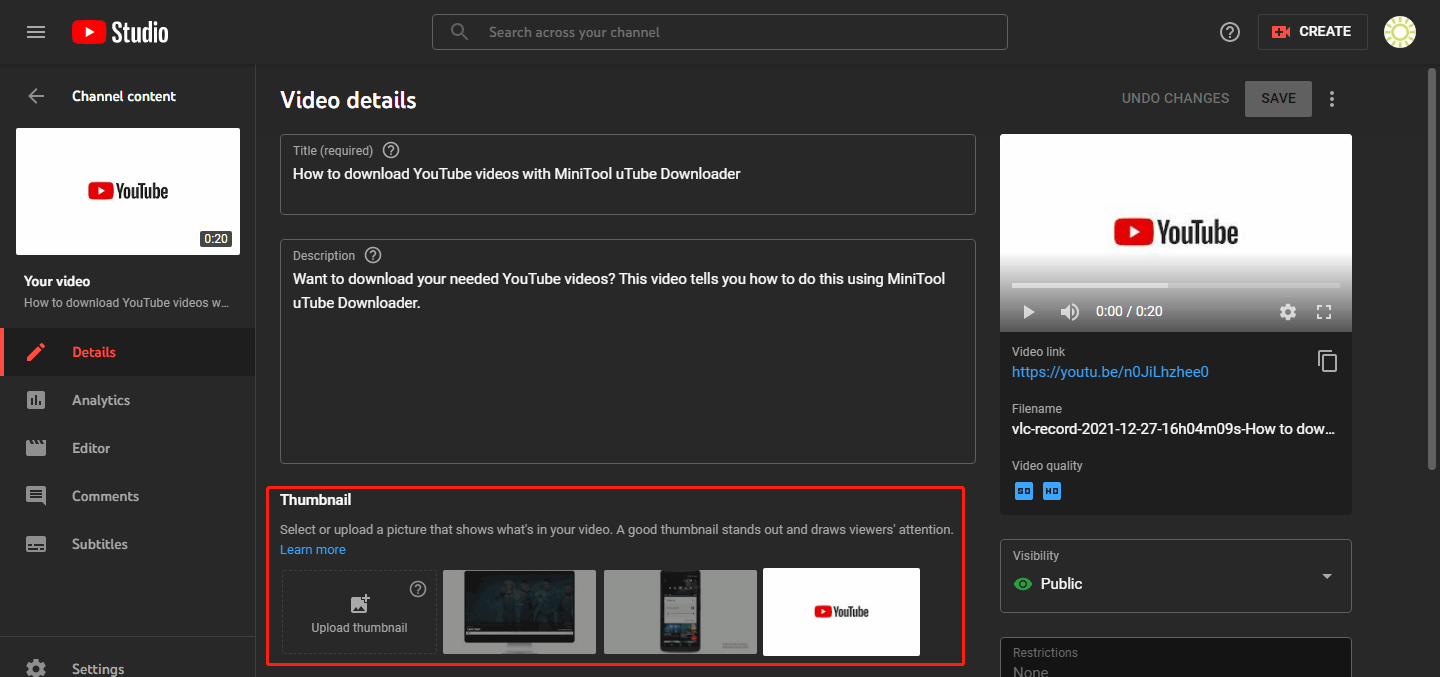 How to Change a YouTube Thumbnail on Your Mobile Phone?
If you want to change a YouTube thumbnail on your mobile phone or tablet, you can follow this instruction:
Open the YouTube Studio app on your device.
Tap Content from the bottom menu.
Select the target video you want to edit the thumbnail.
Tap Edit.
Tap Edit thumbnail.
Tap your thumbnail.
If you want to use one of the three auto-generated thumbnails, just select one according to your needs. Of course, you can also add a thumbnail that is edited by yourself. You can just tap Custom thumbnail to upload your thumbnail from your device.
Tap SELECT to confirm the operation.
Tap SAVE to save the change.
These are the two guides to change thumbnails on your computer or phone/tablet. They are easy to operate. You can just select a suitable method to use according to the device you are using.
If you have other issues that need to be solved, you can let us know in the comments.