MrBeast is a successful YouTuber. And his net worth is up to $18 million. How does MrBeast have so much money? This post will introduce how does MrBeast have so much money. If you want to save his videos, you can try MiniTool uTube Downloader.
Brief Introduction of the Successful YouTuber – MrBeast
MrBeast was born on May 7, 1998. His real name is Jimmy Donalson. He has been credited with pioneering a genre of YouTube videos that center on expensive stunts. When he uploaded his first video to YouTube under the username "MrBeast6000" in February 2012, he was only 13 years old. In the first few years, not much user attention has been achieved.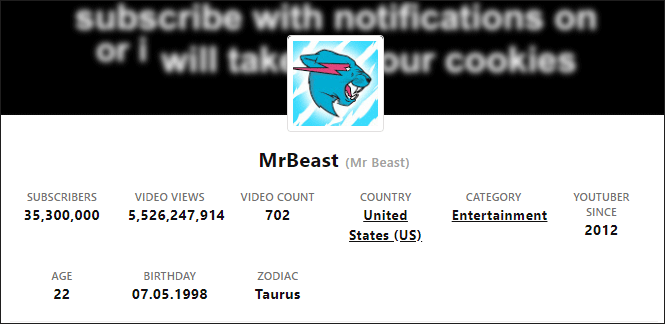 How Does MrBeast Have So Much Money?
Due to his "worst intro" series of videos, MrBeast began to get attention in 2015 and 2016. These videos rounded up and poked fun at YouTuber introductions he discovered on the platform. By mid-2016, MrBeast subscribers reached 30,000. At the end of 2016, MrBeast entered the university. He said he only went to college for two weeks before he dropped out. During that time, he did not get much money.
MrBeast was first popular in January 2017, when he uploaded a video showing himself counting to 100,000. He later revealed that this video took him 44 hours. Then MrBeast talked about the challenge. "I just really wanted it. I dropped out of college, and I really didn't make much. I know it will spread quickly."
After uploading the first video, MrBeast found something the YouTube algorithm liked. He quickly gained more views through similar stunts, such as rotating a nasty spinner for 24 hours, and watching Jake Paul's It's Everyday Bro music video for 10 consecutive hours.
how much money does MrBeast have in 2017? he earned a total of about $176.2k. In November 2017, MrBeast subscribers reached 1 million. His videos are getting more and more popular. For example, the video Fidget Spinner Vs Face (Legit Had To Get Stitches) has more than 24 million viewers.
In 2018, he earned a total of about 1532.1k. MrBeast's channel has several types of videos that serve as his bread-and-butter on his channel. Among them, his Last To Remove Hand is best known. There are more than 54 million viewers who ever watched Last To Remove Hand Wins $10,000-Challenge and Last To Remove Hand, Gets Lamborghini Challenge. Because of the exciting videos he made, he was called "Junklord YouTube".
In 2019, he earned a total of about 3062.2k. In addition to making videos, he also organized some competitions and received a lot of sponsorship. He partnered with Apex Legends to organize and shoot a real Royal Battle Royale game in Los Angeles, with a prize of $200,000 (played 2 games and the game revenue was $100,000 per game).
MrBeast is also the co-creator of Team Trees, a fundraiser for the Arbor Day Foundation, which has raised over $22 million.
Now in 2020, MrBeast has surpassed 37 million YouTube subscribers. He revealed that he will produce more perfect videos this year. Until now he has scrapped three videotapes and spent $100,000 to make videos.
If you also want to make money on YouTube, please read: How to Make Money on YouTube - 9 Highly Efficient Ways [MiniTool Tips]