If you want to know how much money you can make with your YouTube videos, you will need a YouTube money calculator. Which YouTube money calculator is good for you? The following part introduces the great 5 calculators. Get more information about them from MiniTool.
Today, YouTube is one of the most profitable social media sites. It has attracted millions of video creators who have quit their nine-to-five jobs and dreamed of becoming successful YouTubers.
Success depends on many different factors, and there is no clear formula. As an aspiring YouTube video creator, you probably already know this. The real question is how much money you can make with your YouTube videos. If you want to figure out this question, check out the top 5 YouTube money calculators below.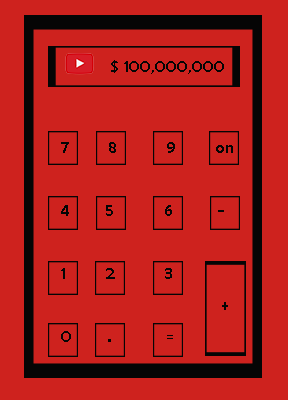 #1: Influencer MarketingHub
The first YouTube money calculator is offered by Influencer Marketing Hub. It is a website that offers reviews, calculators, case studies, and other resources for influencer marketing agencies and influencers.
The company was founded in 2016 and one of its most popular tools is its YouTube income calculator. This tool is easy to use and it will calculate how much money your YouTube videos can make.
You can also use it to calculate your potential earnings through channels or videos. All you need to do is enter the channel name or YouTube video link. Then, Influencer Marketing Hub will do the math for you.
#2: Social Blade
The second YouTube money calculator is offered by Social Blade. It is a statistics website founded in 2008. It measures and monitors its customers' online presence on social media sites including YouTube, Twitter and Instagram. It also provides advice to those looking for more views on YouTube.
One useful tool is its YouTube estimated earning calculator and it's easy to use to calculate how much money your YouTube videos can make.
#3: YouTube Money Calculator
The third YouTube earnings calculator is provided by YouTube money calculator. It is a site dedicated to calculating the potential income from YouTube. It doesn't have any additional pages other than the calculator, and it doesn't offer any other services other than the privacy policy page.
#4: Tube Calculator
Tube Calculator was founded by YouTubers in 2018. It offers the YouTube income estimator to help others understand how much money they could make with the YouTube videos. You can also calculate the total revenue of a channel or video by entering the appropriate username or link.
#5: Math Easy Solutions
Math Easy Solutions, founded in 2013, is a YouTube channel where viewers can learn Math.
However, the us company has grown into more than just a YouTube channel. Right now, it also offers tutorials, applications and online educational tools for a wide range of categories. It also has an easy-to-use YouTube money calculator that is used to calculate your potential earnings.
Making Money on YouTube
It is possible to make money on YouTube, as many creators have proven, and still are. this depends on some components such as number of views, the location of the viewers and viewers' tolerance for ads.
As a YouTube video content creator, you must understand more factors that can help you earn more from YouTube while creating amazing content that will attract high-quality viewers.
Bottom Line
When you're trying to fulfilling your YouTube dream, using the YouTube revenue calculator discussed above can give you an idea and inspiration on how much money you can make with your videos and channel.