Are you a bold guy? Do you like to watch horror movies? This post introduces several free horror movies on YouTube and shows you how to download them with a free and safe YouTube downloader—MiniTool uTube Downloader.
Free Horror Movies on YouTube
Do you like to watch horror movies? I list several free horror movies on YouTube below. Let's see what they are.
14 Free Horror Movies on YouTube
There are 14 recommended "free horror movies on YouTube full length". Their release date ranges from 1932 to 2020.
In-On: The Grudge
The Nun
Zombie Apocalypse
The Brain
When a Stranger Calls
Shellmont County Massacre
Naina
Children of the Corn
The Cleansing
Night of the Living Dead
White Zombie
Silent Night, Bloody Night
House on Haunted Hill
The Circle
Have you ever watched these movies? If not, scroll down to see more details about these horror movies on YouTube.
# 1 Ju-On: The Grudge
The first recommended free horror movie on YouTube is Ju-On: The Grudge.
Ju-On: The Grudge was directed by a Japanese director Takashi Shimizu and released in 2002. The movie told a story that a volunteer is cursed by two vengeful spirits when visiting a family. One is Kayako who was killed by her husband and the other one is her son Toshio.
Why do Kayako and her son curse the volunteer? Click here to find clues.
# 2: The Nun
The movie The Nun is an American gothic supernatural horror film released in 2018. The main story is that a young nun who is entangled by horrible past events accompanies a priest to a monastery in Romania to investigate the death of a mysterious nun.
In this movie, scaring screens appear suddenly and these can get audiences frightened. However, its poor plot is the biggest failure.
# 3: Zombie Apocalypse
Zombie Apocalypse is a disaster movie released in 2010 by an American director Ryan Thompson. The movie follows the story of three young men and women who wandered to an unknown town and were attacked by numerous zombies.
Click here to see how the three young people run for their lives through a zombie apocalypse.
# 4: The Brain
The Brain is a 1988 Canadian science-fiction horror film and enjoys a small cult following. The movie follows the story of a problem student Jim who is sent to a research institute for psychological counseling. Everything seems ok.
However, the research institute is a sub-base earth established by aliens and there is a brain monster that controls the minds of nearby residents. When Jim finds the truth, he becomes in danger.
# 5: When a Stranger Calls
When a Stranger Calls is an American psychological horror film. Its director is Simon West and was released in 1006. The movie shows how a babysitter, a high school girl, struggles with a strange man on the phone in a remote villa off the beaten track.
Although the storyline and concept are not very innovative, the director dealt with the details well. Click here to see how the whole movie.
# 6: Shellmont County Massacre
Shellmont County Massacre is a horror movie directed by Gus Trapani. The story tells a small-town sheriff hunts down the animal that is killing off the people he loves.
The horror was uploaded to YouTube on Nov 14, 2020 and has reviewed over 8,000 views. Most audiences post positive comments.
# 7: Naina
The 7th recommended free horror movie on YouTube is Naina.
The horror movie is a remake of the Hong Kong Singaporean horror film by the Pang brothers. In this movie, Naina who loses her parents and eyesight in an accident gets a corneal transplant and begins to see dead people and be cursed.
It is worth mentioning that the movie becomes better due to Urmila Matondkar's acting.
# 8: Children of the Corn
Children of the Corn is a 1984 American supernatural folk horror file based upon Stephen King's 1977 short story of the same name.
The movie describes a Children's revolution in the fictional town of Gatlin, Nebraska. A 12-year-old boy named Isaac Chroner who pretends to be guided by God claims adults destroy the world and sparks a revolution. In this revolution, those who age 19 and up are killed by children.
Three years later, a couple comes to this town. Will they be killed? Click here to see this movie.
# 9: The Cleansing
The Cleaning is a relatively new horror movie released in 2019. The movie follows a story of a sixteen-year-old girl who lives in a small isolated village in 14th century Wales. The girl is regarded as a witch and the cause of the plague that took the lives of many villagers, including the girl's father. Burdened With so many grievances, the girl had to fight for her life.
The plot of the horror movie is similar to something we have seen before, but there are also some surprises in this movie.
# 10: Night of the Living Dead
Night of the Living Dead is an old horror movie released in 1968. The movie follows a story that seven young men and women inadvertently move into a remote and abandoned farm and numerous living dead attack them.
Night of the Living Dead has been one of the most profitable movies ever made and an enduringly influential cult classic.
# 11: White Zombie
White Zombie is the earliest zombie film in the world. Actually, this film is not a traditional horror movie—no bloody and terrifying scenes but it conveys a psychological fear—a wizard awakens a large group of zombies through voodoo witchcraft to make them work for him and even turns all the white beauties who come to Haiti into the living dead.
Although this file has received lots of negative remarks like "an unintentional and often hilarious comedy", it is still worth watching.
# 12: Silent Night, Bloody Night
There is an old horror movie about Christmas Eve. Silent Night, Bloody Night, directed by Theodore Gershuny and released in 1972, follows a series of murders that occur in a small New England town on this festival after a man inherits a family estate that was once an insane asylum.
# 13: House on Haunted Hill
House on Haunted Hill is a 1959 American horror film. Its plot tells five young people stay in a haunted house for one night. What do they experience? Click here to watch this movie.
# 14: The Circle
The last free YouTube horror movie is The Circle. This horror movie was released on July 17, 2020 and was uploaded on YouTube on July 18. A big honor.
What's the story the movie tells? Josh's beloved grandfather has passed on but they never got to say goodbye. Josh's wife, Lori holds a small farewell ceremony as part of her husband's upcoming surprise birthday party despite a stern warning. So, a horrible thing happens.
Above are all recommended free horror movies on YouTube. Which one do you want to watch?
There are 14 free horror movies on YouTube. if you want to overcome your fears, you can watch them now.Click to Tweet
Download YouTube Horror Movies
On YouTube, there is no option for downloading videos, but you can download videos from the platform by using a YouTube downloader.
Note: Downloads should not be used for dissemination if you get them from YouTube via a YouTube downloader.
There are many YouTube downloaders on the internet. Here it is highly recommended that you try MiniTool uTube Downloader. It is a free and 100% clean Windows-based YouTube downloader, allowing you to download YouTube videos without limits. Moreover, this software can also help you convert file format.
Click the following button to download MiniTool uTube Downloader.
MiniTool Youtube DownloaderClick to Download100%Free & Clean
After downloading the software, uninstall it, and launch it to get its main interface. Then, follow the tutorial below to download horror movies from YouTube.
Step 1: Copy the link of the horror movie you want to download from YouTube and then paste it in the top search bar on the software main interface.
Step 2: Click the download icon next to the search bar.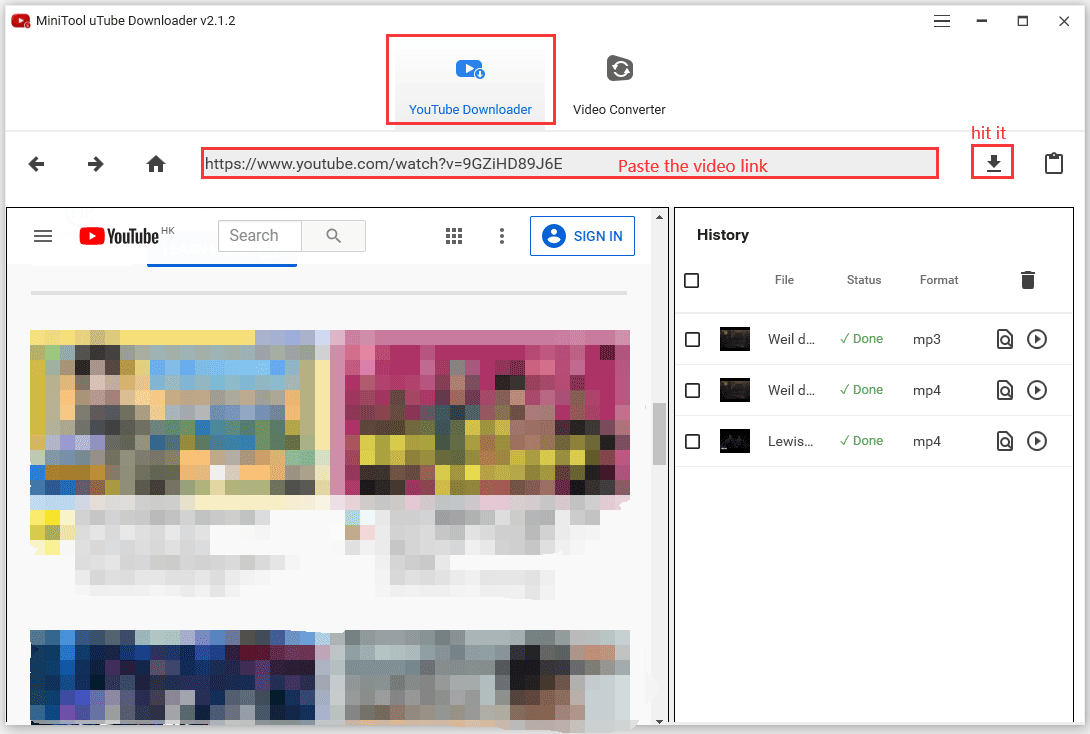 Step 3: A few seconds later, you will see a new window on which you should select one video format you need (MP4 or WEBM) and the video quality you prefer.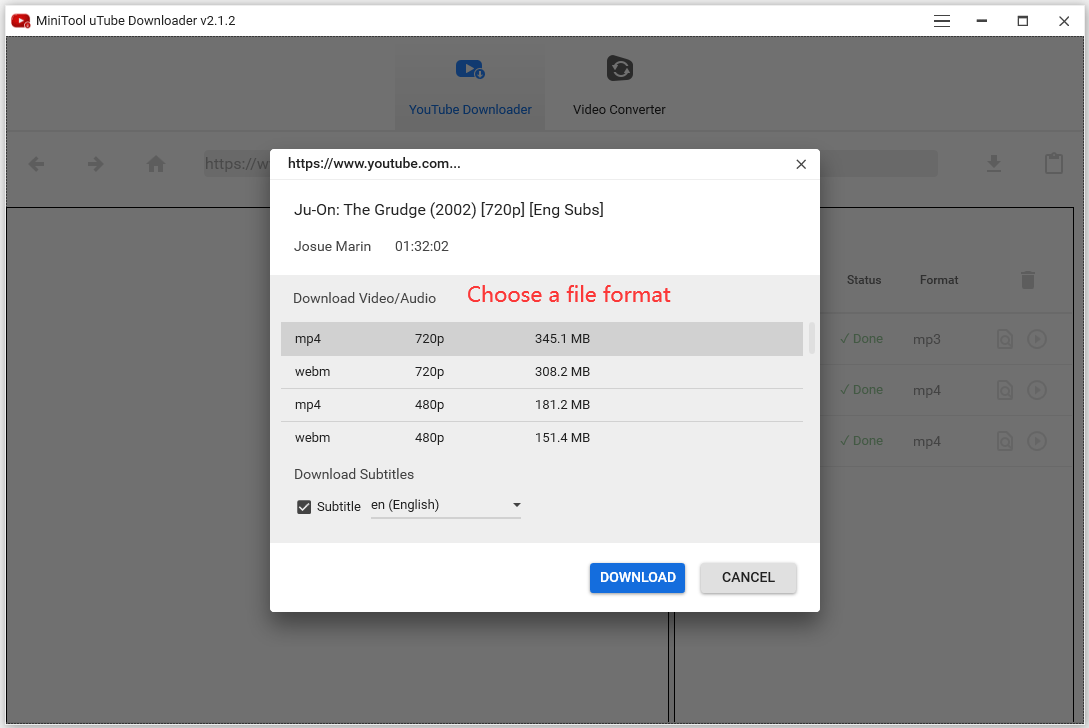 Step 4: Tick the checkbox of subtitles if you need them.
Step 5: Click the Download button and the software will start downloading this video.
When the downloading process ends, you can click the Play icon to enjoy this video.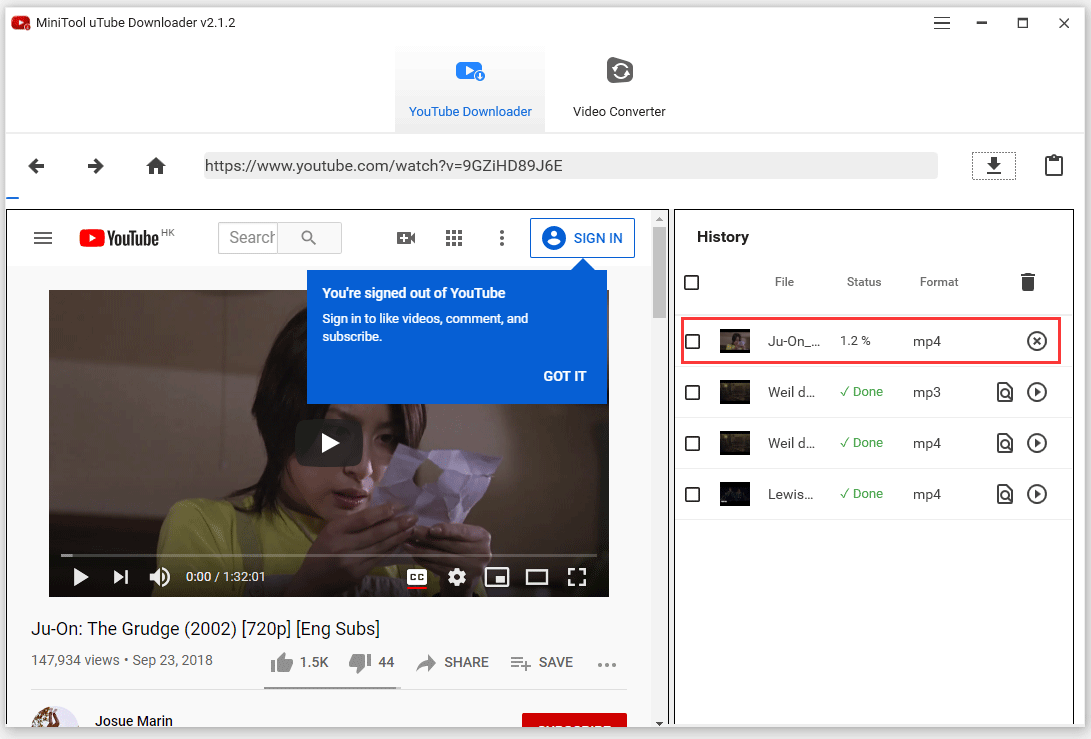 MiniTool uTube Downloader is an easy-use YouTube downloader. It helps me download horror movies from YouTube quickly.Click to Tweet
Do you want to see other kinds of YouTube videos? We have collected some best comedies and documentaries on YouTube. Watch them in your spare time if you are interested in them.
Bottom Line
The sharing of free horror movies on YouTube comes to an end. Is there a movie you like? If you have other recommendations, please share them with us in the comment zone.
Have you tried MiniTool uTube Downloader? This YouTube downloader can help download videos as well as audio from YouTube. If you have some issues when using this YouTube downloader, please contact us via [email protected] and we will reply to you as soon as possible.
Best Free Horror Movies on YouTube FAQ
Is it bad to watch horror movies?
Every coin has two sides. Watching horror movies can benefit your body but also causes damages to your body.
Benefits: Watching horror movies can cause stress. Short periods of stress can improve the immune system. Besides, watching horror movies can cause your body to release adrenaline which triggers your fight-or-flight response. Your body begins to draw calories from its energy to prepare to run or fight, so which means watching horror movies can help you lose weight.
Damages: Long periods of stress provoked by horror movies can cause high blood pressure, heart attacks, etc.
How can I download movies from YouTube for free?
Although there is no option for downloading videos on YouTube, you can use a YouTube downloader to download videos.
The basic steps are:
Copy the video link from YouTube.
Paste the copied video link into the search bar, choose the video format, and click the option like Download, GO, Start…
The YouTube downloader you are using will automatically download the video.
Where can I watch free full movies?
You can find free full movies on the following streaming sites:
YouTube
Crackle
Yidio
Snagfilms
Vudu
Popcornflix
…