If you want to find some influential black YouTubers, you are in the right place. This article will introduce 14 black YouTubers from 7 popular niches. In addition, if you need to download YouTube videos from these YouTubers, MiniTool Video Converter is your best choice.
YouTube has more than 2 billion users and they watch more than 1 billion hours of videos every day. With this traffic, it's hard to find the quality content you want. That's why this article shares 28 of the most influential black YouTubers. You can follow them right now.
The list of black YouTube influencers and vloggers covers may all your favorite topics: beauty, health, travel, fashion, food, games, parenting and relationships.
Influential Black YouTubers from 7 Niches
Black Beauty YouTube Influencers – Nyma Tang & SHALOM BLAC
Black Wellness YouTube Influencers – Massy Arias & Kali Muscle
Black Travel YouTubers – Gloria Atanmo & Minority Nomad
Black Fashion YouTube Influencers – SuppleChicTV & Ten Ways to Wear It
Black Food YouTube Influencers – Jessica in the Kitchen & Fit Men Cook
Black Gaming YouTube Influencers – The Black Hokage & MsDomination
Black Parenting/Family/Relationships YouTube Influencers – Daily Davidsons & Meet the Chambers
People around the world share more than 300 hours of video on YouTube every minute. This makes it difficult for some talented YouTubers to be found on the platform. For years, YouTube has been dominated by white men, despite efforts to promote diversity.
But, as you can see, YouTube is already a diverse platform, packed with talent from all races. This article will share with you some popular black YouTube influencers who are creating engaging, high-quality content.
#1. Influential Beauty Black YouTubers
The beauty industry as a whole includes not only products but also services such as stylists. And it makes money. In 2019, the beauty industry was worth $532 billion (Reuters). Trustworthy beauty influencers can have a big impact on this number.
They share tutorials, product reviews and the like on YouTube and other platforms to show off the benefits of their favorite beauty products. Here are the most influential black YouTubers.
Nyma Tang
22M subscribers
3M views
Joined Jul 13, 2013
Nyma Tang is one of the most popular black female YouTubers. She offers great makeup techniques for blacks with darker skin. Her passion for darker-skinned blacks is evident in her videos, and she has gained countless fans through a MAC Cosmetics lipstick deal.
SHALOM BLAC
48M subscribers
102M views
Joined Jan 8, 2014
Shalom Blac, a burn survivor, shows off her crazy makeup skills in her funny videos. She also spoke candidly about her insecurities and how she faced her fears. Not only is she brilliant at makeup, but she's also inspirational in her vulnerability.
#2. Influential Wellness Black YouTubers
According to the 2019 Global Wellness Summit, the global wellness industry is worth $4.5 trillion. And given the sector's past sustained growth, it is unlikely to flatten out any time soon. Whether you're interested in changing your body, mind, or soul, these influential wellness and fitness black YouTubers are here to help you get the best out of the massive wellness content.
Massy Arias
7K subscribers
592K views
Joined May 29, 2012
Massy Arias is a certified health coach, trainer, motivational speaker and entrepreneur. She is also the founder of the fitness program MA Warrior Programs and wellness brand TruSupplements. Massy is changing lives and inspiring a new generation of wellness enthusiasts and trainers.
By overcoming obstacles and taking control of her life, her knowledge, perseverance and creativity have given her the ability to connect with people of all ages and backgrounds. She has earned the respect of both women and men for showing that you can accomplish almost anything with dedication, focus and a positive attitude.
Massy, who is from the Dominican Republic, is bilingual, creating content in English and Spanish for her millions of followers. Massy Arias not only offers easy-to-follow exercise routines that you can do at home, but also shares recipes on YouTube and with her Instagram followers.
Kali Muscle
01M subscribers
397M views
Joined Apr10, 2008
Kali is one of the most popular black male YouTubers. Kali Muscle's channel features some wild exercise videos arranged into playlists by body part. A few times a week, he posts new videos to motivate and inspire. Some videos are about fitness, cooking and gaming. He also occasionally talks about nutrition or gives you a glimpse into his daily life.
#3. Influential Travel Black YouTubers
Globally, travel and tourism contributed about $2.9 trillion directly to GDP in 2019. It seems that everyone has a dream vacation in mind and, for the money spent, most of us can take one too.
Travel influencers are some of the luckiest people around. They recommend and comment on where we want to eat and stay, and share their thoughts on products, airlines and activities. Here are the popular black YouTubers who focus on travel.
Gloria Atanmo
9K subscribers
801K views
Joined Oct 29, 2014
Gloria Atanmo describes herself as a "black girl obsessed with traveling". Through her YouTube channel, she tries to entertain, educate, and inspire viewers to get out of their comfort zone and explore the world around them.
She thinks she is educated in a curriculum far beyond the confines of the classroom and she also encourages you to join a world of knowledge out there.
Minority Nomad
4K subscribers
3M views
Joined Nov13, 2014
The creator of Minority Nomad YouTube channel is Eric. He is a writer, photographer, philanthropist, and world traveler. He is committed to being the first African American to visit every country in the world.
Right now, you can follow his journey, follow all the wonderful places he've seen, follow the people he've met there and on his social media.
#4. Influential Fashion Black YouTubers
According to the Joint Economic Committee Democrats, fashion is a $2.5 trillion industry worldwide. Fashion influencers spend their time creating content for both high and low fashion and sharing tips on how to live a high-fashion life for less money. Here are the popular fashion black YouTubers you can subcribe.
SuppleChicTV
4K subscribers
1M views
Joined Jan 8, 2012
SuppleChicTV is run by Chichi. She loves all thing chic including beauty, lifestyle and fashion. She has a passion for empowering women through it. She describes that SuppleChicTV is a Plus size Fashion and Lifestyle channel with an emphasis on personal style.
Ten Ways to Wear It
8K subscribers
875K views
Joined Nov 2, 2017
Ten Ways to Wear It aims to provide affordable fashion inspiration for women of all ages and sizes. It features fashion styling videos, trailers, home decor and home solutions videos, hair styling videos, lifestyle and travel videos. The founder uploads two or three times a week, usually on Wednesday and Sunday morning.
#5. Influential Food Black YouTubers
YouTube is a popular cooking tutorial and recipe sharing platform. If you are interested in trying new foods and having fun with your taste buds, there are 2 black foodies on YouTube you can follow.
Jessica in the Kitchen
81K subscribers
4K views
Joined Aug 28, 2014
Jessica in the Kitchen shares simple recipes every week. She only shares recipes she has used and likes. In addition to recipes, she shares some tips, instructions and tricks to help you cook with natural ingredients.
Related article: Best YouTube Cooking Videos for Adults and Kids
Fit Men Cook
548K subscribers
8M views
Joined Aug 27, 2012
Fit Men Cook is run by Kevin Curry. He provides healthy, budget-friendly recipes and tips with people who have active lifestyles. As Kevin describes, bodies are built in the kitchen and sculpted in the gym. There is no content about fast weight loss. This channel only shares food.
#6. Influential Gaming Black YouTubers
Gaming is big business. Gaming influencers like Ninja and PewDiePie have long been the most popular gamers in the gaming industry. There are also plenty of black gamers on YouTube that deserve our attention.
The Black Hokage
627K subscribers
3M views
Joined Feb 15, 2012
The Black Hokage's videos cover game reviews and anime through humor. He also expresses commentary on many things. His channel covers both small indie games and popular ones where everyone knows.
MsDomination
26K subscribers
3K views
Joined Jul 25, 2015
Her name is Dominique. She loves to play video games and would like to share her passion with as many people as possible. She've played games since she was a little girl growing up.
It is a shame that the number of black girl gamers is small. There are a lot of black girl gamers around. Dominique is one of them. She mostly plays first-person shooters like Fortnite, Call of Duty, and Halo. She also shares cosplay and unboxing videos on her own channel.
#7. Influential Parenting/Family/Relationships Black YouTubers
Sometimes we all need some relationship help. Whether you are in a romantic or family relationship, these black YouTube influencers can help you communicate better with those closest to you.
Daily Davidsons
271K subscribers
2M views
Joined Nov 6, 2009
Daily Davidsons are a lovely family of five. They have three sons, Jaiden, Chance and Carter. They use videos to record their daily lives, as well as doing pranks, tags and challenges. If you'd like to see a fun, loving family, you can subscribe to their channel.
Meet the Chambers
4K subscribers
2M views
Joined Jul 15, 2014
The Chambers share glimpses of their life through vlogging. This family channel is for them to look back at their memories, but they also share these moments with their viewers. They have vlogs, but also have other videos like DIY, parenting, how to, pregnancy updates, baby updates, unboxings, and more.
They post vlogs on Mondays, Wednesdays and Fridays and they usually try to post around 10 a.m. Eastern time.
These are the influential black YouTubers from 7 popular niches.Click to Tweet
Further Reading: Download Videos from These Black YouTubers
So those are some of the black YouTubers from 7 popular niches. There are many more creative and attractive black YouTubers from other niches. In fact, no matter what your race, people will like you and follow you as long as you are creative and talented.
If you want to download some videos from these black YouTubers, a YouTube video downloader can be your good assistant. MiniTool Video Converter, a useful and free video downloader, is your best choice. Here are some reasons why it is:
It is compatible with Windows 7/8/10.
It is 100% free and clean without any ads or bundle.
It features a simple interface.
It provides high-speed downloads and superior quality conversions.
It supports converting YouTube videos into 4 output formats: MP4, WEBM, MP3 and WAV.
It supports downloading YouTube video subtitles.
It supports downloading music from YouTube.
It supports downloading the YouTube playlist.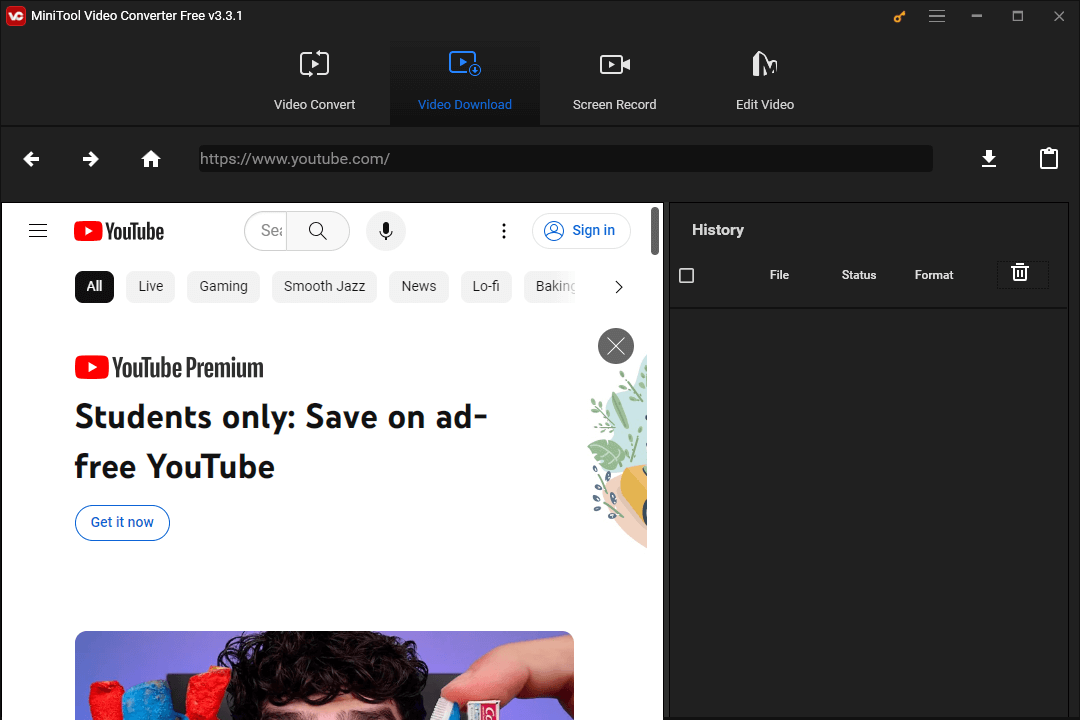 Right now, you can download it and have a try. Here is how to download YouTube videos by using MiniTool Video Converter.
MiniTool Video ConverterClick to Download100%Clean & Safe
Step 1: Open MiniTool Video Converter.
Download and install MiniTool Video Converter.
Launch it and then enter its Video Download section.
Step 2: Download Videos on YouTube.
Directly type the URL link of the video you want or search for it in the search bar of MiniTool Video Converter, and then open this video.
Click the Download button at the top right side.
Step 3: Save Videos.
Choose an output format of the video: MP3, MP4, WAV, and WEBM. Here you can choose whether to download YouTube subtitles or not.
Click DOWNLOAD to start to download the video.
Step 4: Watch Videos You Just Downloaded.
Check the video by clicking the Navigate to file button after the video is downloaded successfully.
You can also choose to watch it now by clicking the Play button.
After you finish all the steps above, you should have successfully downloaded the YouTube videos you like from these popular black YouTubers. Since this video download app supports downloading as many YouTube videos as you want, then you can continue to download more videos now.
MiniTool Video Converter is the best YouTube downloader app. It helps to download videos and audios from YouTube.Click to Tweet
Final Words
There is no question that black YouTube influencers are underrepresented on this platform. While YouTube has taken steps to make the platform more inclusive and diverse, you're more likely to see white creators anywhere on YouTube. Over time, I believe YouTube will continue to improve the platform and make it easier for people to find black talent.
If you have any questions, please share your thoughts in the comments section below. Thanks in advance! If you want to download YouTube videos, get MiniTool Video Converter right now.
MiniTool Video ConverterClick to Download100%Clean & Safe
Black YouTubers FAQ
What is the most viewed YouTube video?
Despacito by Luis Fonsi featuring Daddy Yankee is the most-viewed video on YouTube. It has got over 6.7 billion views as of June 2020.
Who is the richest vlogger?
1. Jeffree Star: $50 million.
2. Ryan Kaji: $30 million.
3. Daniel Middleton: $45 million.
4. Colleen Ballinger: $30 million.
5. Felix Kjellberg: $20 million.
Who is the richest child YouTuber?
Who is the most famous family on YouTube?
The ACE Family is currently the most popular family channel on YouTube. It gets more than 18 million subscribers. Their family includes Austin McBroom, Catherine Paiz and their two daughters.