Want to get more creative in the kitchen or improve your cooking skills? YouTube can be a good place to get started. You can search for different recipes and watch the cooking process. In this post, we will recommend some of the best YouTube cooking channels for you.
With these best YouTube cooking channels, you can watch the YouTubers make food, understand the thought process behind each recipe, and hear about the mistakes they've made and the lessons they've learned. It helps you become a better home cook!
If you want to save their cooking videos for offline watching, you can try  MiniTool uTube Downloader, which is a free and safe tool to download YouTube videos.
MiniTool Youtube DownloaderClick to Download100%Free & Clean
#1. Bon Appétit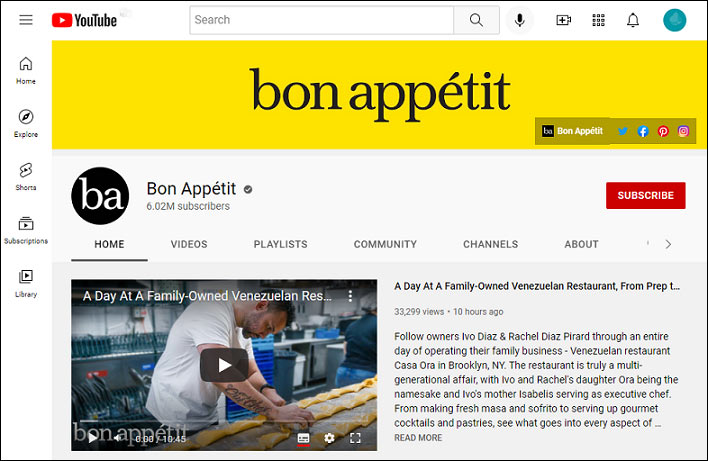 If you like to discover new things about food and experiment with recipes and cooking techniques, you will love Bon Appétit magazine's YouTube channel. On this channel, you can learn varieties of creative recipes, cooking tips, and guides to the best restaurants in certain cities.
You can also see some great content for home cooks. Whether it's making the most of whatever veggies you have in the freezer or cooking up classic Italian-American dishes like chicken parmesan and pasta carbonara, you'll find many videos to draw inspiration from for tonight's dinner.
To save these cooking videos for offline watching, you can check How to Watch YouTube Offline: Download YouTube Videos Free.
#2. Gordon Ramsay
Gordon Ramsay's channel is definitely among the best YouTube cooking channel. On this channel, you can learn how to cook tasty food at home with professional Michelin-star chef and TV personality Gordon Ramsay's recipes and cooking techniques.
You may be wondering if his recipes might be fancy? No. In fact, he's made all simple kinds of recipes, from learning how to make the perfect grilled cheese, to trying to learn how to properly cook a steak. Gordon Ramsay is very good at teaching you how to cook. His step-by-step instructions will help you get the basics right.
#3. Everyday Food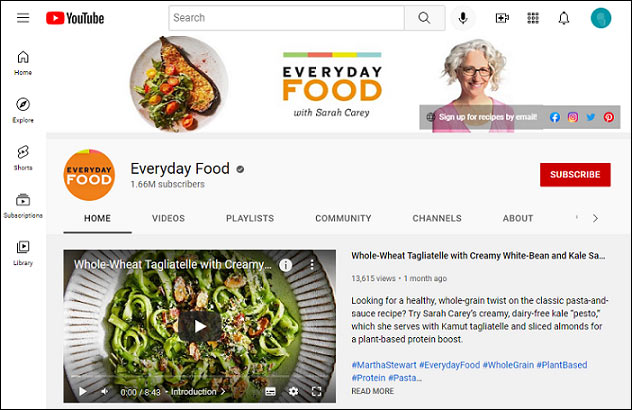 As the name suggests, the Everyday Food channel may be one of the best YouTube cooking channels for beginners. Fun, friendly, and down-to-earth, Martha Stewart's editorial team will teach you how to make quick and delicious food at home on this YouTube channel.
If you've ever wondered about the practical side of home cooking, such as how to grill the perfect steak, make creamy mashed potatoes, or which type of flour to use for what, you can find your answer on Everyday Food.
#4. Jamie Oliver
Jamie Oliver's channel might be one of the best healthy YouTube cooking channels. On this channel, you will learn how to cook healthy and mouthwatering food at home. Jamie Oliver is a British chef and restaurateur. He shares recipe videos for staying healthy, cooking tips and tricks, and ideas for cooking with your kids in his videos.
#5. ChefStep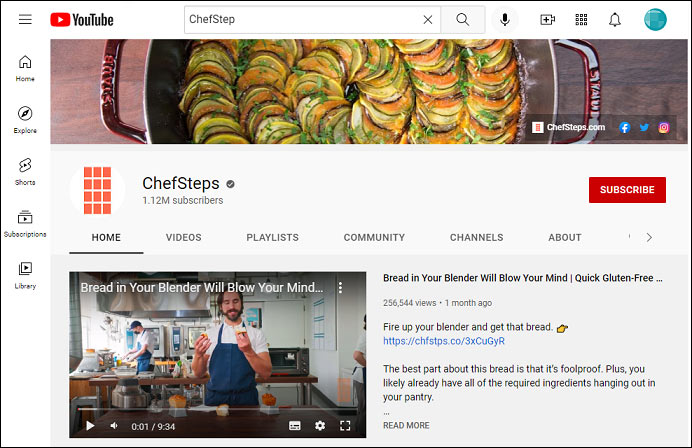 ChefSteps is a cooking channel with a polished and sophisticated style. If you want to learn recipes to impress your friends and family, this is a good place to learn. On this channel, you can find videos showing how to make recipes from movies and shows. The videos on this channel come from award-winning chefs, so you're getting expert advice and tips.
Even if you aren't going to try your hand at complex dishes like beef wellington or Peking duck, you can enjoy the beautiful footage and learn more about tough recipes with the help of on-screen diagrams and expert chefs.
Also read: YouTube Niches: How to Choose and Create Content for Your Channel
#6. You Suck At Cooking
This channel may be on the list of funny YouTube cooking channels. Deadpan humor and expert editing come together to make the videos from the You Suck At Cooking channel.
Most of the videos on this channel offer a cynical, satirical approach to the YouTube cooking show formula. The recipes in the video are usually pretty simple, which show you how to make the basics like coleslaw, tomato sauce, and a breakfast sandwich.
Bottom Line
In this post, we shared the 6 best YouTube cooking channels that contain different types of cooking videos. Which one do you like most? Or if your favorite cooking channels we missed out on, welcome to share them in the comments below!