How do you usually learn about history? What about learning history on YouTube? This post on MiniTool will tell you what the best history channels are. Check the list now.
No matter what you're looking for, YouTube might have something for you. It is a great way to get free information on almost any topic, including history. Both historians and history buffs like to post videos about history knowledge so there are a variety of history channels on YouTube.
Today, we're highlighting eight of the best YouTube history channels that not only will tell you what happened in the past but will keep you excited and entertained to watch. Just have a look at them.
1. Oversimplified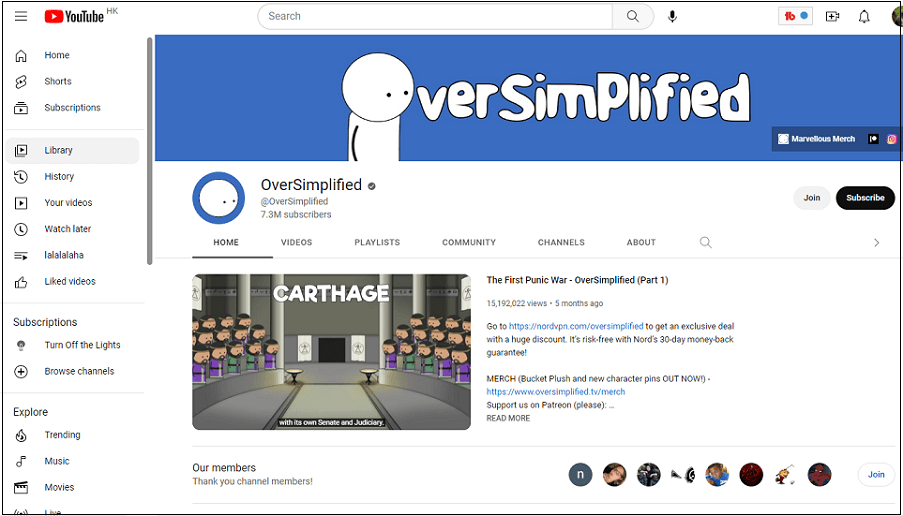 Would you like a brief introduction to a complex historical event? Then Oversimplified is a great resource for you. Its videos are often between 15 and 30 minutes long and have gained 7.3M subscribers until now.  
The history is mostly explained in the maps and the subtitles help a lot. Using animation and humor, the channel offers crash courses on topics ranging from the Napoleonic Wars to the French Revolution, which makes it easier for everyone to understand.
2. Timeline
The second history channel on YouTube we'd like to share is Timeline. If you're looking for a feature-length documentary about the history, Timeline is the channel for you. With more than 4.65M subscribers, it focuses on high-quality and in-depth information on history topics. Typical video lengths are 45 to 90 minutes. However, some themes run longer. For example, the history of America before Columbus takes only three hours.
3. HISTORY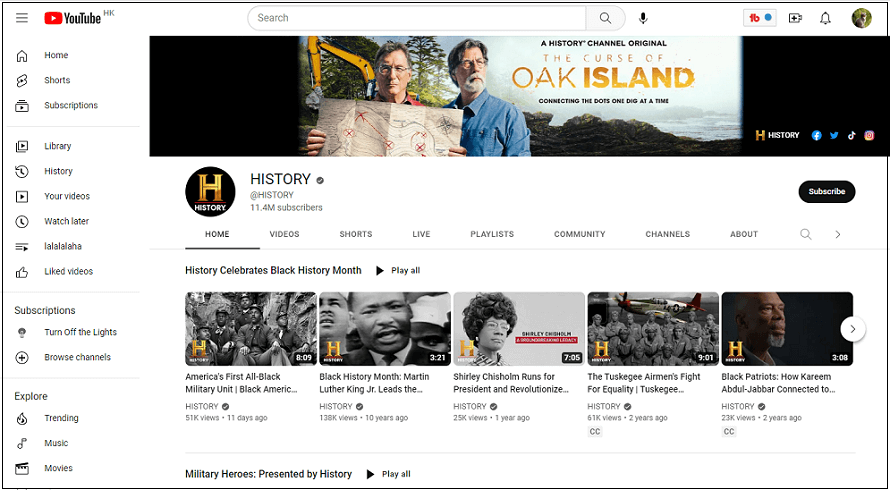 HISTORY is the official YouTube channel of the HISTORY network and it's a great way to catch up on your favorite history shows. You'll be able to watch clips and full episodes of many of the biggest history shows and documentaries, making it one of the best history YouTube channels to watch. HISTORY has access to exclusive interviews and live footage that you won't find anywhere else on YouTube.
4. Weird History
This channel has 4.13M subscribers now and is dedicated to weird history topics and events from various historical periods, from antiquity to the Middle Ages, all the way to the 20th century. All videos are weird, most of the time they look funny and creepy, but they are just videos that make you think deeply.
5. Feature History
Feature History is also one of the best history channels on YouTube. It really delves into popular historical topics such as Medieval Europe, World War II, and the Second Opium War. In addition, this channel is also a great place to learn more about history topics you may not be familiar with.
6. Simple History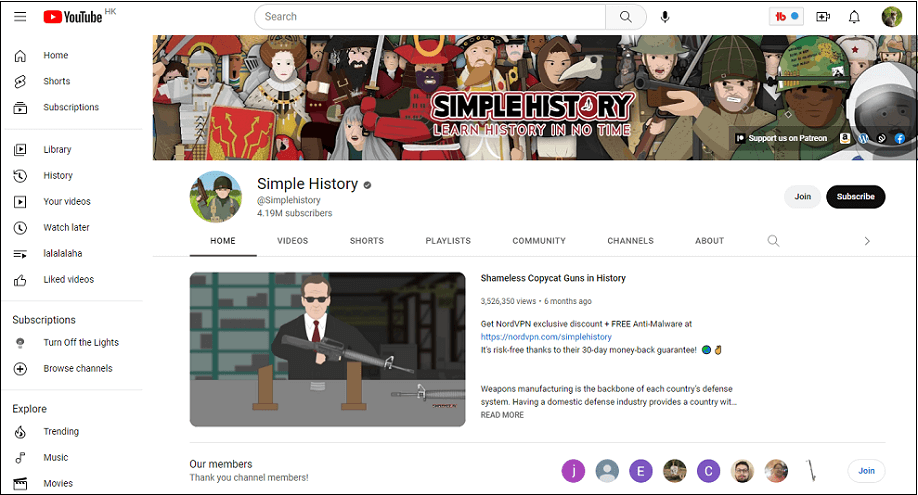 Simple History is one of the best history YouTube channels aimed at a younger audience, and everyone loves it. Simple History visualizes the past history, bringing history to life through animation. It focuses on how people lived throughout history about their culture, technological developments, epic battles, and events.
7. The Great War
As its name suggests, the Great War is a channel dedicated to helping us understand the history of World War I each week as if it happened today. Additionally, The Great War also shares with the public special episodes about World War I luminaries, weapons, tactics, countries, and beards.
Also read: DTube VS YouTube: What's DTube & What Are Their Differences.
8. The History Guy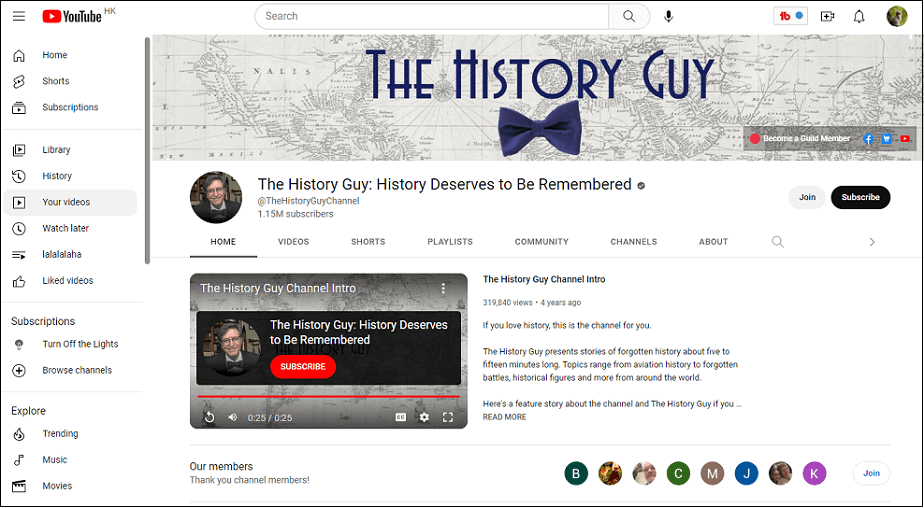 Another best YouTube history channel for discovering historical people and events you might not hear of before is The History Guy with more than 1.15M subscribers. It makes the videos short because it is intended for viewers to watch history videos in their spare time. Even though the video is relatively short, it covers many different historical topics.
Tips:
To watch your favorite history videos on the best history YouTube channels, try MiniTool uTube Downloader.
MiniTool uTube DownloaderClick to Download100%Clean & Safe
Conclusion
Learning history doesn't always have to be boring. YouTube has become an entertainment platform where you can learn about our past. Start your learning journey by watching the best history YouTube channels we've shared above.