YouTube TV, which is YouTube's TV streaming app, now supports picture-in-picture (PiP) mode on both iPhones and iPads running iOS 15 and above. This new feature enables users to promote multitasking or navigate to other apps without the need to stop streaming.
By the way, if you want to download the YouTube video on your PC for offline watching, you can try the free and safe tool: MiniTool uTube Downloader.
MiniTool uTube DownloaderClick to Download100%Clean & Safe
Picture-in-Picture YouTube TV
The YouTube TV team posted a Twitter observed that picture-in-picture (PiP) is now rolling out to devices running iOS 15 and above. It is said that users can swipe up from the bottom of the screen or press the home button to stream in PiP mode. The video will automatically resize and move across your device's display.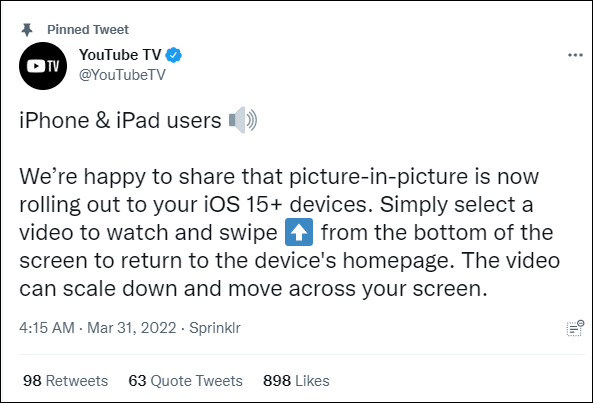 "We really appreciate your patience while we worked on enabling this key feature for your iOS 15+ devices…" the team also said on Twitter.
With this feature, users can return to the Home screen by swiping up from the bottom of the screen (just like any other application on Apple devices). The streaming video will be continuing to play in a tiny window.
Also read: Solved – YouTube Not Working (on PC/Android/iOS)
How to Use the Picture-in-Picture Mode?
Using the PiP mode on YouTube TV is very easy on an iPhone or iPad. With the latest version of the YouTube TV app installed, this new feature is accessible.
To stream a video in the picture-in-picture mode, just choose a video to watch and swipe up from the bottom of the screen to return to the device's homepage. The video window will remain open in a mini window and the clip will continue to play as usual.  It can be moved across the screen.
The size of the window can be scaled down based on the user's needs. The video window will also have the standard play or pause and rewind or forward controls to adjust playback. There will also be a button on the mini window to return to the full-screen application, along with a button to close the video window.
If you want to use picture-in-picture on Windows, check out How to Use Picture in Picture on Windows 10/11? Solved.
It is worth noting that this new feature doesn't apply to the main YouTube app, which still has picture-in-picture mode gated behind a YouTube Premium subscription on iOS. Apple only added PiP support for iPhones with iOS 14 in 2020 and iPads with iOS 13 the previous year.
Note:
YouTube company offers a $10 discount for the first three months for new subscribers.
This new feature has been in testing for a few months, and YouTube's in-app details have repeatedly pushed back the projected end date for that testing period, which is now scheduled to stop this month.
Google stated that the picture-in-picture capability would be available for all YouTube users on iOS (including Premium and non-Premium users) in the near future.
In terms of availability, YouTube claims that the functionality is now being rolled out to all users worldwide, with no YouTube Premium subscription required. You can head over to the Apple App store to check for any new updates available.
You may also like: If Your YouTube Keeps Pausing, These Solutions Are Useful.
Conclusion
Thanks to this new useful feature, YouTube TV viewers can stream videos while working on other apps with their iPhone or iPad. Just update the YouTube TV app and start using the picture-in-picture mode now!