YouTube, Google's video-sharing website, is a platform for me to upload cool videos made by
MiniTool
 software. However, as my videos become more and more popular, I'd like to add more ways to build deeper connections with those viewers who watch my videos. Is it possible?
Every YouTube video is accompanied by a description. YouTube description appears beneath the video each time someone watches it. If you're looking to express your gratitude to those who helped you make the video, give your viewers a link to check out more content, or just advertise a website, you can put a link to your YouTube description.
After you insert a URL to another website in the description, YouTube will automatically convert that URL into a clickable link. Then everyone who watches your videos can use the link to see what you want them to see.
Tips:
Looking to save videos for offline enjoyment? MiniTool Video Converter makes downloading and converting a breeze!
MiniTool Video ConverterClick to Download100%Clean & Safe
How to Put Links in YouTube Description
How to put links in YouTube description? Don't worry. With detailed instructions below, you can do this easily on your desktop or on the YouTube mobile app for iPhone and Android.
On Desktops
Step 1. Upload your video to YouTube. For the specific steps of uploading YouTube videos, please refer to this post: How to Upload a Video to YouTube from Computer and Phone.
Step 2. Once it's finished, click your profile icon in the top-right corner of the screen.
Step 3. Click the YouTube Studio beta option in the pop-up window.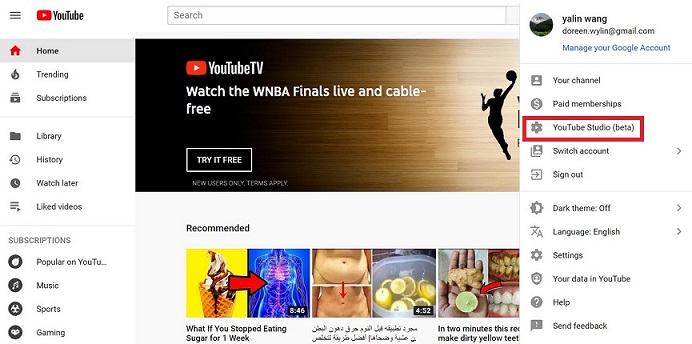 Step 4. A new window will open, and click Videos in the sidebar.
Step 5. Click the video that you are ready to insert the link. After that, you will enter the details page of the video, where you can edit the title and description.
Step 6. Copy the full URL that you want to link to, and then paste it into the YouTube description box. Hit Save afterwards.
Now, YouTube will automatically put the URL into the video's description. Of course, you can watch the video and open its description to make sure.
On Mobiles
Step 1. Open the YouTube app on your device.
Step 2. Navigate to your video that you want to insert into the link.
Step 3. Tap on the three-dot menu.
Step 4. Select Edit from the options menu that appears.
Step 5. A new page will come up and then you can edit your description and title. Copy and paste the URL into the description field.
Step 6. Tap Save in the top-right corner.
Best YouTube Description Template
What you put in the YouTube description box will help viewers understand what your video is about. Along with your video title and tags, YouTube description plays a major role in YouTube SEO and rankings – but only if it's done right. Here are the crucial elements you need to include in your YouTube description.
Write a short video description. Use relevant keywords and keep it under 3 lines so it appears above the fold.
Include links to any resources you mentioned.
Ask the viewer to subscribe or take actions.
Use timestamps for easy navigation if your video is longer or tackles several different topics.
Link to your social media channels.
Include any other information that might be useful to the reader.
The Significance of YouTube Description
Improve discoverability.
Boost your video's rankings.
Connect with your audience.
Call on your viewers to take action.
While the wonderful YouTube description and title will attract your audience to watch, but only great video content will keep them watching.
Bottom Line
Try to put a link into your YouTube description and there might be unexpected gains. If you have any question or suggestion about it, please let us know via [email protected] or share it in the comments section below.