When I am browsing YouTube site (a popular video-sharing website where I upload interesting videos made with MiniTool software), I see a pop-up window alerting me that YouTube Terms of Service will be updated on December 10th. What does this mean?
This week, YouTube announced it will update its Terms of Service in December to give itself control to delete YouTube accounts and videos at its own discretion.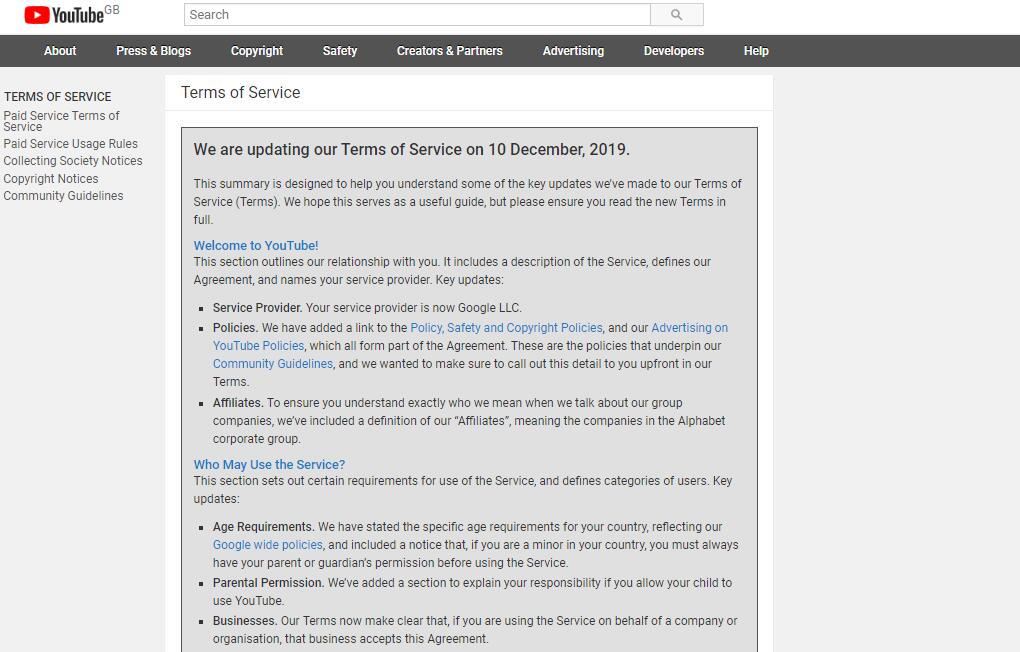 The company said in the YouTube new Terms of Service: "YouTube is under no obligation to host or serve content." In other words, the company does not have to keep any videos it doesn't need although YouTube is a relatively open platform.
The new terms also state that "If YouTube decides that it is no longer commercially viable to provide services to you, then YouTube may terminate your access or access to all or part of your Google Account." It will start to indiscriminately revoke channels that don't have enough subscribers or don't make money elsewhere.
See also: How to Make Money on YouTube – 9 Highly Efficient Ways
YouTube has been criticized by all parties during the video removal process. Some critics believe that YouTube can take more actions to remove videos that violate company regulations but do not completely violate these rules.
Others believe that YouTube should be a completely open platform and should not control what to remove and what to remain, and they concern the updated changes could be used to unfairly drive users off the platform.
After all, YouTube executives have long defended the platform as a proponent of free speech, but now YouTube has begun to limit the types of videos allowed to be released.
YouTube has been updating its Terms of Service all along. This is the third change in YouTube Terms of Service 2019. These latest updates appear to match the US Federal Trade Commission's new YouTube guidelines, although YouTube denied these changes were made because of the FTC's ruling.
However, the truth is many updates are about who is using the platform and the protection of children. In September, the Federal Trade Commission imposed a $170 million fine on Google for allegedly violating the Children's Online Privacy Protection Act. YouTube also agreed to make changes to further protect the privacy of children and comply with the law.
See also: YouTube Plans to Change Kids Videos after a Record Fine
The new Terms of Service will include an updated section on parental responsibility when children use the platform, and more clearly states the age requirements for YouTube in each country. For instance, in the US, you must be at least 13 years old to use the service. Otherwise, it's YouTube Kids for you. It also includes a notice stating that "if you are a minor in your country, you must always have your parent or guardian's permission before using the service."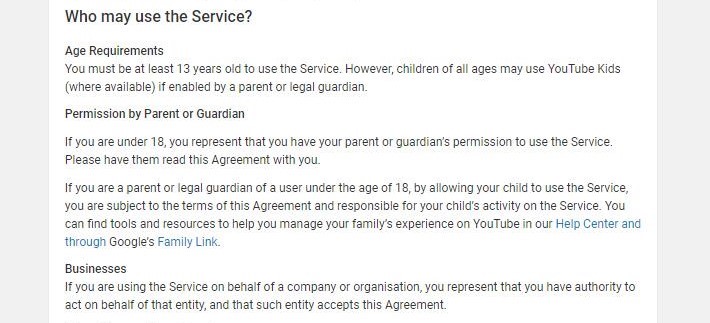 A YouTube spokesperson stated clearly in an interview, "YouTube is changing its Terms of Service to make them easier to read and to make sure they are up to date." "We're not changing the way our products work, how we collect or process data, or any of your settings," the spokesperson added.
Actually, it's true. YouTube new Terms of Service is focused on clarification, giving YouTube more freedom to make decisions.
Bottom Line
What's your opinion on the upcoming YouTube Terms of Service? Please let us know via [email protected] or share them in the comments section below.