Have you ever encountered that YouTube desktop stuck in mobile mode? If your answer is positive, then you must check out this post. Here we are going to introduce how to switch between the YouTube desktop version and the mobile version. If you want to download YouTube content, try MiniTool Video Converter.
What is m.YouTube? When I was on YouTube on my laptop, it changed to m.YouTube and when I type www.YouTube.com it changes to m.YouTube. Quora
The above is a question I found from Quora. There are many different solutions in the reply area, but after experimentation, most of them have failed. Therefore, to help those who are troubled by this problem, this article will detail what m.youtube is and how to fix YouTube desktop stuck in mobile mode on the PC browser.
What Is m.youtube?
Here, "m" stands for mobile, and m.youtube.com is a mobile version of YouTube that served to users who visit the site from their mobile phone.
In other words, if you visit the YouTube site on your PC, the address is www.youtube.com, while if you use the web browser on your phone to view YouTube, then the address would become m.youtube.com.
How to Fix YouTube Desktop Stuck in Mobile Mode?
If you have accessed m.youtube multiple times before, it may be listed in the first lines of the shortcut. And it automatically switches to the mobile version of YouTube when you are entering YouTube in your browser.
You can clear your browser's cache first. On most of the browsers, the shortcut to clear cache would be to press CTRL + Shift + Del. If this method fails, continue to read and begin changing your YouTube to the desktop version.
Step 1. Open the YouTube site on your PC and log in to your account.
Step 2. Click your avatar in the upper right corner of the screen.
Step 3. Once your account page appears, simply tap on the Desktop button at the bottom of the list.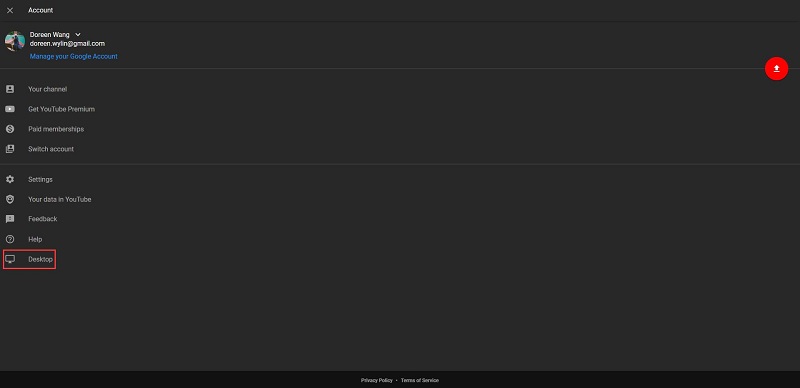 Step 4. Then your YouTube mobile version will instantly become a desktop version.
Related article: The Top 4 YouTube Desktop Apps for Windows 10
Is it Possible to Change www.youtube into m.youtube?
What if you want to change www.youtube to m.youtube? Is it possible?
Some people claimed that you can solve the problem by simply replacing "www." with "m." before "youtube.com" and this feature can help you to switch between the mobile version and the desktop version.
However, it doesn't work sometimes. After testing, I find a more direct and convenient way. Follow the steps below to change your YouTube desktop version into a mobile version.
Step 1. Visit the YouTube site on your web browser.
Step 2. Click to play any YouTube video.
Step 3. Then add "&app=m&persist_app=1" behind the video URL in the address bar at the top of the screen.
Step 4. Now, your YouTube desktop version will display as a mobile version.
Bottom Line
After reading this article, you will no longer worry about the problem of YouTube desktop stuck in mobile mode. If you have any questions or suggestions about it, please let us know via [email protected] or share them in the comments section below.
Tips:
Tired of searching for a video downloader, converter, and screen recorder separately? MiniTool Video Converter combines them all - give it a shot now!