Every year YouTube will release a year-in-review video called "YouTube Rewind" since 2010 as a way to highlight the platform's biggest stars, trends, and moments of the year. And YouTube Rewind 2019 - For the Record has been issued on December 5th.
The concept of YouTube rewind began as early as nine years ago in YouTube Rewind 2010: Year in Review, and has been largely successful. While YouTube Rewind 2018: Everyone Controls Rewind has become the most disliked YouTube video in just one week after release.
Now, YouTube Rewind 2019 – For the Record has been issued on YouTube. If you like it, just download it via MiniTool software.
Related article: How to Easily and Quickly Download YouTube Videos for Free
What Is YouTube Rewind
YouTube Rewind is an overview and a recap of each year's viral videos, events, trends, memes, and music. Famous YouTuber world usually make an appearance, and there are numerous dancing segments to look forward to.
However, last year's video – YouTube Rewind 2018: Everyone Controls Rewind was met with widespread criticism for failing to include some of YouTube's most controversial but popular stars, like PewDiePie and Logan and Jake Paul.
Finally, it becomes the most disliked on the platform with more than 16 million dislike. Why do people hate YouTube Rewind 2018? One obvious source of anger is the fact that PewDiePie (the most-viewed YouTube creator of 2019 with 4 billion views).
Before the launch of YouTube Rewind 2019, YouTube has apparently heard public criticism of last year's video. YouTube shared photos on Instagram, hinting that its "Rewind 2019" video will include PewDiePie and other stars the platform missed in last year's rewind video.
A tweet was issued concurrently, and the words on the photo said that compared to last year, the platform will take a completely different route and approach in this year's iteration.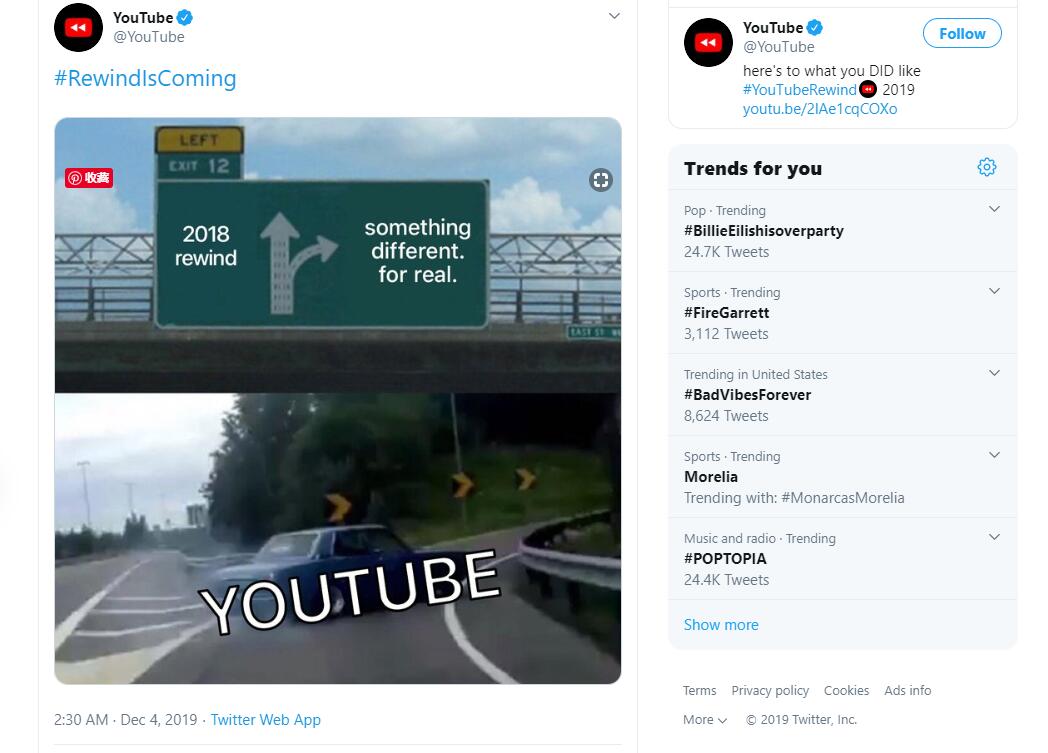 However, what is the actual situation? Currently, it has 14,936,238 views, 1,066,580 likes and 2,026,495 dislikes. One user even commented, "the only reason this is getting views is because people keep on coming to check the dislikes".
Scroll down to check the top lists on YouTube Rewind 2019.
Most Liked Creator Videos
MrBeast, Make This Video The Most Liked Video On Youtube
PewDiePie, Marzia & Felix – Wedding
Whindersonnunes, O DIA EM QUE ASSISTI BIRD BOX
Black Gryph0n, ONE GUY, 54 VOICES
Nilson Izaias Papinho Oficial, Minha slime deu certo
SethEverman, how to create billie eilish's "bad guy"
James Charles, No More Lies
Andymation, My BIGGEST Flipbook EVER
A4, ПОКУПАЮ ВСЁ ЧТО ТЫ МОЖЕШЬ УНЕСТИ ИЗ МАГАЗИНА !
Shane Dawson, Conspiracy Theories with Shane Dawson
Most Liked Music Videos
Shawn Mendes, Camilla Cabello, Señorita
BTS, Boy With Luv feat. Halsey
Blackpink 'Kill This Love
Billie Eilish, bad guy
Lil Nas X, Old Town Road ft. Billy Ray Cyrus
Ariana Grande, 7 rings
Lil Dicky, Earth
Daddy Yankee & Snow, Con Calma
J-Hope, Chicken Noodle Soup (feat. Becky G)
T-Series, Vaaste
Most Liked Dance Videos
ChapkisDanceUSA, Con Calma Choreography
Awez Darbar, O SAKI SAKI | Awez Darbar Choreography
1MILLION Dance Studio, gogobebe(고고베베) – MAMAMOO(마마무)
Team Naach, O SAKI SAKI Choreography
Galen Hooks, Bury a Friend Choreography ft. Maddie Ziegler, Charlize Glass
Most Viewed Games
Minecraft
Fortnite
Grand Theft Auto
Garena Free Fire
Roblox
Most Liked Beauty Videos
James Charles, Makeup Tutorial en Español
Shane Dawson, The Beautiful World of Jeffree Star
Kylie Jenner, Kylie Jenner: A Day in the Life
jeffreestar, Kylie Skin Review with Shane Dawson
Anaysa, 7 Life Saving HACKS for Perfect SKIN & HAIR
Top Breakout Creators
LOUD
워크맨-Workman
Paik's Cuisine
Magnet World
Noah Schnapp
Jennelle Eliana
하루한끼 one meal a day
LOUD Coringa
LOUD Babi
Shoaib Akhtar
Most Viewed Creators
PewDiePie
Felipe Neto
Pencilmation
Jelly
David Dobrik
Dude Perfect
MrBeast
LazarBeam
Fischer's-フィッシャーズ-
Azzyland
Recommend: 12 Useful Tips on How to Get More Views on YouTube
Bottom Line
What's your opinion on YouTube Rewind 2019? Do you think it's better or worse than last year? Please let us know via [email protected] or share them in the comments section below.