Want to track your YouTube video rankings, but don't know how? Don't worry! This post from MiniTool software will share the top 6 YouTube rank tracker tools. Choose one to help you get insights into your YouTube videos.
Why Do You Need a YouTube Rank Tracker
As the world's second-largest search engine, YouTube is a powerful platform for marketers to reach their target audience. With millions of videos being uploaded every day, making sure your content stands out and reaches the right people can be challenging. That's where the YouTube rank tracker comes in.
A YouTube video rank tracker is a tool that helps you track the performance of your videos on YouTube. It can provide you with valuable insights, such as your position in search results, keyword search volume, estimated views, etc. By using a YouTube rank checker, you can stay ahead of the competition and grow your YouTube audience.
With it, you can better understand how your videos are performing on YouTube and make data-driven decisions to improve your video SEO. Whether you're a marketer looking to promote your brand or a content creator looking to grow your audience, a YouTube rank tracker is a powerful tool that can help you achieve your goals.
Tips:
To enjoy your favorite YouTube videos without a network, try MiniTool uTube Downloader.
MiniTool uTube DownloaderClick to Download100%Clean & Safe
Top 6 YouTube Rank Trackers
The following is a list of the top 6 YouTube rank trackers you can use:
1. GeoRanker
2. TubeBudddy
3. Semrush Video Rank Tracker
4. AccuRanker
5. Pro Rank Tracker
6. YTRank
1. GeoRanker
GeoRanker is a cost-effective solution that provides a local citation finder and YouTube rank checker and tracker services. You can apply more than 30 different filters to get results that enable you to pinpoint your target keywords in multiple languages ​​and capture keywords for YouTube videos.
Geo Ranker will help you check the YouTube video ranking by simply pasting the URL of the video and entering the relevant keywords for which you want to track. It also lets you track the performance of your YouTube channel, so you can adjust your channel strategy accordingly. Also, you can use it to gain insights into your competitors' videos and channels.
2. TubeBudddy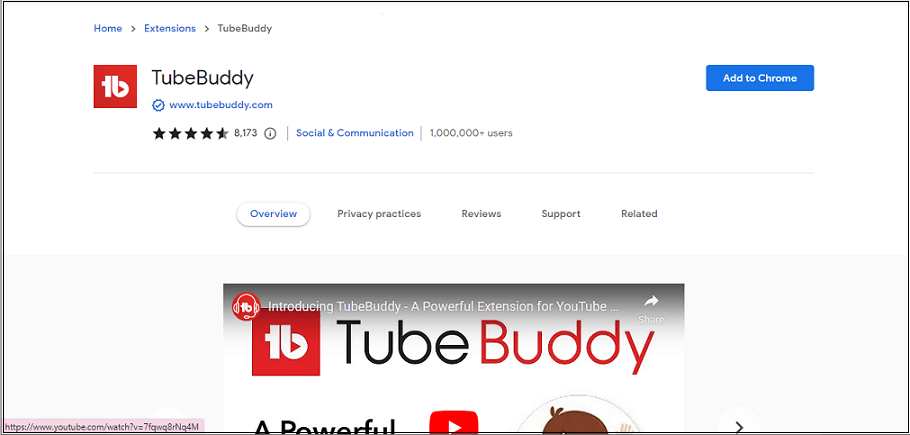 TubeBuddy is a browser extension for Chrome that provides tools for YouTube video optimization, video marketing, keyword research, and YouTube rank checker. It integrates with your YouTube dashboard and offers tons of amazing features. When you add it to the Chrome extension, you'll automatically get the YouTube rank tracker tool.
With it, you can check how you rank compared to your competitors for the target keywords and monitor your channel's overall performance on YouTube and Google Search. To connect TubeBuddy to YouTube, read here: How to Use TubeBuddy for YouTube to Grow Your Channel.
3. Semrush Video Rank Tracker
Video Rank Tracker from Semrush is a paid app to monitor the performance of YouTube videos and channels and provide insight to optimize your YouTube SEO. This YouTube video rank tracker enables you to track your channel's weekly search ranking changes, track an unlimited number of channels (including competitors), and track your channel's performance on up to 200 keywords.
4. AccuRanker
AccuRanker is a popular YouTube rank tracker that can help you track the position of your entire YouTube channel. Not limited to YouTube, you can also track your position on Google and Bing. Its user-friendly interface makes it easy for checking up-to-date ranking data every 24 hours.
In addition to this, you can compare your rankings with your competitors and also give you an idea of ​​how your competitors are performing. If you run multiple websites, you can track the rankings of all your domains from one account.
5. Pro Rank Tracker
Pro Rank Tracker is a cutting-edge YouTube rank tracker tool that keeps you up to date with all the latest changes to your video rankings on Google, YouTube, Bing, Amazon, etc. by choosing the relevant search engine. It gives you daily rank updates and there is also an option to refresh on demand. The platform is compatible with PCs and mobile devices. Unlike other YouTube rank trackers, you can't get insights into your competitors.
6. YTRank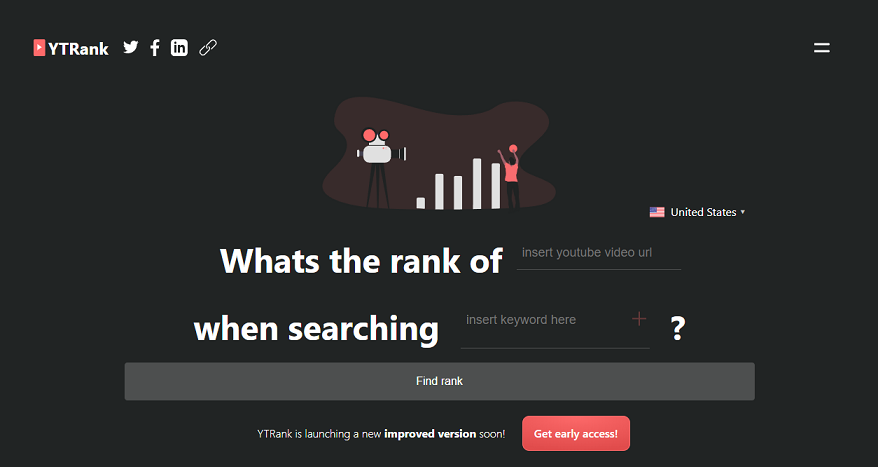 YTRank is a free online YouTube rank tracker that allows you to track the ranking of your YouTube videos using specific keywords. You can choose your desired location, add your YouTube video URL, and add your keywords. You're able to search for rankings for five keywords at once, putting them one after the other with a comma.
Wrap Up
This post has introduced 6 popular and powerful YouTube rank trackers to monitor your YouTube video ranking. You can try out the above tools and do a comparative analysis to find the best YouTube rank checker for your channel.