How to use TubeBuddy for YouTube? This post from MiniTool introduces what TubeBuddy is and how to use it for YouTube. Check it now to get the answer.
What Is TubeBuddy
What is TubeBuddy for Youtube? TubeBuddy, a browser extension, is designed for the YouTube SEO tool that could connect to your YouTube dashboard directly. It means YouTube has certified TubeBuddy. And it is now officially supported by Google Chrome, Firefox, Safari, and Microsoft Edge.
TubeBuddy is a powerful and time-saving extension. The company launched in December 2014 and aims at giving YouTube users the tools they need to grow their channels with useful features.
Is TubeBuddy Free for YouTube
Is TubeBuddy free to use? The TubeBuddy extension offers a completely free version and includes its core features. You can access the tag rankings, and you can also use the keyword explorer tool in a limited capacity and other basic tools.
For YouTube video creators who want more tools to optimize and grow their channels, the paid version may be the better choice. The paid version has three levels per month: $3.00 for Pro users, $9.49 for Star users, and $24.49 for Legend users. The $9.49 version is the most popular choice. Be aware that one license only supports one channel.
How to Connect TubeBuddy to YouTube
Connecting the TubeBuddy extension to your YouTube couldn't be easier. Here are the steps.
Step 1: Go to TubeBuddy's official website.
Step 2: Choose Install Free Now, and then click on Add to Chrome.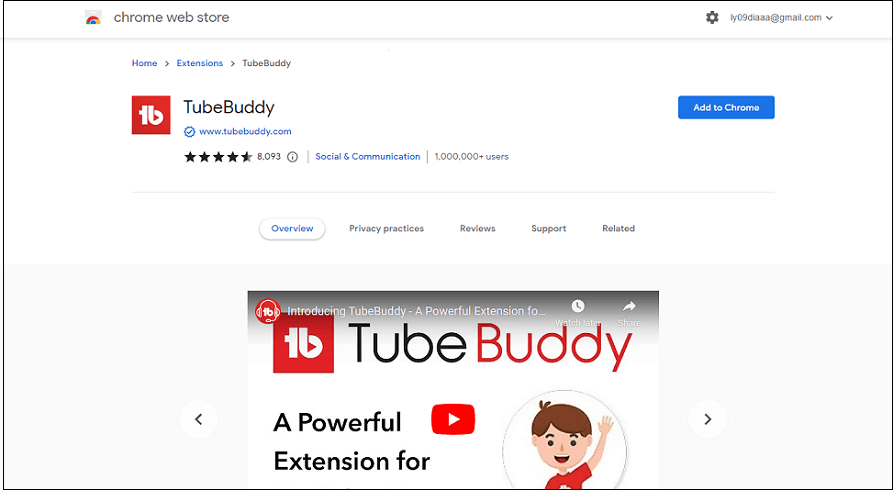 Step 3: Sign in to your TubeBuddy account.
Step 4: Open YouTube in Chrome and sign in to your YouTube account. Then, the TubeBuddy extension would appear in a drop-down menu on your YouTube.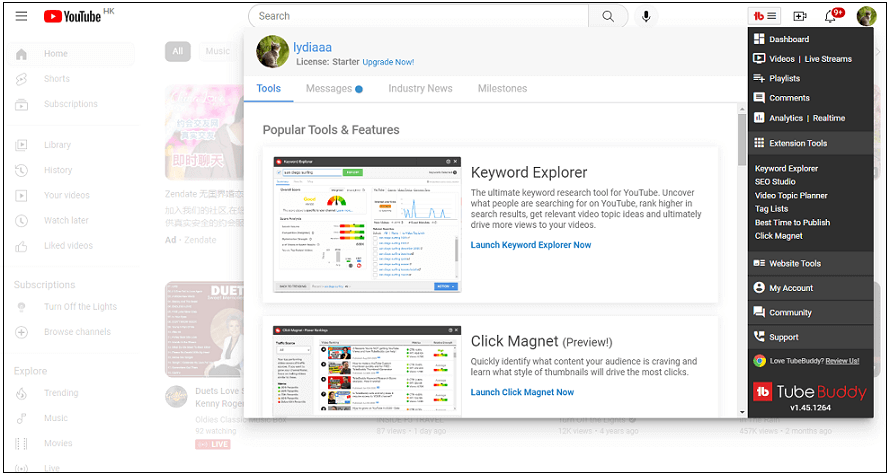 How to Use TubeBuddy for YouTube
Now that you have connected TubeBuddy to your YouTube channel, let's see its powerful features. The following are the must-try features to help grow your YouTube channel and gain views.
1. Keyword Explorer
As a YouTube video creator, selecting proper keywords and phrases to describe your videos is an effective way to gain more attention. Using TubeBuddy's Keyword Explorer, you can find keywords with low competition and high ranking.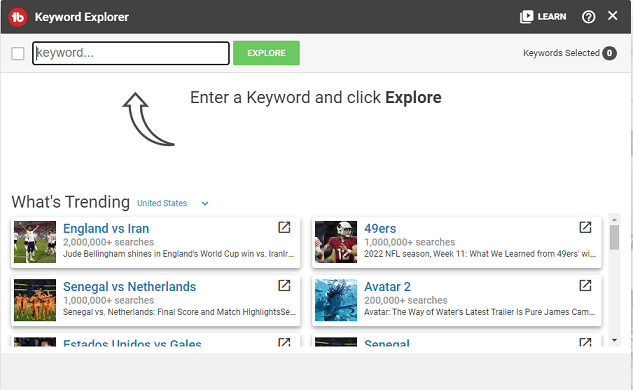 You just need to type your keywords in the search box, then you'll get a keywords report, including search volume, competition (unweighted), optimization strength, and related searches.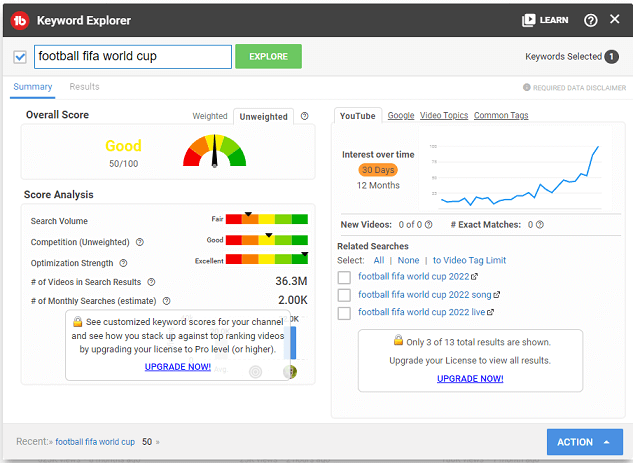 2. Suggested Tags
When you are ready to upload a video on YouTube, TubeBuddy supports a feature called Recommended Tags. It will give you suggested tags based on your target keywords.
Relevant tags will bring your videos more views. When recommending tags for your video, you can sort these tags by relevance, keyword score, or search traffic. Next, you can consider adding the most relevant tags to your video.
3. Generate Thumbnails
An attractive thumbnail could make people click on your video even if they're not interested in your content. It helps distinguish your content from others and gives your video the first look.
TubeBuddy has a powerful tool to generate a matching thumbnail for your video at once while you are uploading, which also allows you to add text, emojis, images, and shapes. You don't need to take time and effort to create a thumbnail on other thumbnail generators outside of YouTube.
4. Auto-Translator
When you publish a YouTube channel, you may expect it could be seen by users all around the world. However, how to step across the language gap?
TubeBuddy has an auto-translate tool that makes users or viewers translate the titles, descriptions, and content into other languages automatically. In this way, your video will gain more views than before.
5. Best Time to Publish
The time to publish a video is of equal importance. It determines whether your video will be pushed to others when they are online.
When is the best time to publish? In the past, you might guess it based on your experience and your followers' location. But now, if you use TubeBuddy, it will calculate the best time based on deep analytics. You can publish videos when your audience is the most active.
Apart from the five tools we mentioned above, TubeBuddy has many other useful tools waiting for you to explore.
Tips:
If you want to watch YouTube videos offline, try MiniTool uTube Downloader.
MiniTool uTube DownloaderClick to Download100%Clean & Safe
Conclusion
No matter how small your YouTube channel is, TubeBuddy can help you grow your channel in many ways. Go and use TubeBuddy for YouTube right now.