YouTube is getting more and more popular. Not only do YouTube users post and watch the videos on this platform, but also discuss on the live stream. This post introduces live chat on YouTube. By the way, you can try MiniTool YouTube Downloader.
What Is YouTube Live Chat?
More than 30 million people post their interesting videos or watch others' videos on YouTube everyday. Lots of people would like to chat with the video creator or discuss these videos with others in time. Google's YouTube has expanded its live streaming service to all users in good standing, so you can now chat live on YouTube through the Google+ Hangouts On Air service.
When the live stream begins, the live chat box appears to the right of the video player. After live stream ends, the video and the content of the live chat will be archived. If necessary, people can watch the video with live chat again.
There are 2 kinds of live chat views on YouTube:
Top chat: This view filters messages that maybe harm to you.
Live chat: This view doesn't filter any message.
What's more, if the channel or live stream is open to children, the live chat will be disabled.
Do you want to know more about some useful suggestions to make YouTube safe for kids? Please read: Useful Suggestions for You to Make YouTube Safe for Kids.
Note:
In February 2017, YouTube launched real-time subtitles in the
Super Chat
. This is a new function of YouTube live chat. YouTube users can watch subtitles while you are watching the video. It's convenient for foreign users to understand what the streamer is talking about.
How to Comment on YouTube Live Chat?
When the live stream begins, YouTube users would like to comment on YouTube live chat. Here are the instructions to comment on YouTube Live stream chat.
Step 1: Setup a YouTube account and login with your username/e-mail. If you don't sign in your YouTube account, you can't post any message at tall.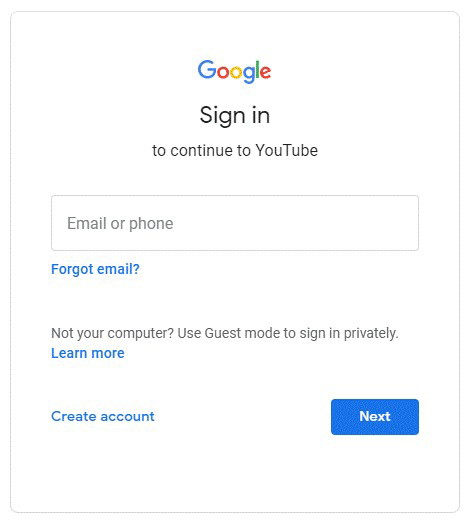 Step 2: Join the Live Stream. Choose the live stream that you would like to watch, then click it.
Step 3: To post in live chat box, click into where it says "Live Chat" and begin typing what you want to post. Then, click the send icon.
Note: Viewers are allowed to type no more than 200 characters per chat message and can only submit a maximum of 11 messages every 30 seconds. Viewers are not allowed to post special characters, URL or HTML tags. But the video creators are not subject to this frequency threshold.
What's more, a lot of YouTube users usually complain that they can't comment on any livestream or their message keeps disappearing on live streams. The reason is that some comments are noticed as spam and filtered. There is no choice but to post words that don't harm to anyone else.
If you like the streamer or don't want to miss the author's another live stream. You can subscribe to the author's channel.
Then, if you don't want to see comments at all, you can click "HIDE Chat".
If you just want to discuss something with someone alone or respond to someone, you can follow the following steps.
How to respond to someone in the chat feed by mentioning their username? Here is the tutorial:
Step 1: Type "@".
Step 2: Begin typing their username.
Step 3: Select the username.
What's more, if you want to check out the live chat you've joined in during your YouTube live stream. You can follow the following steps.
Step 1: Enter the history books.
Step 2: On the right side of the site, click live chat.
Step 3: Scroll down and find live chat messages. To delete a message, hover the mouse over the message and click X.
This article has shown you what is YouTube live chat and how to comment on YouTube live chat. Hope it can be helpful to you.