To have a successful YouTube gaming channel, it's crucial to have an eye-catching YouTube gaming banner. This post from MiniTool uTube Downloader will cover everything you'd like to know about how to make a YouTube gaming banner.
What Is a YouTube Gaming Banner
The YouTube gaming banner is the large image that appears at the top of your YouTube gaming channel page. It is also known as channel art or a header image. Banners are an important part of your channel branding and represent your channel and its content.
When people visit your channel, the first thing they notice is your banner, which makes it crucial to leave a good impression. A well-designed banner can help attract viewers to your gaming channel and encourage them to subscribe. Many creators use their banners to showcase their channel's theme, content, and personality.
Tips:
To enjoy your favorite gaming videos on YouTube offline, use MiniTool uTube Downloader.
MiniTool uTube DownloaderClick to Download100%Clean & Safe
What's the Ideal Size for YouTube Gaming Banner
Before you start to make a gaming banner for YouTube, you must first figure out the ideal size for a YouTube gaming banner.
To ensure your YouTube gaming banner displays correctly on all devices, it's important to use the proper dimensions. The recommended size is 2560 x 1440 pixels with a 16:9 aspect ratio, while the minimum image size is 2048 x 1152 pixels. Keep these dimensions in mind when creating your gaming banner for optimal results.
YouTube Gaming Banner Makers
Now that you've known the ideal size for a YouTube gaming banner, it's important to select the best YouTube gaming banner maker to create it. There are many online YouTube gaming banner makers to help you create professional-looking YouTube gaming banners.
Placeit
If you're looking to create a professional-looking banner for your YouTube gaming channel, Placeit has got you covered. Its online YouTube banner maker offers many pre-designed YouTube gaming banner templates to choose from, making it easy to design your art in the perfect YouTube banner size with just a few clicks.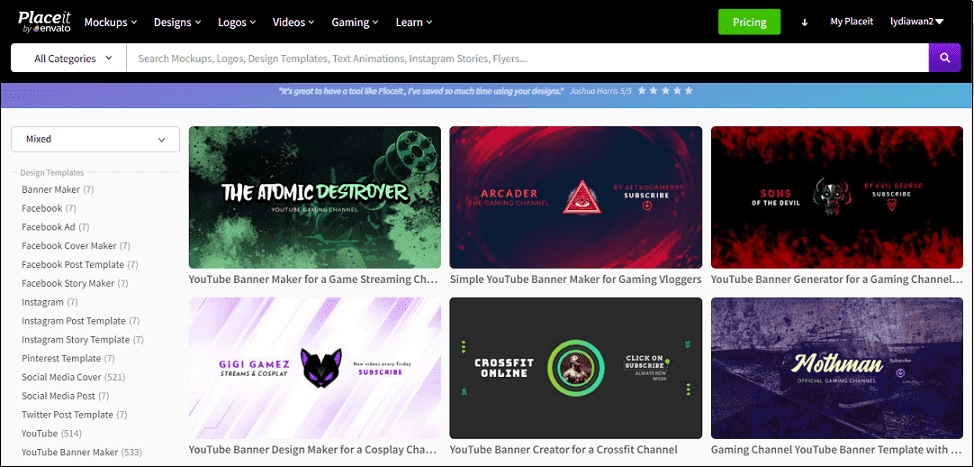 In addition, with a wide range of customization options, you can create unique YouTube banners for your gaming channel. You can choose from different backgrounds, textures, images, and graphics. You can also add text using various font styles.
Freepik
Freepik is an online tool that offers a collection of free vectors and PSDs that you can use to create gaming banners for your YouTube channel. With Freepik, you can access and download popular gaming YouTube banner vectors, which you can then customize to create banners that best suit your gaming channel.
Even if you have no design experience, you can create attractive banners for your YouTube gaming channel by utilizing its vast collection of high-quality images.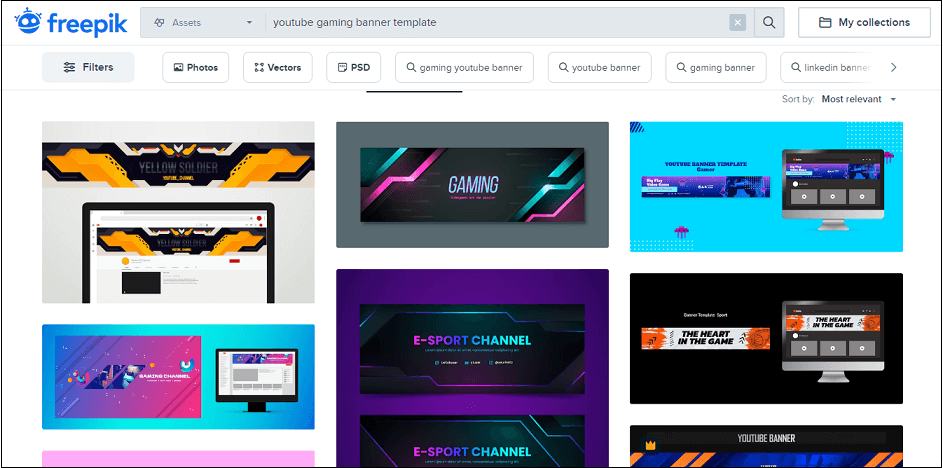 PosterMyWall
PosterMyWall is another online tool that provides a set of customizable gaming YouTube channel cover photo templates that you can use to create banners for your YouTube gaming channel. Not only can you create stunning YouTube gaming banners, but you can also use PosterMyWall to promote your gaming business, tournaments, and game nights with eye-catching posters, invitations, videos, and social media graphics.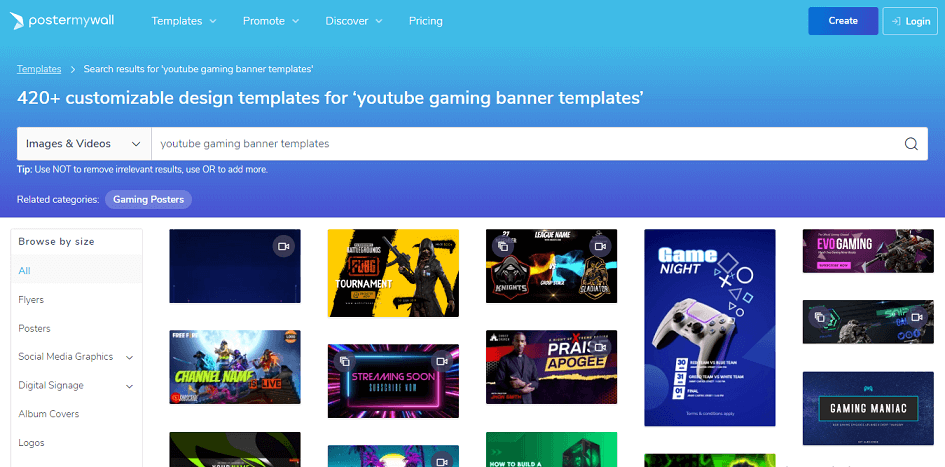 How to Make a YouTube Gaming Banner
Now, let's create a gaming banner for YouTube using a banner maker. Here, we'll guide you on how to make a YouTube gaming banner with Placeit. Follow the steps below:
Step 1. Go to the website of Placeit and click on the Designs tab.
Step 2. Tap on Social Media and select YouTube Banners from the drop-down menu.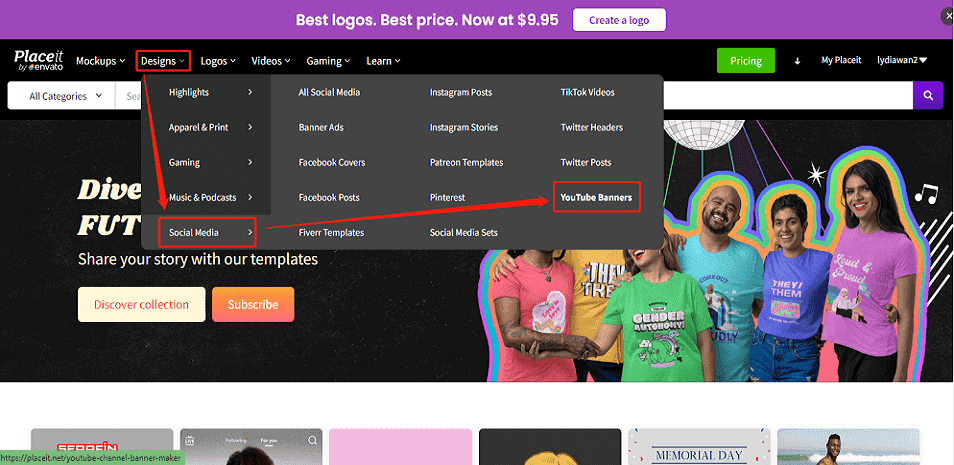 Step 3. Look through the collection of gaming YouTube banner templates and choose one that you like.
Step 4. Click on the template to open the editor.
Step 5. Customize the template by adding your own images, text, and graphics. You can also change the colors and fonts to match your channel's branding.
Step 6. Once you're happy with your design, click on the Download button to save the banner.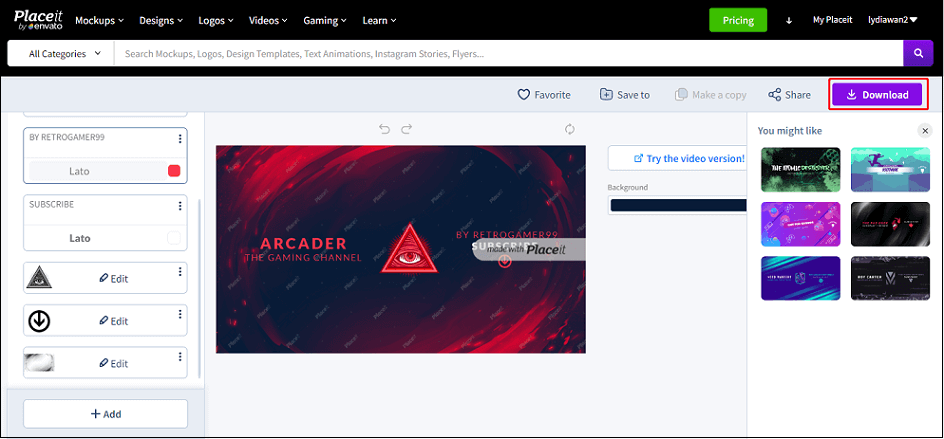 Bottom Line
To sum up, we've offered a complete guide on making a YouTube gaming banner. You can choose a YouTube gaming banner maker from our post. With the right tools, you can create banners that represent your channel and grab people's attention.