Nowadays, movies you want to see is available to watch online through a number of platforms. Even YouTube, a video-sharing website, offers the movies rental and purchase service. However, how to buy YouTube movies? (MiniTool Movie Maker, a useful video editor released by MiniTool.)
YouTube is popular with a wide variety of free videos uploaded by its users. However, in addition to all of these free videos, YouTube also offers movie renting and purchase service, which gathers a large number of the latest movies and classic movies, making YouTube an accessible video-on-demand option.
How to Buy Movies on YouTube?
Have you ever watched movies on YouTube? If not, you must give it a try. The experience of watching YouTube movies is excellent because of its clear and bright picture quality. You can watch those free movies on YouTube. However, what if the movie you like is not free? Follow the steps below to buy the movie you desired.
On a Web Browser
1. Go to https://www.youtube.com and log into your account.
2. Use the Search bar at the top or click Movies & Shows on the left menu and type in the name of the movie you want to purchase.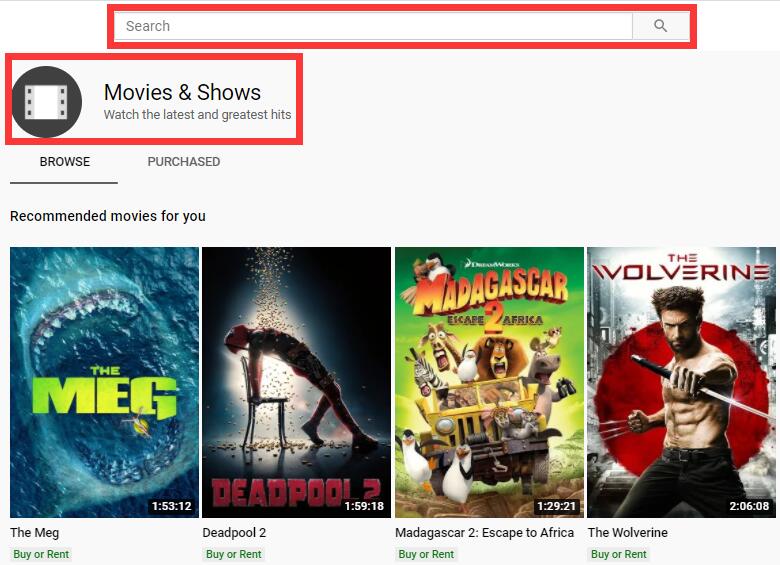 3. From the list of search results, click on the movie title to show price options.
4. After choosing the BUY FROM $, you will be taken to the payment screen.
RENT FROM $: It is relatively cheaper, but it only supports you to watch the rental movie within 30 days and you must finish the movie at most 48 hours once you begin watching. Of course, you can watch the movie as many times as you like within the validity period.
BUY FROM $: It is more expensive, while it allows you to watch the purchased movie at any time, as many times as you like.
5. Now you need to choose a payment method and click Pay to complete your purchase.
If you don't connect a credit or debit card to your Google account, you'll be prompted to add a credit or debit card here.
If you want to use a different payment method, just click the Pull-down button to select the option you want to add.
Tip: Once your purchase is confirmed, the purchased movie will be added to your Library, and you can watch it at any time.
On a Phone App
Open the YouTube app on your phone and log into your YouTube account.
Use the Search bar or click Movies & Shows on the left menu and type in the name of the movie you want to buy.
Select the movie from the search results and then the details and prices of the movie appear on the page.
Two price options are offered. If you decide to buy the movie, please click Buy From $.
After selecting the desired price option, you need to choose a payment method.
Tap the blue Pay button at the bottom-right corner to finish your payment.
Note: Clicking Purchases tab in the menu bar can obtain all your purchase information at any time.
Bottom Line
The YouTube movie purchase service is easy to use, particularly if you are accustomed to watching videos on YouTube. If you have any question about purchasing or renting YouTube movies, please let us know via [email protected] or share it in the comments section below.