Have you ever experienced this error - YouTube filters not working 2020? If yes, you are in the right place. This post from MiniTool will show you some details of the YouTube filter. In addition, it will also show you how to use filters of Google instead of the YouTube filter to help you narrow down the videos you want to find, if you encounter that error.
As a YouTube user, you may encounter an issue - YouTube filters not working. This is a common error happening all over the world. If you attempt to search for a query and set the upload date filter to the latest hour or day, the results show results from days, weeks, or months ago. This happens on mobile apps and YouTube on the web.
Google admitted that this was a deliberate move and that it had deliberately turned off the filters. Here's a statement from a Google's employee on the support forum:
YouTube is aware the search/sorting functions aren't working as expected – this is temporary and part of our efforts to better respond, review and remove graphic, violative content from YouTube. Thanks for your patience while we work through this. Will update this thread when these features are working normally again, feel free to subscribe for updates.

Google
Right now, if you are interested in the YouTube filters, keep reading to get more information about the filters.
Functions of the YouTube Filter
You are able to search for videos with the YouTube filter function and then the YouTube filter can help you filter these videos based on the following:
UPLOAD DATE: When the video was published on YouTube, e.g. in the past week.
TYPE: What kind of the video you want, e.g. channel or film.
DURATION: The length of the video, e.g. longer than 20 minutes.
FEATURES: The quality of the video, e.g. 4K.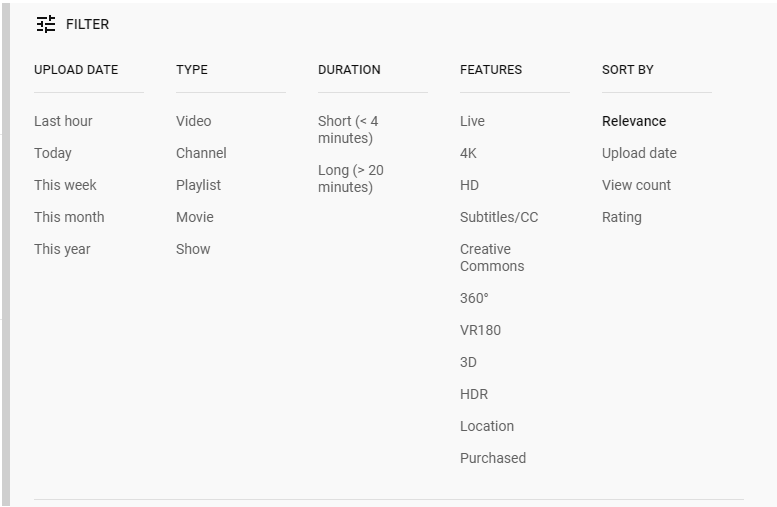 Hence, with the YouTube filter, you can more accurately find the video you want to watch.
You might be interested in the Top 10 Best 4K YouTube Downloaders – Review.
The YouTube Filter Functionality Is Back
A few days after the YouTube filters were removed, an update was added to the forum post saying that "search and sorting functions are working normally again".
That is to say, now you can use the YouTube filters again and find the video you want to watch more accurately and simply.
Solution If YouTube Filters Not Working Happen Again
If YouTube filters not working happens again and you need to use the YouTube filter function to search for videos, right now, you can follow the steps mentioned below to do that job.
Step 1: Firstly, open Google and go to its home page.
Step 2: Then, in its Search bar, type your query e.g. "how to make an umbrella with paper" followed by site:youtube.com. Hence, your query will be: how to make an umbrella with paper site:youtube.com and press Enter.
Step 3: When the results show up, click the Videos tab and then click Tools which will offer you the Google's filtering options.

Step 4: Any duration, Any time, Any quality and All videos will appear. Now, you can use these filters of Google to narrow down the search for the video you are looking for.
These filters of Google may not be as good as the search filters YouTube you're used to, but they can help you if the filters not working on YouTube.
Here is a post for you: The Top 8 Common YouTube Errors - How to Fix Them.
Bottom Line
To sum up, this post has shown you some information about the YouTube filters. It also shows what should you do if YouTube filters not working. Thus, if you find the "filters not working on YouTube", you can refer to the steps below to get the job done.