YouTube comments not loading is annoying. How to get out of comments not loading on YouTube issue? Here MiniTool lists the most feasible solutions for you to have a try.
Can't View YouTube Comments?
YouTube is now one of the most popular social platforms, with millions of videos and more being added on a regular basis. By the way of video, the audience can quickly catch the idea of the YouTube Channel.
It is a great convenient for YouTube Users to catch some key points of the Video by reading YouTube comments. However, some users have recently reported that they see YouTube comments not loading on their websites except for the pinned comments for a channel. The loading icon keeps spinning, and some users report that the comment section is totally blank.
"Since a few days the comment section keeps loading and won't show. This happens on all videos. I really couldn't find a solution so maybe you guys here know how to fix this :)" –user from support.google.com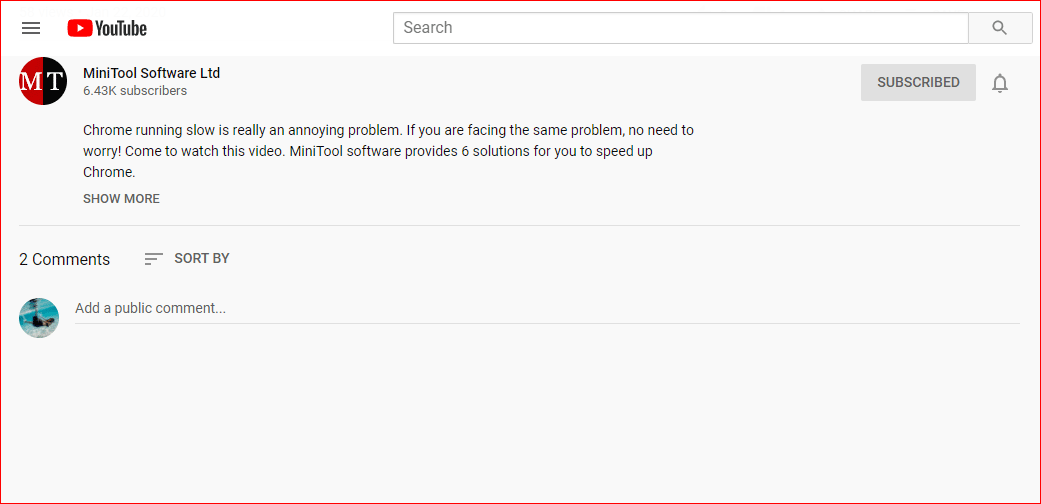 If you are one of these YouTube users, don't worry. Here, I shall discuss how to get out of YouTube comments not loading issue.
Fixes for YouTube Comments Not Loading Error
Why are YouTube Comments not loading? By now it is not clear why YouTube not loading comments issue arises but here are indeed several fixes for you to have a try. Do the easier ones first.
Tip: How to downlaod Youtube video Free? Get this MiniTool Utube Downloader to easily & quickly obtain the YouTube videos as well as the subtitles.
MiniTool uTube DownloaderClick to Download100%Clean & Safe
#1. Reload Video Page
The first thing you should do is to try reloading the video page. The comments may not be able to load due to some temporary issues.
If reloading the video page didn't help, then try waiting for a few minutes. Maybe the issue is on the YouTube side. So you may need to wait for some time for the comments to recover.
#2. Check Your Internet Connection
Internet connection issues might also be the reason behind comments not loading on YouTube. To fix this, you can try restarting your router/modem:
Turn off your computer, and then the router/modem. After that, wait for about 3 minutes before you restart these devices.
#3. Disable Proxy Connections
Similar with other applications, YouTube may also get into an error when accessing through a proxy network. Hence, if you have a premium VPN service enabled on your device, the proxy network that the VPN is using might be causing the YouTube error.
If this is the case, you can disable all proxies and VPN apps for the time being and then reload the webpage again. You should see YouTube comments is loading properly this time.
#4. Disable Misbehaving Extensions
If YouTube comments not loading error started appearing after you installed an extension, that extension is likely to be the cause for the error on your device.
To confirm whether the application is misbehaving as the culprit behind YouTube not loading comments error, open the video page you were having trouble on by using the Incognito Browsing mode. To open an incognito browsing window, you can use the keyboard shortcut Ctrl + Shift + N in a Chrome tab.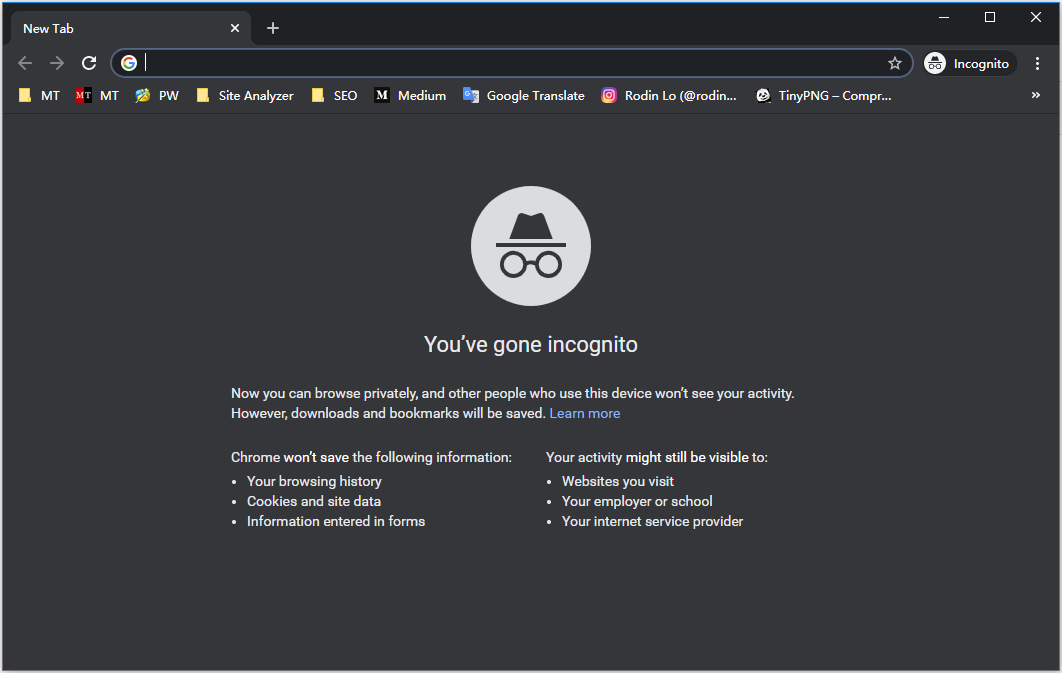 Now try to load the YouTube page in Incognito mode. The extensions are disabled in this mode by default, and hence, you can figure out whether the YouTube comments not loading error is caused by some broken extension on your browser, which does not happen in the Incognito mode.
Start enabling the extensions one by one and check if you are able to view the comments without some extensions.
#5. Change Your YouTube Layout
If doing all of the above won't help, you can try changing your YouTube layout to the old style. According to many users' report, this solution has helped a lot of them restore their YouTube comments. To do so:
Step 1: On the homepage of YouTube, click your profile picture from the upper right corner, and then select YouTube Studio from the pop-up window.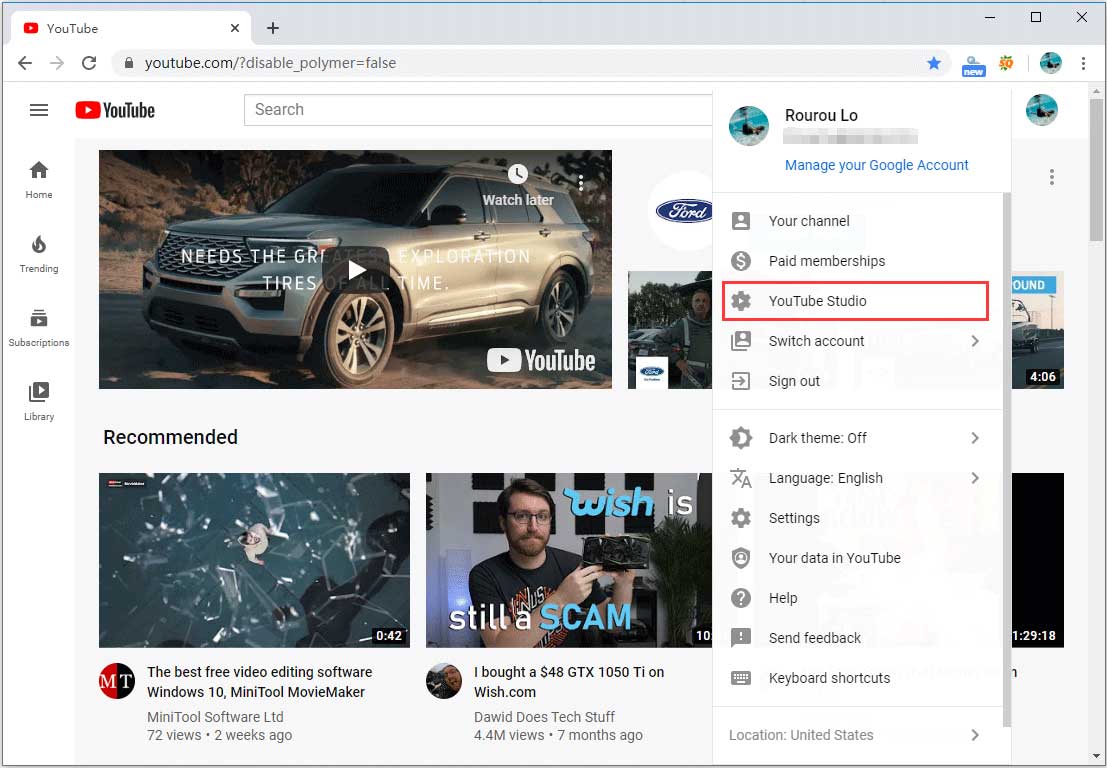 Step 2: Select Creator Studio Classic from the lower left menu.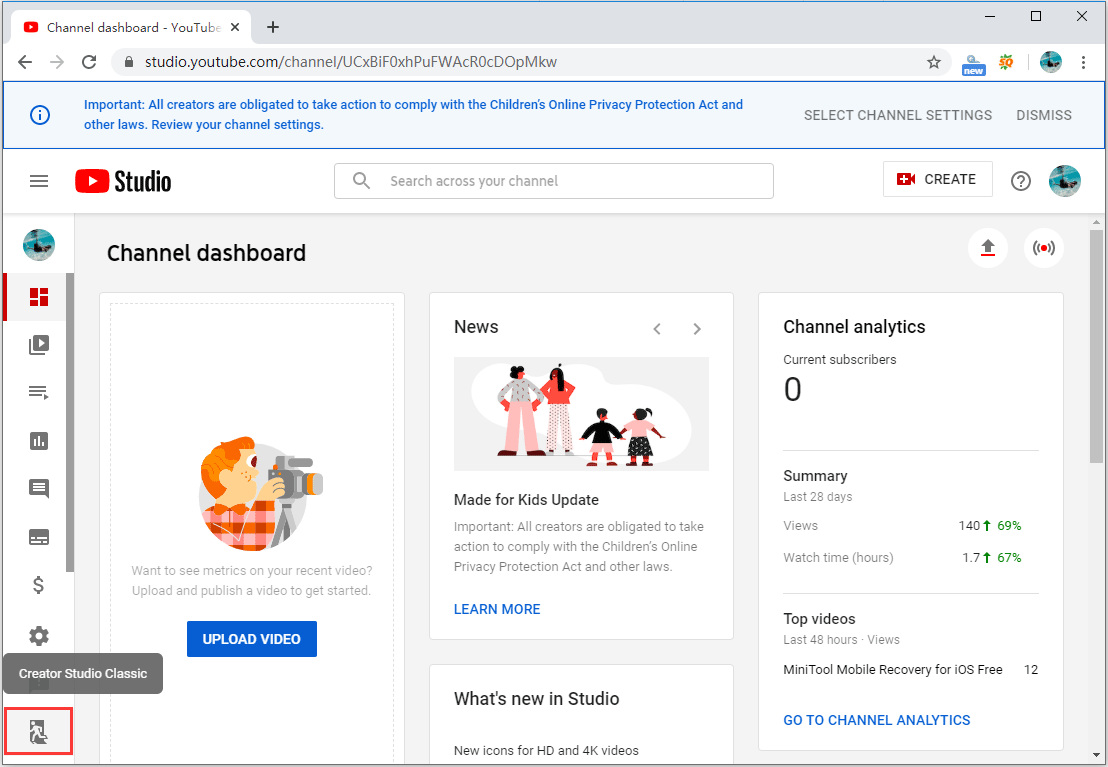 Step 3: Click the 3-line menu on the upper left corner and select Home. This should take you back to the old layout of YouTube. If this works for you, you'll able to see the video comments.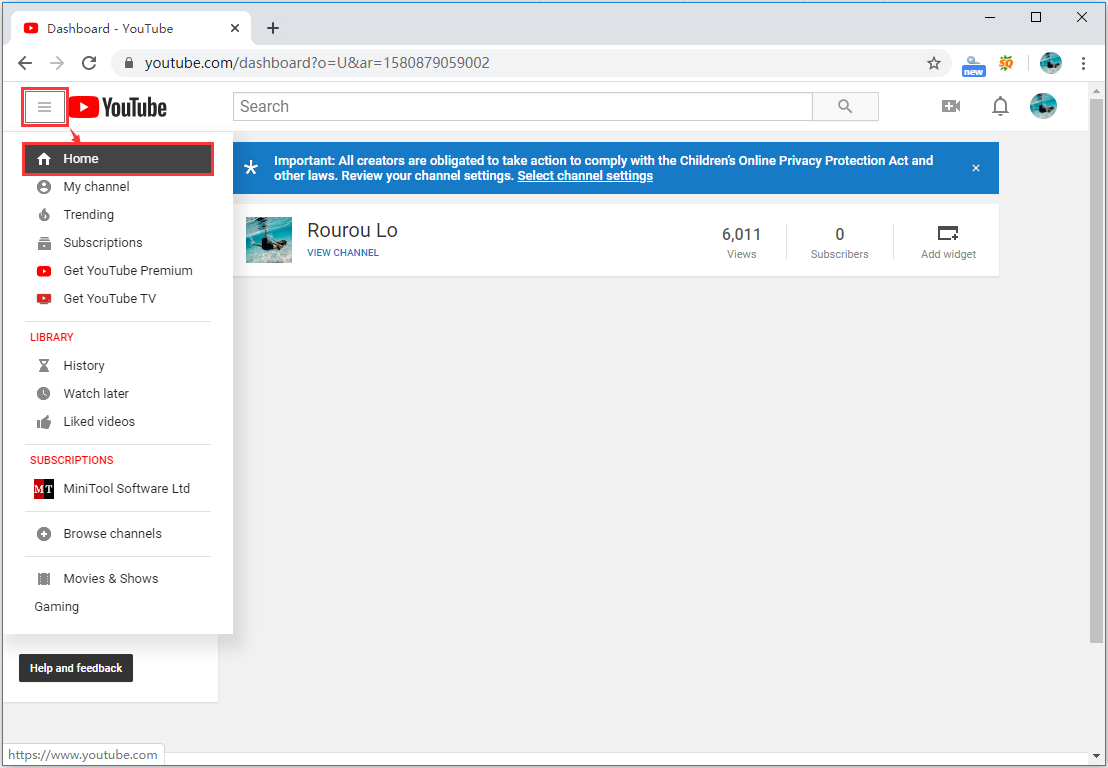 #6. Clear Browsing Data
Many programs and websites store data locally onto your browsing devices so as to load them faster the next time you launch these sites. However, mismatched cache data or missing data can cause all sorts of errors, and YouTube comments not loading is one of them.
To fix this error, clear all your Google Chrome data like cookies and cached images and files.
To clear Google Chrome data, you can use keyboard shortcut Ctrl + Shift + Delete to open a new tab where you can see Clear browsing data dialog box. From the Time range drop-down menu, select how much data you want to delete. Next, click on the Clear data button.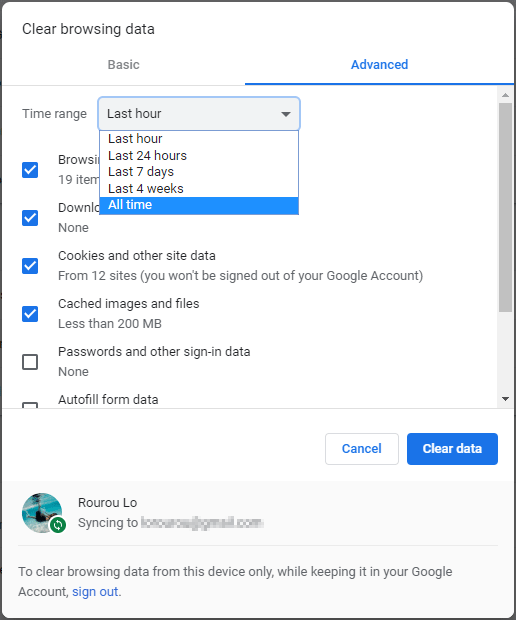 Note:
This keyboard shortcut also works for many other browsers such as Mozilla Firefox and Microsoft Edge as well.
Be careful when you are selecting what kind of data to clear. For instance, you may prefer to keep passwords in your browser.
#7. Clean up Your Windows System
Sometimes your YouTube comments disappear because of the junk files on your system (e.g. the unnecessary system files or browsing history). Removing these can be helpful for you to fix this issue.
You may want to do this manually, finding the right settings on your computer yourself to clear the junk file. To clean junk files more easily, you can read: How to Delete Junk Files from Your PC.
#8. Wait for the Official Fix
While the YouTube developer team is always working improving the user experience on YouTube, there are reports that the YouTube comments not loading on Chrome error is actually led by part of some new features that they are trying.
If this is the main cause behind YouTube not loading comments, there is nothing you can do to fix but to simply wait for a few days, upon which the changes should be reverted back to the original settings.
However, if you see YouTube comments not loading even after waiting for a few days, there might be some other error that is causing this error.
Hey! Here are several fixes to YouTube Comments Not Loading error. Why not give them a try?Click to Tweet
FYI: YouTube Test Hides Comments by Default
According to Techcrunch, YouTube comments enjoy bad reputation large because it reflects YouTube's overall toxic culture. The creators are likely to get rewarded for outrageous behaviors like tormenting and exploiting their children, filming footage of a suicide victim, promoting dangerous "miracle cures" or sharing conspiracies.
Now, YouTube is considering a design change – to hide the comments by default.
Today, YouTube comments lose the prominent position on its mobile app. On both iOS and Android devices, you will see the YouTube video itself appearing at the top of the screen, followed by engagement buttons for sharing, liking, disliking, downloading and saving the video.
Below the YouTube video are the recommendations from YouTube's algorithm. To view the YouTube comments, you have to scroll down all the way until you reach the bottom of the page.
In YouTube test, the comments section has been removed from the bottom of the page entirely. Instead, it is relocated to a new section that users can only view after clicking the new Comments button, which can be found between the Thumbs Down and Share buttons, right below the video.
By now it is unclear if this change will reduce or increase user engagement with YouTube comments, or if the user engagement will remain flat – something YouTube wants to find out, too.
Wrapping Up
Users often read the YouTube comments to obtain some extra information of a video, and they can discuss the errors on this topic, share their views and experiences. Now you know how to troubleshoot if you see YouTube comments not loading on your device. Comment below if you found this useful, and to discuss with the one who has the same issue viewing YouTube commnets.
YouTube Comments Not Loading FAQ
How do you turn on comments on YouTube?
Here are the instructions for Creator Studio Classic users:
Sign in to YouTube on a computer.
Go to Creator Studio > Video Manager.
Select the box next to any of the videos you want to manage.
At the top of the screen, click the Actions
Select More actions > Comments > Allow all comments.
What happened to YouTube comments?
YouTube will now disable comments on all videos featuring minors. YouTube states that comments will be disabled on all videos featuring young minors as well as videos with older minors that "could be at risk of attracting predatory behavior."
How do I see YouTube comments?
Click "History" at the top of the action panel from the left. Then from the History Type, choose Comments. Immediately you will see all comments made by you.
What was the first YouTube comment?
The first known user comment on YouTube was made by Marco Cassé from Italy on June 14, 2005. What he commented was "LOL!!!!!!!" on zubazpants's "Good Times!!!" video.