YouTube is working on a new Profile Cards feature which would display a full listing of any users' YouTube comment history, within a specific channel, when that users' name is clicked. It will strengthen connections with others in the YouTube community and will help creators recognize their best or worst reviewers.
YouTube is a website designed for sharing video. Millions of users around the world have created accounts on the site that allow them to upload videos that anyone can watch. Try MiniTool software to create your own YouTube videos. It has been working on developing new features to provide users with a better experience.
Creator Insider recently revealed about a soon to be launched Profile Cards feature that will display YouTube comment history of users. Now YouTube reviewers will be exposed on their loyalty to the channels or their trolling comments on the videos. According to Tom Leung, the Director of Product Management at YouTube, they shared updates and developments of new features with YouTubers so that users can be prepared for these changes in advance.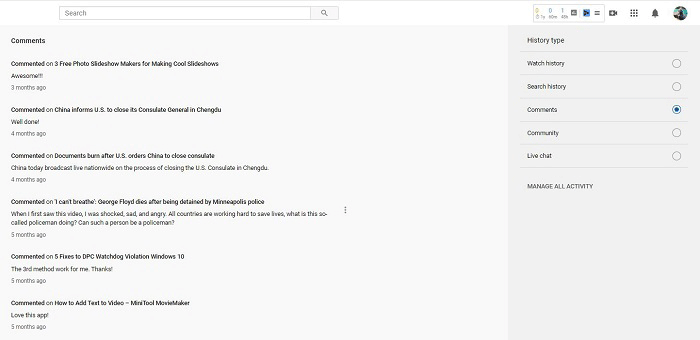 In the past, as long as the creator clicked on the reviewer's name, they were directed to the reviewer's channel page or the completely unrelated profile, but this is no longer the case.
Once Profile Cards are in use, the reviewer's profile card will appear as long as the YouTube creator clicks on the reviewer's name, and it will display all recent comments posted on the channel over the past 12 months.
If you're thinking that you won't have access to reviewers YouTube channel with Profile Cards, then you're wrong. The new Profile Cards feature also includes a link to redirect to reviewers' YouTube channel.
Although the creators can view YouTube comment history from the same reviewer in the video, these personal cards still do not display any valuable information about the people behind the comments.
See also: 2 Ways to Comment on a YouTube Video Quickly and Easily
YouTube creators will only be able to access the comment history of comments that users have left on their channel and not on other channels. Therefore, this means that Profile Cards will only provide the creator with information about the history of user comments on their channel. This feature is very similar to a feature on Reddit, where each user has their own full review history.
Tom Leung also explained in a notice released last week: "Profile Cards will help the creators understand what the reviewer is writing." He added, "We hope it will strengthen contact with others in the YouTube community. And help creators recognize their best reviewers."
Although not mentioned, the new feature can also help creators identify the worst reviewers, which means those reviewers who only appear in troll, disrupt discussions or otherwise cause problems. By viewing someone's comment history, video creators can make wiser decisions about whether to block comments from the same user, or, on the contrary, if the user is trustworthy enough to earn a spot on the "approved users" list so their comments get published automatically.
As Creator Insider reveals, Profile Cards feature will enable content creators to display customized messages to appeal to a variety of new subscribers.
It is not certain how many users are currently participating in this test, but the feedback received seems promising. In addition, many YouTube new features are in the beta phase, as well as this new Profile Cards feature. Know more information about on YouTube new features, click here.
Bottom Line
It is believed that Profile Cards feature will be launched soon, will you use this new feature to view reviewers' YouTube comment history? If you have any question or suggestion about it, please let us know via [email protected] or share it in the comments section below.