Anyone can view YouTube without YouTube accounts. However, you need to create a YouTube channel if you want to upload videos. (Try making eye-catching YouTube videos with MiniTool software.) Now, some YouTube channels allow you to become a member by paying a monthly fee for some certain perks.
Here's more about YouTube channel membership and how to get it.
What Is YouTube Channel Membership
Channel membership gives customers access to certain perks, like public badges and emoji, and other channel-specific perks that may change over time. However, it requires a monthly payment, which varies depending on the channel, the membership level you go with, and your location. However, it has some basic requirements as follows:
Your channel must have more than 30,000 subscribers.
Gaming channel must have more than 1,000 subscribers.
Your channel is in the YouTube Partner Program.
You are over 18 years old.
You are located in one of the available locations.
You have agreed to and are complying with the related terms and policies.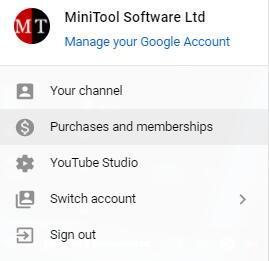 Also see: Top 10 Solutions to YouTube Video Is Not Available in 2019
How Much Does YouTube Channel Membership Cost
All YouTube channel memberships have a set cost of $4.99. This price cannot be increased or decreased and there are no payment tiers. For every YouTube membership payment, the owner of the YouTube channel receives 70 percent of the funds while YouTube takes 30 percent. This calculation is made after the cost of taxes have been applied.
What Can YouTube Channel Membership Get
Rewards or benefits for paying YouTube channel Membership varies from channel to channel though there are some common benefits.
Member-exclusive posts – many channels write special posts for their members, which appear in the Community tab of the channel's page and on the main feed on YouTube site and apps. These posts are only available to paying members, and often provide insight into video production or YouTuber's personal life.
Loyalty badges – these are small images that appear next to your YouTube username when writing a comment or participating in a live chat, which can help you stand out from the crowd. Meanwhile, it is a way to promote the channel you're a member of.
Exclusive emoji – some YouTube channels offer members special emoji that you can use on the YouTube apps and website. Like the loyalty badges, these emoji can't be found anywhere else and sometimes incorporate people or phrases known to a specific YouTube channel's audience.
How to Get YouTube Channel Membership
Step 1. Go to youtube.com and log into your YouTube account.
Step 2. Navigate to the channel for which you want to become a member and check if it has enabled the feature.
Step 3. If the channel has enabled the feature, you'll see a Join button on the channel page. Click it and a small panel of information will pop up showing you the perks of becoming a member and how much the monthly fee will be.
Step 4. Now you can select your desired membership tier from the left sidebar, and then click Join.
Step 5. Fill in your credit card information. If you wish to pay with PayPal, you can select it from the dropdown menu.
Step 6. Click Buy.
How to Cancel YouTube Channel Membership
You can cancel your membership later on if you think it's not right for you. Simply cancel it on the Purchases page, which can be found from the left menu on the YouTube website or from the Library tab on the YouTube iOS and Android apps.
Bottom Line
After reading this post, would you like to get YouTube channel membership? If you have any questions or suggestions about it, please let us know via [email protected] or share them in the comments section below.