If you can't watch a YouTube video because of YouTube age restriction, what should you do? If you have no idea, MiniTool can help you. This article from it offers some guidelines to make this possible. After reading this article, you should be able to watch age restricted videos.
When you are watching a YouTube video, you may receive a warning message saying "This video may be inappropriate for some users". This issue occurs because of YouTube age restriction.
If you still want to watch these age restricted YouTube videos, the following part will help you.
Read also: How to Watch Blocked YouTube Videos – 4 Solutions.
How to Watch Age Restricted Videos on YouTube?
You can't watch age restricted YouTube videos, and you don't remember your YouTube login information. In this case, you use two little URL tricks to bypass YouTube age restriction.
Trick 1:
When you get the YouTube video link, you can replace watch?v= with embed/. After that, you'll get a link to the video directly, without the need for the rest of the YouTube site, which will play in full screen in your browser.
Now you should be able to watch the video without YouTube age restriction and you won't have to log in.
Trick 2:
Alternatively, you can also add nsfw before the youtube.com portion of the video link. In this way, you will enter a different site to play the video, and it's a bit faster to type in.
How to Turn off Age Restriction on YouTube?
Safety Mode on YouTube is part of YouTube age restriction guidelines, aimed at preventing minors from watching NSFW videos on YouTube. Luckily, there is a way to disable YouTube age restriction and give you all the videos and services that popular websites offer.
#1: Add or Update Your Date of Birth
YouTube age restriction guidelines are used to keep NSFW YouTube content away from young people can't  make informed choices. Therefore, the Google limit is based on the user's age in the Google Plus profile.
You need to visit the Google Plus website and add/update your date of birth so YouTube will think you an adult.
Step 1: First, log in your Google account with the email address and password.
Step 2: Click the Home tab and click the Profile tab.
Step 3: Click the About tab and review the information about your profile.
Step 4: Find the Gender, birthday, and more option and click the pencil icon next to the birthday option.
Step 5: Enter your date of birth and click Save to either update or add your date of birth on your Google Plus profile.
#2: Disable Safety Mode
Step 1: To turn off Safety Mode, go to the YouTube homepage first.
Step 2: Click your profile and navigate to the last item - Restricted Mode: On.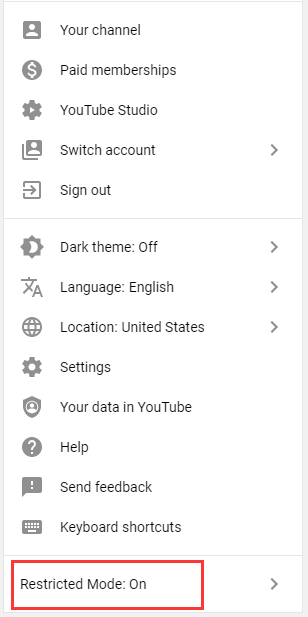 Step 3: Click it and toggle off ACTIVE RESTRICTED MODE.
You can now bypass YouTube age restriction and watch any NSFW YouTube video. Restricted Mode on YouTube is bound to each device, so you must disable each device individually. Therefore, for each profile you create, you must disable any browser that handles multiple profiles.
Further reading: YouTube Kids – Prevent Children from Inappropriate Video Content.
Bottom Line
To sum up, this post has shown you how to bypass YouTube age restriction with ease. You can try two little URL tricks and you can turn off age restriction on YouTube by adding/updating your date of birth and turning off Safety Mode.