What is Vevo? Vevo is the world's largest all-premium music video platform, offering artists a place to post their works. So the audience can directly watch their content on Vevo. But now things are different. You can't watch music videos on Vevo anymore, but you can find Vevo music on YouTube. So is there another way to get Vevo videos? Read this post to learn more.
What Is Vevo
Founded in 2009, Vevo is a video hosting service that provides audiences with music videos and let users download music for free. Vevo hosts music videos from three major companies: Universal Music Group, Sony Music Entertainment and Warner Music Group, so you can see many top artists here, including Taylor Swift, Ariana Grande, Rihanna and Beyoncé.
Do you want to download music from YouTube? Try MiniTool uTube Downloader developed by MiniTool.
However, in 2018, Vevo announced that it was shutting down its consumer website and mobile app. Then Vevo music would distribute via YouTube.
Now, simply go to Vevo's YouTube channel, you can watch the latest official music videos, live performances, interviews and so on.
Related article: How to Identify Songs in YouTube Videos – 3 Solutions.
Where to Watch Vevo
Since Vevo shut down its consumer website and app, where to watch Vevo? Don't worry, if you wouldn't like to watch Vevo videos on YouTube, here are some options: Roku, Apple TV, Fire TV, Echo, Sky Q, NOW TV, and Virgin Media.
If you find some Vevo videos on YouTube are not available in your country, this post might help you: How to Unblock YouTube – 3 Methods.
How to Convert Vevo to MP3
Since you love music so much, do you ever think about downloading your favorite Vevo songs and enjoy them offline? If yes, take the steps to convert Vevo to MP3.
Step 1. Download and install MiniTool uTube Downloader.
Step 2. Launch this program to get its main interface.
Step 3. Type the name of Vevo music in the search box and go. Or sign in to your YouTube account and find Vevo videos in your playlist.
Step 4. Open the Vevo video and click on the download icon next to the address bar.
Step 5. Then choose MP3 from the below options. The default subtitle is in English. If you want to change it, you can select the subtitle you wanted in the Download Subtitles section.
Further reading: How to Download YouTube Subtitles – 2 Solutions.
Step 6. Click the DOWNLOAD button to convert Vevo to MP3.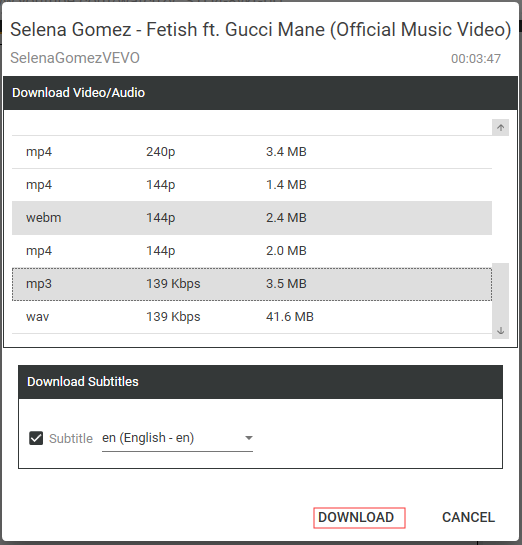 Step 7. When the conversion process is done. You can find the Vevo music by choosing the
Navigate to file icon in the right panel.
You may like: How to Download Vimeo to MP3 for Free.
Vevo Alternatives
If you are a music lover, you might be interested in this part. It will list serval best Vevo alternatives. Check out here:
Spotify – It provides millions of tracks and episodes. With it, you can find music from all over the world. You may like: Top 4 Spotify Downloader to Download Spotify Songs.
YouTube Music – You can browse songs and music based on playlists, genres and recommendations.
Pandora – You can play songs and podcasts you love on Pandora. However, it's only available in the U.S. right now.
SoundCloud – It's one of the largest music streaming services with over 200 million tracks.
Dailymotion – It's a video sharing platform offering various kinds of videos like music, news, sports and many others.
Conclusion
Now, you must understand what Vevo is after reading this post. If you like this post, don't forget to share it with your friends.
If there is any problem, please leave a comment and let us know.