Have a hard time waking up in the morning? Or are you tired of the sound of your alarm clock in the morning? If so, you can try the following wake-up music on YouTube, which can help you out of bed and put a pep in your steps.
Best Wake-up Music on YouTube
Viva La Vida
The first wake-up music is Viva La Vida by British rock and Coldplay. When I first listened to this song, I was attracted by it and looped it.
Via La Vida (Spanish for Long Live Life) was written by all members of the band for their fourth album and received widespread critical acclaim.
The lyrics to the song contain historical and Christian references and tell a story about a king who lost his kingdom. The track is built around a looping string section in unison with a digital processed piano, with other layers gradually being added as the song builds.
Walking on Sunshine
Walking on Sunshine is a piececlassic wake-up music written by Kimberley Rew for Katrina and the Wave's 1983 eponymous debut full-length album.
After listing to music, the strong beat and the lyrics flood my mind and I have the same feeling as other audiences:
This song is a mass of happiness and motivation.
The absolute best song to start your day with.
Money on My Mind
A few years ago, I knew a great singer Sam Smith and I like his song I'm Not The Only One. Here I recommend another his song Money on My Mind. You can add it to your playlist of wake-up music. The lyrics to this song can really drag you out of your bed.
"Money on my mind
Money on my mind
I do it for
I do it for the love
I do it for the love
I do it for the love…"
Wake Up
"So, wake up/Your sleeping heart//I know sometimes we'll be afraid/But no more playing safe, my dear/I'm here/So, wake up…" It seems the song should be an alarm to wake up those who can't get up in the morning. In fact, the song is all about opening your eyes to the love in front of you.
The song by British pop band The Vamps was released on 2 October 2015 as the lead single from their studio album of the same name. The singers said that this song served as inspiration for the rest of the album and marks the beginning of the Vamps Revolution.
I like this song and it is now in my playlist. How about you?
Lovely Day
Lovey Day by Bill Withers should not be missed out. Published in 1977, the song appeared in Bill's 1977 album "Menagerie" and reached the #30 on Billboard top 100 in 1978.
The singer's voice in this song is so gentle, which would just put you in a good mood and believe today is a lovely day.
"When I wake up in the morning, love/And the sunlight hurts my eyes/And something without warning, love/Bears heavy on my mind…"
Some audiences comment on this song:
The days will be a lot less lovelier without him.
Ain't no sunshine now that he's gone.
…
Can't fall asleep at night? You can listen to the ocean sounds to help you avoid insomnia.
Morning Wake up Music Download
Want to download the wake-up music from YouTube? If yes, you can try MiniTool uTube Downloader that is a free YouTube downloader. How to use it? Follow the tutorial below.
Step 1: Install MiniTool uTube Downloader on your Windows PC and then launch it.
MiniTool uTube DownloaderClick to Download100%Clean & Safe
Step 2: Search for the wake-up music you want to download and then click the Download icon.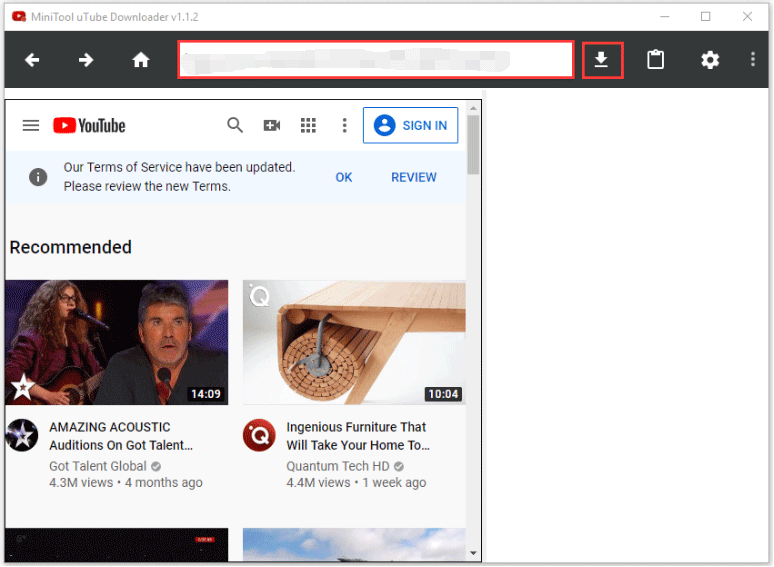 Step 3: Choose MP3 as the file format and then click the DOWNLOAD button.
If you are not using a Windows PC, you can read the post in which I tell you how to save YouTube videos (you can also save music from YouTube videos) to different devices.