If you're a content creator and want to share your content online, choosing a good video-sharing platform is important. YouTube may be your first choice, but you can also take Vimeo into consideration. So Vimeo vs YouTube: which one is best? Read this post and choose the one you like.
Vimeo VS YouTube
When it comes to video-sharing sites, YouTube always is the preferred choice for those who want to post their videos. But for some people, maybe YouTube is not the ideal place. Therefore it's necessary to turn attention to another video-sharing site – Vimeo.
Why choose Vimeo? What is Vimeo good for? Compared to YouTube, Vimeo is an ad-free video platform that allows users to download Vimeo videos directly. To create a terrific short video and post it on Vimeo, try MiniTool software – MiniTool Movie Maker.
If you don't know which one is suitable for you, this post presents their differences from the following five aspects: Audience, upload limits, video quality, Membership and Analytics.
Audience
More than 2 billion users watch YouTube videos per month, while Vimeo just has 90 million registered users. Uploading a video to YouTube can reach a larger audience, but there are 500 hours of video content uploaded per minute, it's difficult for you to stand out.
It's easier for users to discover your video if you post a video on Vimeo. But the fewer video views you will get.
To attract more viewers, you can read this post: How to Add YouTube End Screen – Get More Views on YouTube.
Video Quality
The same quality video on Vimeo may look better than on YouTube. If you pursue a better view experience, Vimeo is a good option.
Upload Limits
YouTube allows you to upload videos up to 15 minutes long, but you can extend it to 12 hours long by verifying your Google account. Besides, you can upload videos to YouTube as much as you can.
Related article: Useful Tips on How to Create, Verify or Delete YouTube Account.
As a free Vimeo account, you will get 5 GB of storage and there is no limit to the length of a video. But the drawback is you can only upload 10 videos per day and 500 MB per week. If you want to post full-length movies, you'd better choose a Plus plan or above.
Analytics
YouTube analytics tool is comprehensive and free, while the advanced analytics options on Vimeo only for Plus member.
Membership
YouTube offers YouTube Premium. YouTube Premium costs $11.99 per month and lets you download YouTube videos and watch them without ads. Actually, to watch YouTube videos without ads, you may like: How to Block Ads on YouTube (Windows/Android).
Vimeo provides four membership plans: Plus, Pro, Business, Premium.
Plus: $7 per month billed annually. It offers 5GB/week and 250/GB every year.
Pro: $20 per month billed annually. It offers 20GB/week and 1TB every year.
Business: $50 per month billed annually. It offers 5TB total storage and you can add 10 team members.
Premium: $75 per month billed annually. This plan has a whole suite of live streaming tools and offers 7TB total storage.
Go to this page to learn more details about Vimeo membership.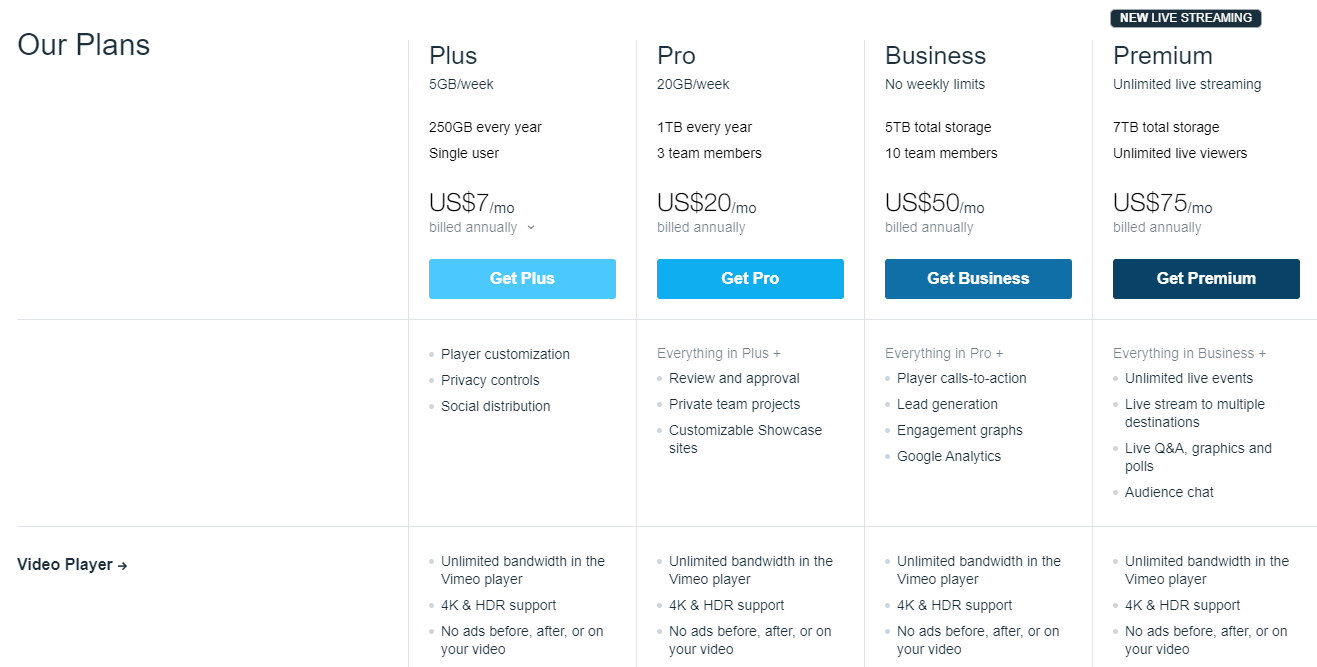 Conclusion
Overall, Vimeo for uploads provides high-quality video and offers various privacy options. For YouTube, it helps you get more video views and has a powerful analytics tool. Now, you can choose one of them and try it for free.
If you have any questions about Vimeo vs YouTube, you can leave a comment below.