How to view private Instagram? It always is one of the most talked-about things. Are you also troubled by this question? Fortunately, this post will tell you all about it and your curiosity will be satisfied after reading.
Instagram is a social media platform designed for photo and video sharing. Try MiniTool software to create eye-catching Instagram content.
As is known to us all, Instagram has the feature to make Instagram accounts private. Once users make their accounts private, only followers can see the content and stories posted. Instagram doesn't do this for every single post but makes the whole account a private Instagram account instead to get security measures.
Related article: Delete Instagram Account Permanently
How to Make Instagram Private
It is always recommended to have a private Instagram account if you want more security and privacy. To make Instagram private, simply follow the easy steps below:
Open the Instagram app on any device.
Head to the profile icon at the bottom right corner of the screen.
Click on the 3-horizontal-line icon at the top right corner of your Instagram profile.
Choose the gear icon at the bottom right corner of the screen.
Scroll down to find the Private Account option and turn it on.
Then your Instagram profile and posts are safe and are only shown to the people that you accept their follow request.
How to View Private Instagram – 5 Methods
There might be many reasons why you do not want to follow a private account, but meanwhile, you are dying to know what's going on behind the security wall of their account. To help you solve this problem, here are some possible ways you can try out to view private Instagram accounts.
Method 1. Send a Request Directly
There is no need to mention that the most legitimate and logical way to get into someone's private Instagram is to send them a follow request and wait until it gets accepted. So the best suggestion is always directly to ask someone to enter their profile and if they did not accept the request, you could take another action.
Method 2. Make a Doppelganger Account
This method surely makes an Instastalker out of you, but it is worth the try. So, start with creating an account that has a similar name, surname, and profile picture as one of the followers of your targeted account and send them a follow request.
Method 3. Create a Fake Account
Creating a fake Instagram account is another solution when trying to view private Instagram. This method is enabled when you do not want to use your account to send friend requests to others.
To create a fake account, all you have to do is pick a random name and surname and get some pictures on the internet and use them as our own. Then, after creating the account, you can reach the target Instagram account and send a follow request.
Related article: Get Verified on Instagram for Free
Method 4. Search Usernames on Other Platforms
Another way to view private Instagram is to easily use their ID, name or surname to start the investigation. Copy their name or username, open the Google image search or any other image-based search engine and paste the name into the search box.
If the targeted person owns profiles on other networks, you may retrieve some of that information in the search. To make the search more specific and make it bring out better results, just add quotations to the search term.
Method 5. Use Private Instagram Viewers
There is an option that is mentioned on almost all the websites talking about viewing private Instagram: private Instagram viewers, which claim to let their users access other people's accounts without having to follow them.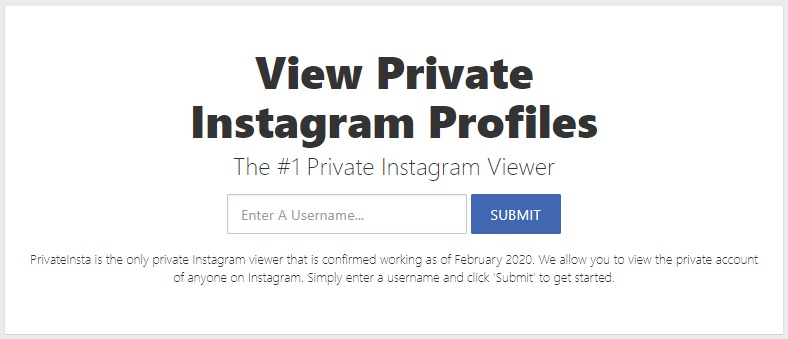 The top 6 best private Instagram views are listed below.
Private Insta
InstaLooker
WatchInsta
InstaDp
InstaSpy
InstaGramies.com
You might be interested in: Make Your YouTube Videos Private
Conclusion
This post gives you a detailed guide on how to view private Instagram. Why not share it with your friends? If you have any questions or suggestions, please leave a comment below or contact us via [email protected].