For various reasons, some Instagram users are looking for a way to delete their accounts. For getting them out of trouble, this article will show how to delete Instagram account parmanently and the difference between permanently deleting the account and temporarily deactivating it.
Instagram is an American photo and video-sharing social networking service owned by Facebook. If you want to create eye-catching Instagram videos, try MiniTool Movie Maker, a professional video editor released by MiniTool.
For certain reasons, some Instagram users want to delete their accounts. In fact, it's a pretty easy task after reading this post. However, you should know once you deleted your Instagram account, all data cannot be recovered.
If your account has important information, it is recommended that you download Instagram data before deleting your account, so that you can still have all the photos and videos you posted in the past.
Download Your Instagram Data
1. Log in to your Instagram account, click your profile and select the Gear icon.
2. Tap on the Privacy & Security tab, enter your password and then click Request Download.
3. Enter your email address, click Next.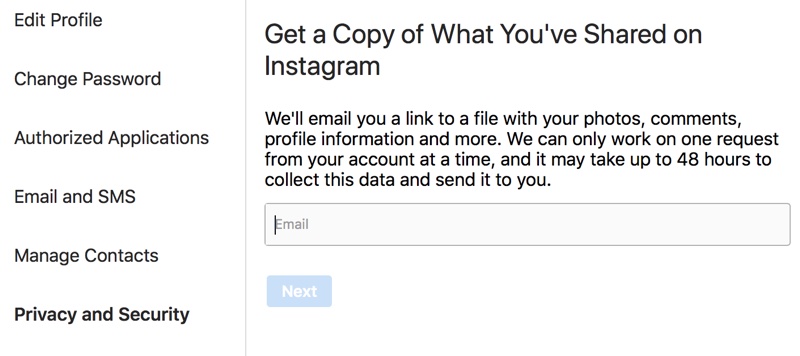 4. Within 48 hours you should receive an email with a link, titled Your Instagram Data. Simply click Download Data.
How to Delete Instagram Account Permanently
It's impossible to delete your Instagram account using the mobile app. So please open your browser first.
1. Go to the Instagram site and log in to your account.
2. Go the Delete your account page on Instagram.
3. Select a reason for deleting your account from the drop-down menu and enter your password again.
4. Click on Permanently delete my account.
5. Click OK to ensure you want to delete your account.
Related article: Useful Tips on How to Create, Verify or Delete YouTube Account
Disable Your Instagram Account Temporarily
You can't also disable Instagram through the app, it has to be done on a web browser on the Instagram website. Deactivate your account by taking the following steps:
Visit the Instagram website, log in to your account and click your profile.
Select Edit Profile, scroll to the bottom of the page and click Temporarily disable my account.
Then you will be asked – Why are you disabling your account? Select a reason from the drop-down menu.
Re-enter your password and select Temporarily disable account.
Your account is now disabled and it will be hidden from other users until you log in to it once again. Please bear in mind that you can only disable your Instagram account once a week.
Related article: How to Make Money on Instagram – 4 Methods
Deleting vs Disabling
Disabling your Instagram account temporarily or deleting it permanently is depending on your preference. However, it's necessary to know the difference between them before you make a decision.
Deleting your Instagram account cannot be undone and a deleted account cannot be restored. When you delete your Instagram account, all of your data, including photos, followers and likes will be deleted for good. And no one can use this account again.
Related article: Recover Deleted Instagram Photos.
Disabling your account is temporary. Once it is disabled, your account including your profile, followers, photos, likes, and comments will be hidden from other users. To restore all of this information and start using Instagram normally again, simply log back into your account.
Bottom Line
Steps on how to delete Instagram account have been introduced above. Please look before you leap. If you have any questions or suggestions about it, please let us know via [email protected] or share them in the comments section below.