A video bumper is a short video clip that's used to attract audiences with a short and impressive message. And in this post, we'll offer some information about video bumper or YouTube bumpers, and some sites for video bumper templates as well as how to make a video bumper.
What Is a Video Bumper?
When you watch videos on YouTube, sometimes you might see a short clip at the beginning, end, or the middle of the watched videos. That's a video bumper or called bumper video. A video bumper is usually 10 seconds or less long to display your brand and reach viewers, and it often appears at the start, end, or middle of your video. Video bumpers can help to improve the video quality and draw viewers' attention.
As for YouTube bumpers or YouTube bumper ads, they are 6 seconds or shorter and appear before, after, or during another YouTube video. And the audience can not skip a bumper while they're watching a video on YouTube.
A bumper is one of the YouTube video advertising formats, launched in 2016, and others include skippable video ads, non-skippable video ads, overlay ads, etc. And YouTube bumpers works on computer, mobile devices, TV, and game consoles. By the way, some people also call video bumpers video intros.
And if you need to download videos from YouTube, try MiniTool uTube Downloader, a free YouTube video downloader.
MiniTool uTube DownloaderClick to Download100%Clean & Safe
Do you know how much YouTube ads cost? Check this post – Here Is a Detailed Guide on YouTube Ads Cost.
How to Make a YouTube Video Bumper
Before making a YouTube video bumper, you should first know what to share with your viewers via this bumper ad and then prepare the elements of this video bumper, including graphics animation of your logo or brand symbol, background music, or other audio tracks, etc.
How to make a bumper? To help you create effective YouTube bumpers, try the following online tools.
#FlexClip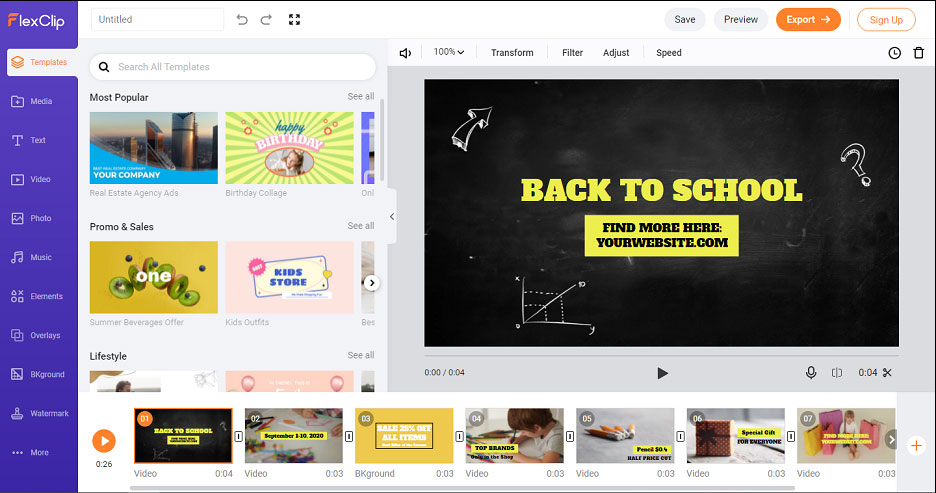 FlexClip is a useful online tool to make stunning bumper ad videos. To make your work easy, it offers many video bumper templates for you to customize. FlexClip also lets you upload and add your logo to the video, add text and music, apply filters, adjust the video speed, and more.
#InVideo
InVideo is also a great choice to make professional bumper video ads with 3 aspect ratios: 16:9, 1:1, 9:16. It offers hundreds of ad templates that you can use and personalize based on your needs. And InVideo also has a huge collection of videos, images, and music and you can choose from them and add them to your video bumper.
#Animoto
Animoto is another YouTube bumper maker to boost your business on YouTube. This online tool enables you to make 6-second YouTube bumper ads and other YouTube ads like action ads. And it comes with many editing tips to customize your video.
Best Site for Video Bumper Templates
The above three bumper video makers offer some templates for you to edit. But, is there any other place to find and download video bumper templates?
Firstly, you can try Canva. It offers more than 500 YouTube intro templates that can be easily customized to create attractive YouTube intro videos for your channel. Alternatively, you can try Envato Elements, a website for stock videos, photos, and music, etc. This site offers various video templates and you can also find hundreds of video bumper templates. 
Also read: Want to Be Successful in Monetizing YouTube? 5 Useful Tips!
Conclusion
After reading this post, you've learned what a video bumper or YouTube bumper is and three online tools to make YouTube bumpers ads as well as two places to find video bumper templates. And if you have any questions about this post, just leave your comments below.