Can you use copyrighted music on YouTube? This post talks about what happens if you use copyrighted music on YouTube and how to legally use copyrighted music on YouTube. If you want to download YouTube videos, try MiniTool uTube Downloader.
Many YouTube administrators believe that if you use copyrighted music in your YouTube videos, you will be punished. So, can you use copyrighted music on YouTube? What happens if you use such music? Keep reading
How Do Music Owners Know That Their Music Is Used by Other?
YouTube uses a powerful system called "Content ID", which allows copyright owners to identify and to manage how their content is used on YouTube. Every video uploaded to YouTube is scanned according to the Content ID database to detect whether it contains copyrighted music or videos.
If you use copyrighted music registered in the Contend ID system, the YouTube Team will send a copyright claim to you.
Are You in Trouble If You Got a Copyright Claim?
It depends on the copyright owner. The copyright owner really decides whether to allow you to use their music. The Content ID system only informs you that it has detected some copyrighted music in the video.  the copyright owner may decide to:
Mute your video. Your video is still available but no audio.
Block your video. This most likely will close your channel. What's worse, if the copyright owner decides to delete your video, it will also have an adverse impact on your account reputation. And you may not be able to use certain YouTube features.
Monetize your video by running ads. In most cases, the owners will be happy to let you use their music in exchange for the right to put ads in the video. However, this means that you won't be able to monetize your video.
Track the viewership statistics of your video. If you are found to be a repeated offender, you will be banned from YouTube.
How to Deal with the Copyright Claim?
When you get a copyright claim, YouTube suggests you can:
Acknowledge it if you don't mind the ads.
Share revenue if you're a partner you can share revenues for song covers.
Dispute the claim if you believe you have the right to use the music. Because the Content ID system cannot tell you in advance whether you have the right to use specific music tracks. It only informs you that your video contains copyrighted music. So, you have the right to contact the copyright owner and request that the copyright claim be withdrawn.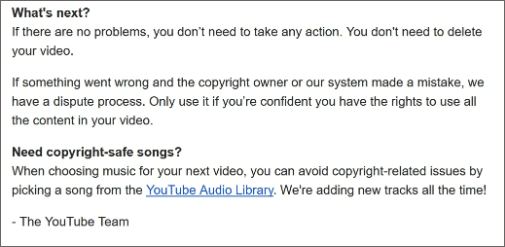 Since 2019, YouTube has been making some changes to make it easier for creators to resolve the claims. YouTube configured their post-claim tools – Replace song, Mute song, and Trim out segment – to automatically release claims on some of the cases.
How to Legally Use Copyrighted Music on YouTube?
how can you legally use copyrighted music on YouTube? There are some suggestions.
There is no better way than obtaining permission from the copyright owner. You can use their music on YouTube and have the copyright owner withdraw their copyright notice. This may be free, or you may need to pay a license fee.
Use music available in the public domain. In the United States, any song or musical work released on or before 1922 is in the public domain.
Reuse music from YouTube videos with a Creative Commons license.
Bottom Line
This article has shown you what happens if you use copyrighted music on YouTube and how to legally use copyrighted music on YouTube. Hope it can be helpful to you.