If you want to find a video on YouTube, you type a keyword on the YouTube search bar. To quickly find the video you want to watch, you click the FILTER button. There are lots of available choices and you may notice one choice that is Creative Commons.
It is a YouTube license. The other known YouTube license is standard YouTube license. What are they? Go on reading and you will get the answer to this question.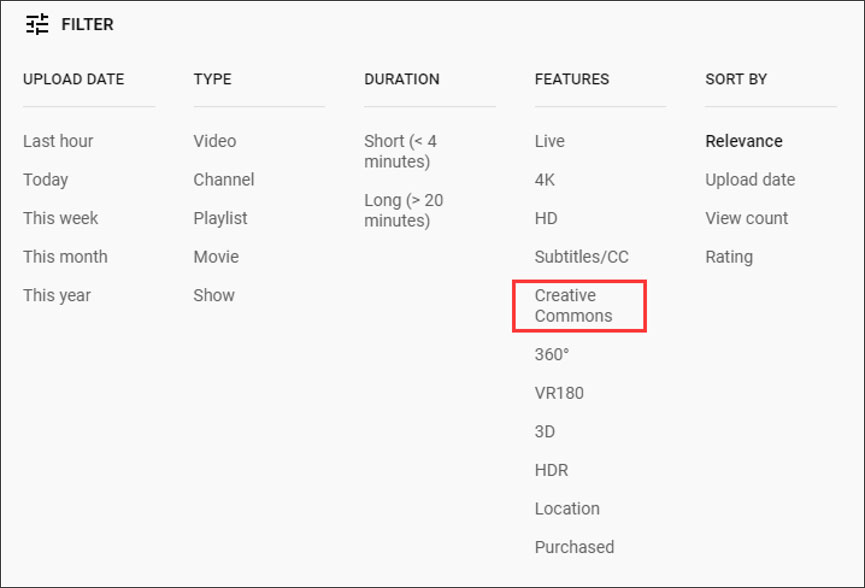 Standard YouTube License vs Creative Commons License
In this part, I would like to put creative commons license and standard YouTube license together to help you figure out what they are. Due to this, you may also distinguish them from each other easily.
Nowadays, YouTube is a very popular video-sharing website on which lots of new videos show up per minute. To manage these videos, YouTube has its own set of rules and regulations.
When a user is uploading a video to YouTube, he will choose a license option (standard YouTube license or creative commons license).
Standard YouTube License
What is standard YouTube license? Let's figure standard license out firstly. A standard license is the permit from a competent authority to own or use of something. In other words, if the user choses standard YouTube license, this means that he grants the broadcasting rights to YouTube and this video can be only accessed from YouTube for watching purpose and cannot be reproduced or distributed in other forms with his consent.
Creative Commons License
The second option is creative commons license (also known as CC license). What is it? Creative commons license is the method to grant permission to use videos, edit it, and redistributes it. In other words, if the user selects this license, it means that he allows others to download, recreate, edit or redistribute this video.
How to Switch to Creative Commons License After Publishing?
By default, YouTube adopts the standard YouTube license when you upload your content to this platform. If you want to switch it to creative commons license after publishing, please follow the tutorial below.
Step 1: Log into your YouTube account and then hit your avatar and click Your channel.
Step 2: On the new page, click the Videos tab and then click the Edit Video button underneath your video.
Step 3: Click the Advanced tab and then select Creative Commons – Attributions from the License and rights ownership box. After this, your video will be marked as CC BY.
Common Questions Related to Standard YouTube License
After reading the above content, you may have a clear understating of standard YouTube license vs creative commons license. However, you may have some doubts about the first license. I gather some common questions from Google and I hope my answers to these questions can dispel your doubts.
Q 1: Can I share the YouTube video marked as standard YouTube license with my friends on other platforms, like Facebook?
Yes, you can do that. If you are allowed to share the video, there must be an available Share button underneath the video. Furthermore, when you share the video by clicking the Share button, you will find that this video will bear its original author's name and URL. Therefore, it is legal.
Q 2: Can I use the videos marked as standard YouTube license for a non-profit video?
You can do that unless you seek permission for the author of this video. You can convince him of the fact that you have not been gaining anything from the usage of his video.
Bottom Line
This article comes to an end. Hope what I mentioned above can help you know standard YouTube license better. If you still have some questions related to the YouTube license, please leave them in the following comment zone.