Are you frustrated that you don't understand the language of the video you want to watch? If you are in the same situation, then you need to translate YouTube video. If you're not familiar with YouTube, do you know how to do this? MiniTool can help you a lot. It provides you with detailed instructions.
If you've ever wanted to translate a foreign language video on YouTube, this article is for you.
The technology isn't perfect, and it doesn't work for all videos right now, but it's good to have an option. As AI and translation become more and more global priorities, it will only get better.
If a YouTube video has closed caption, you can open it and ask YouTube to translate the subtitles for you. You can also have YouTube generate a text that you can then copy and save. This is a great way to save useful documentary transcript that you can look up offline.
How to Turn on Captions on YouTube?
If you need to turn on Captions, follow the steps below.
Read also: Tips on How to Turn on Subtitles on YouTube.
Step 1: Firstly, make sure the video you want to watch has closed caption available.
Step 2: Find the CC button to the left of the Settings icon. Click the CC icon.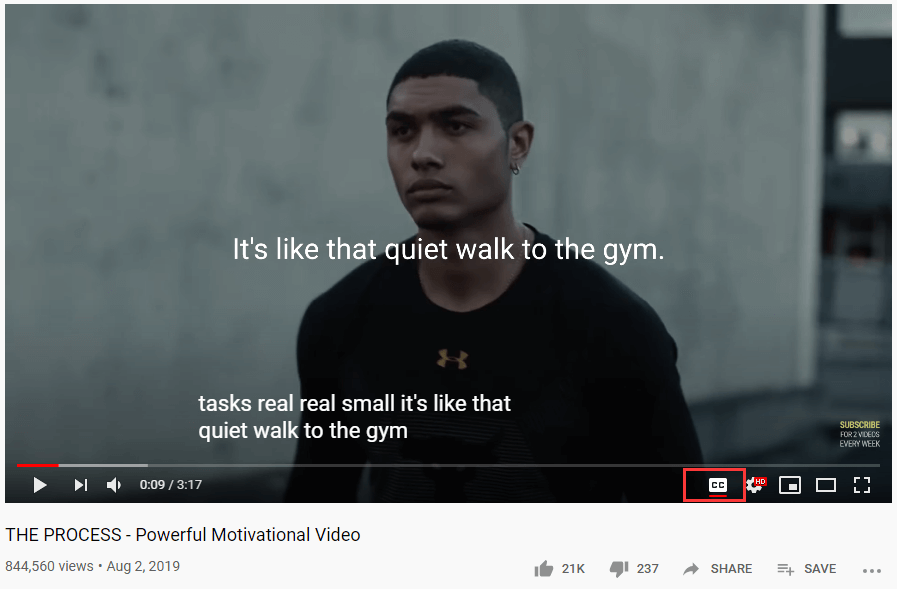 After that, the message on the screen shows that the subtitles have been activated in the video's spoken language and prompts you to make changes using the Settings icon.
Step 3: If you don't like the color, font, or size of the captions, you can follow this step. Just click the Settings icon, select Subtitles/CC, then click Options on the top left. Here, you can choose Font family, Font size, Background color, Window color, Font opacity and more. Change the options until you get the captions you like.
How to Translate YouTube Video?
What if the video you are watching is in a language you don't know? You will need to translate YouTube video.
Step 1: Click the Settings button and select Subtitles/CC.
Step 2: Right now, choose the Auto-translate option. A long list of languages from A to Z will show up. Choose one you want to view.
Of course, the translation isn't perfect. It's just a rough translation so you can follow what's in the video.
Generate, Translate, and Save a Transcript on YouTube
You can also save those subtitles for future reference. The following part will teach you how to do that. You can't get a translated version from YouTube but you can get the translation from Google.
Step 1: Open YouTube in Google and open the video you want to use. Click the 3 dots button on the bottom right of it and select Open transcript.
Step 2: Click the Google Translate icon in the address bar and choose the language you want to translate into.
Step 3: After that, you'll see the language of the whole page is translated into the language you choose. Just copy and paste the lines you need to keep for your research.
Further reading: How to Download YouTube Subtitles – 2 Solutions.
Bottom Line
To sum up, this post has shown you all the information how to translate YouTube videos. It also introduces how to turn on Captions on YouTube and how to generate, translate, and save a transcript on YouTube. The instructions are quite simply and easy. If you have any better idea to translate YouTube video, tell me in the comments.