How to transcribe a YouTube video? If you don't have any idea to do that, this article from MiniTool Solution is what you need. It will provide you with 3 major options: YouTube video to text transcription service, YouTube video transcript and DIY way to transcribe YouTube videos.
There are all kinds of videos on YouTube. From entertaining to informative, thousands of new contents are uploaded every minute. While most people like to watch and enjoy, others like the complete viewing experience, such as YouTube video to text transcriptions.
It's a way to increase the viewer's understanding and provide the viewer with opportunities to learn, and a new way to watch videos.
If you want to learn how to transcribe a YouTube video or you need resources to help you, just keep reading. This article will provide you with the 3 most popular options.
Read also: How to Download YouTube Subtitles – 2 Solutions.
3 Major Options to Transcribe a YouTube Video
No matter which YouTube video you want to convert to text, you have three major options available to you. Each option offers its own list of benefits and challenges to consider. Take some time to learn about each choice, then decide which is best for you.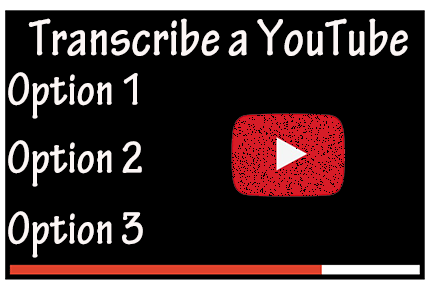 Option 1: YouTube Video to Text Transcription Service
The easiest option is to use a transcription service to transcribe a YouTube video to text. This is popular with viewers who watch long videos or videos on complex topics. If you have a need, try one and the transcription service will do all the work for you.
To get an accurate transcription of the YouTube video, you need to share the URL with the transcription service. Depending on the length of the video, you will get the text file in a few hours.
The transcription service you choose will determine the accuracy and speed of the delivery, but it will certainly be faster than the DIY transcription project.
Option 2: YouTube Video Transcript
Your second option is to read a YouTube video transcript that is offered by the platform itself. Almost every video has the subtitle option in the settings menu. Thus, you just need to turn on the closed captions, then you can see the real-time transcription of the video.
Read also: How to Add Subtitles to YouTube Video Easily and Quickly.
Most captions are generated automatically, which means that accuracy and time may not be of perfect quality, but if you need to transcribe immediately, this is your best bet.
In this way, you can automatically transcribe YouTube video. Most captions are generated automatically, so accuracy and timing may not be perfect. However, if you want to transcribe immediately, it is your best bet.
Another transcriptional challenge that YouTube offers is that they don't give you a text file. If you want to share content or read text without watching the video, you need to use another transcription service.
Option 3: DIY Way to Transcribe YouTube Videos
The last option is to transcribe a video yourself. This is the most time-consuming process, but the advantage is that you can control the whole process. You can use any shorthand or add any notes. You can also skip over any parts you think are valueless.
If you're going to share documents, custom transcriptions will make them less useful. But if you just want to use it yourself, it's a good choice.
Bottom Line
To sum up, this article has briefly shown you 3 great options to transcribe a YouTube video. After reading, you should be able to choose an option that is suitable for you. Hope it can be useful for you.