How to search for words in a YouTube video? How to find phrases in a YouTube video? These two questions have bothered many YouTube users. Luckily, this post from
MiniTool Video Converter
offers a tutorial to
search YouTube transcripts
.
It is time-consuming to find a specific moment in a YouTube video. Luckily, this post provides you with a trick and using this trick, you can find a specific moment quickly. The trick is to search YouTube transcripts.
Search YouTube Transcripts
Two ways are applicable to search YouTube transcripts. One is to use the keyboard shortcuts and the other is to use the tool called YouGlish. Now check them one by one.
Use the Keyboard Shorts
Step 1: Open the YouTube website and play the video you want to search.
Step 2: Under the playback screen, click the three dots and then click the Open transcript option.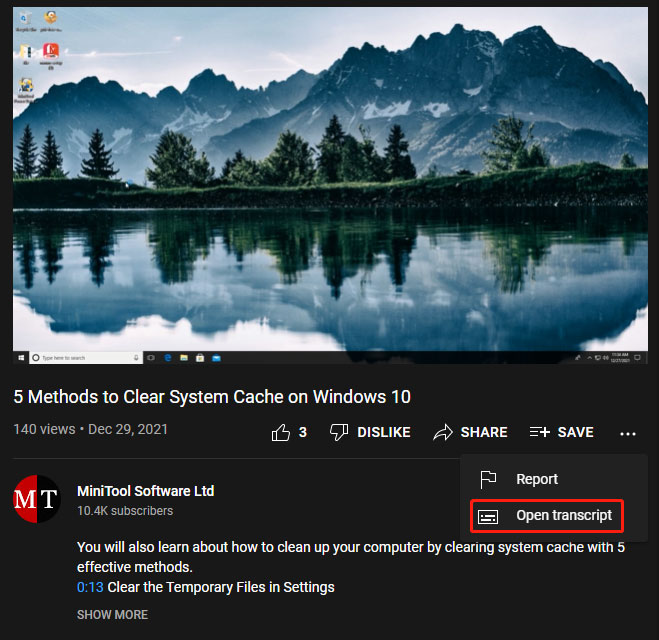 Now you should see a timestamped list of captions to the side of the video.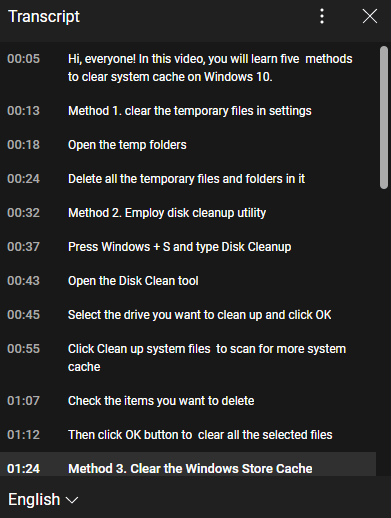 Step 3: Open the browser's search function by using Ctrl + F if you are running Windows; Cmd + F (if you running macOS).
Step 4: Input the words or phrases you want to search and they will be highlighted if found.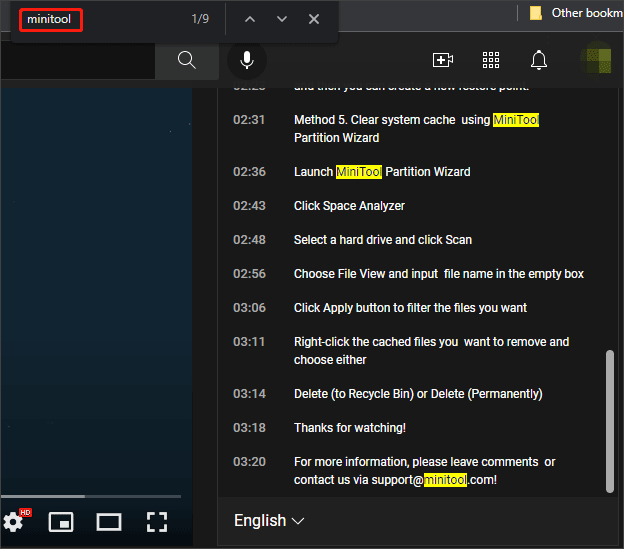 Step 5: Click the caption line to jump to the specific moment in the video.
Use YouGlish
To search YouTube transcripts, alternatively, you can use YouGlish. YouGlish is suitable for the case that you want to find specific words or phrases in many YouTube videos.
Well, how to use YouGlish? Follow the tutorial below.
Step 1: Go to the YouGlish website.
Step 2: On the web page, input the words or phrases you want to find in the search bar and click the Say it button.
Step 3: When YouGlish finds the related video, you can use the Play and Next controls beneath the video to jump to exact moments where those words or phrases appear.
Bonus: How to Download YouTube Transcripts?
Have you found the YouTube transcripts? I believe you have managed to do that in the above two ways. Next, I would like to talk about another high-discussed question related to YouTube transcripts, and that is "how to download YouTube transcripts".
Honestly, it is easy to download transcripts from a YouTube video as long as you take advantage of a YouTube downloader. Here MiniTool Video Converter is recommended. It is a free and reliable YouTube downloader that downloads YouTube videos and subtitles at the same time.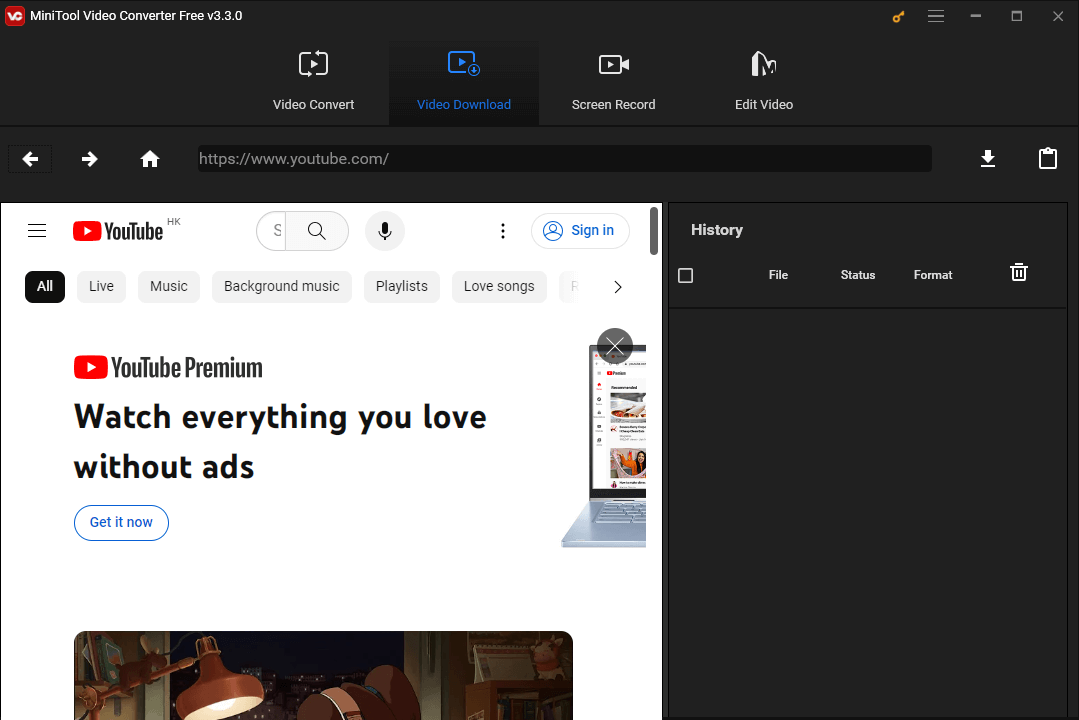 MiniTool Video ConverterClick to Download100%Clean & Safe
Here are the steps:
Copy the video link you want to download.
Open MiniTool Video Converter to access its interface.
Paste the link into the search bar and click the download icon next to the icon.
Make sure the checkbox for Subtitles is checked and then click the DOWNLOAD button.
Wait for the process to end.
For the detailed tutorial, please refer to the post: